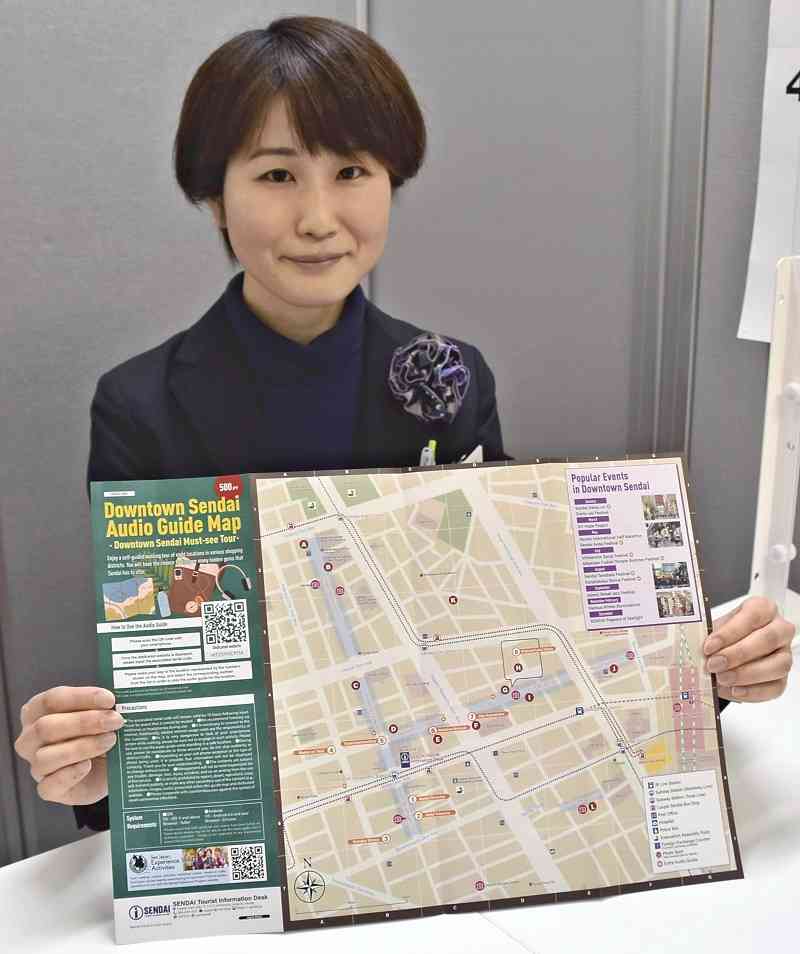 2:04 JST, April 24, 2022
SENDAI — A tourist information center in central Sendai has created a map with English audio guidance for foreigners. The map, which went on sale earlier this month, is available in three languages — English, Chinese and Korean.
While foreign tourists have diminished because of the coronavirus pandemic, the tourist information center — with an eye on the end of COVID-19-related worries — expects foreign tourists to use the map to explore the city on foot.
The center, officially known as the Sendai Tourist Information Desk, provides guidance for overseas visitors, while training English-speaking volunteer guides. Such training efforts require time and money, and arranging schedules to meet the needs of foreign tourists requesting English guidance was reportedly challenging.
For these reasons, the center started working last autumn to create a useful map that simply allows non-Japanese visitors to enjoy strolling through the city.
The map, printed on A3-size paper, indicates the ideal route for visitors to tour eight popular spots in about an hour. The Iroha Yokocho alley and the Nonaka Shrine are among the eight locations.
To access the technology, users scan a QR code on the map with a smartphone and enter the accompanying serial number. The device then connects directly to audio guidance explaining the features, history and relevant annual events of each location.
Konomi Takayama, 35, an official in charge of the structure and design of the map at the tourist information center, said: "To start, my hope is that foreigners living in Japan give the map a try. Down the line, I hope that foreign tourists can also make use of it."
Add TheJapanNews to your Google News feed.