'Non-Japanese' scammers using dating sites, matchmaking apps to exploit victims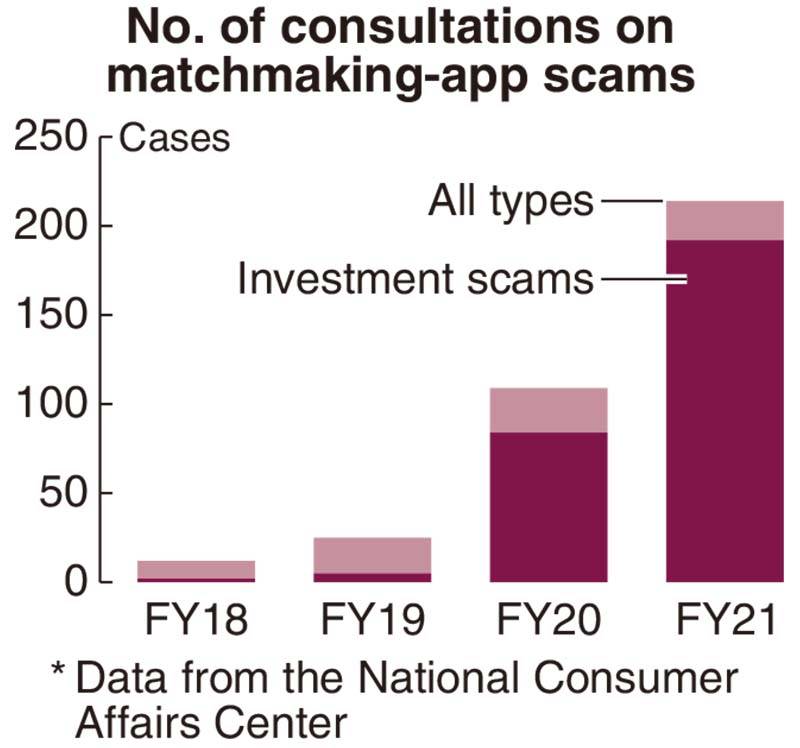 15:34 JST, April 23, 2022
A growing number of people are being duped out of money by people they have been acquainted with via matchmaking apps and dating sites. In many cases reported in Japan, the scammers claim to be non-Japanese and press their victims into making bogus investments.
Following inquiries and complaints from people targeted by such schemes, the National Consumer Affairs Center has urged caution when getting to know new people online as it is difficult to recover monetary losses in such cases.
In November last year, a 30-year-old woman in need of advice contacted the Cross-Border Consumer Center Japan (CCJ) — a section of the National Consumer Affairs Center of Japan that handles problems involving overseas businesses. The woman explained that she had found a man through a fee-based matchmaking app who had introduced himself as a South Korean business owner.
The man left the app membership and invited the woman to a free communications app. After communicating online for a while, the man began using affectionate language, referring to the woman as "baby." The man subsequently asked the woman to invest money in an investment site, saying it was for their "shared future," implying that he was in love with her.
The woman felt unable to refuse and invested a small amount of money. When she withdrew the money after generating a profit, the man urged her to invest a larger amount, saying, "You can earn more if you invest more." The women then borrowed about ¥5 million from a consumer finance company and invested the money.
When she tried to withdraw her cash, she was told she would have to pay a "deposit" of ¥1.8 million. Upon trying to contact the man to ask for advice, he cut off all contact.
The consumer affairs center says the CCJ received 25 inquiries in fiscal 2019 regarding dating sites and matchmaking apps. However, this number increased sharply to 109 cases in fiscal 2020, then to 214 in fiscal 2021.
In fiscal 2021, many inquiries were from men and women in their 30s and 40s.
"This is likely because more people are using apps to look for romantic partners due to the difficulty of finding a real-world romantic partner amid the spread of the novel coronavirus," said an official of the consumer affairs center.
Inquiries about investments involving cryptocurrencies or bank transfers offered by people claiming to be non-Japanese nationals are particularly prominent. About 85% of the inquiries in fiscal 2020 and 2021 were related to investment. As the status of many investment sites is unclear, it is difficult to recoup lost money, the center said.
Honey-tongued scammers
It is thought that romance scammers falsely introduce themselves as non-Japanese to avoid meeting in real life. "If you find a sweet-talking individual on an app or similar media who claims to be non-Japanese and asks you to make an investment, it's likely a global romance scam," said an official of the consumer affairs center. "The person will provide various reasons for you to part with your cash, then you'll lose all contact with that person. You should never invest money [under such circumstances]."
Matchmaking app operator Tapple, Inc. has begun to take countermeasures. In December last year, the firm started using artificial intelligence to determine users' trustworthiness, based on the behavioral characteristics of people who are known to have misused the app in the past. The company has also banned its users from exchanging contact details of free communications apps prior to meeting in person.
The Marriage Support Project, meanwhile, shares knowledge and countermeasures among its member companies, which are mainly in a matchmaking business, to help deal with malicious users.
"People are predisposed to like someone who treats them kindly, and feel the urge to return that kindness," said Kimiaki Nishida, a professor at Rissho University and a specialist in social psychology. "Romance scammers invariably ask their victims for money after winning their affection. I hope people will become familiar with such tactics and exercise caution when approached in such a manner."