NES enthusiast sets Guinness record with mosaic using 4,256 cartridges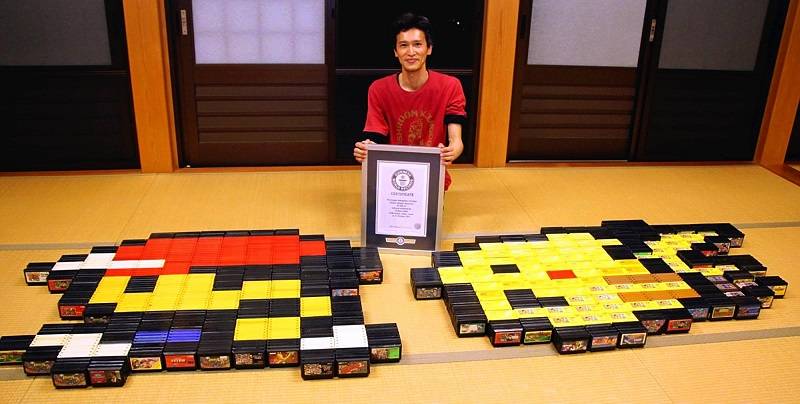 2:00 JST, April 19, 2022
Shiga Prefecture resident Yorihito Ishida has been recognized by Guinness World Records for creating the world's largest mosaic using the colorful cartridges of Nintendo's Family Computer (Famicom), a home video game console that once dominated the world. His art is filled with love and playfulness toward the game characters.
Ishida, 38, an employee of a welfare facility for the handicapped in Moriyama City, used 4,256 Famicom cartridges to create the record-grabbing mosaic, which features the popular video game character Mario, at a local community center on Oct. 31 last year.
It took about seven hours to complete the mosaic, which shows Mario straddling Yoshi, a dinosaur-like character. At 5.3 meters long, 6.1 meters wide and approximately 32 square meters in area, it was certified as the world's largest.
Famicom was released in July 1983 and became so popular that by the end of the 1980s it was said there was a console in almost every home with elementary and junior high school students.
Ishida said, "In terms of grade level, I'm in the same class as the Famicom."
Influenced by his older brother, Ishida became familiar with the game from an early age, and became addicted to the Mario and Mega Man series, which he continued to enjoy as an adult.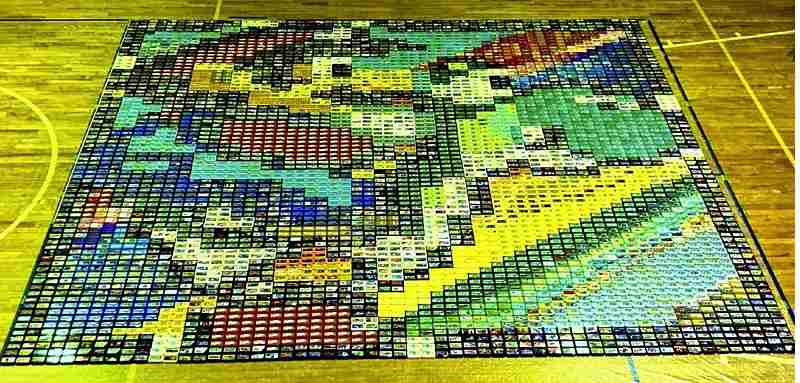 Colorful inspiration
In 2015, when he had accumulated a total of 600 to 700 game cartridges, Ishida thought, "With so many different colors [of cartridges], I could create art that no one else would come up with." So after getting a great response on social media for sharing a trial Mario mosaic, he kept on going.
He made mosaics every weekend for four years until he got married in 2019. He would bring cartridges into the main hall of his family's temple and immerse himself for six to seven hours in the creation process. He also collected designs from the internet and video game screenshots, including Son Goku from the anime "Dragon Ball," and arranged the cartridges by color, such as blue, black, yellow, and white, in a mixture of horizontal and vertical positions, to complete his work.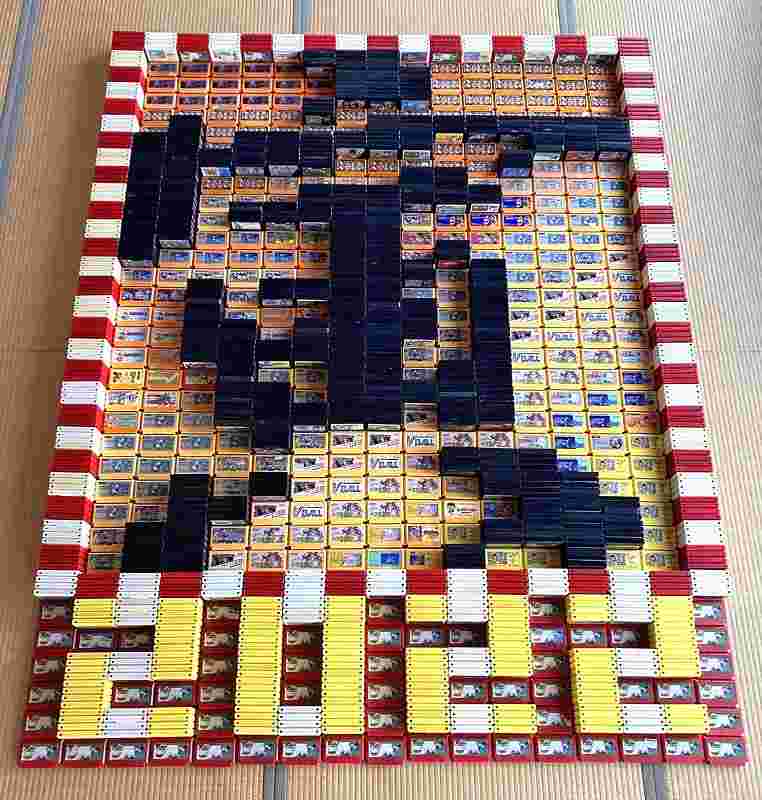 Ishida was pushed by his social media friends to make the Guinness record attempt. The first entry was a total of 4,256 cassettes arranged vertically. When it failed to reach the world record size of 5 square meters, he placed the cartridges horizontally to gain more space and clear the record.
"I thought it would be difficult to make into Guinness World Records. It's like a dream. But when I found out I was recognized, I couldn't help but pump my fist into the air," he recalled.
Famicom still has a strong fan base, and Ishida is among them. "As long as my fingers are working, I will continue to play for the rest of my life," he said.
"When I think of the enthusiasm of the production teams at the time for developing such interesting games with less data than a single smartphone photo, I can't stop playing."