Residents begin returning to Japanese town evacuated after 2011 accident at nuclear plant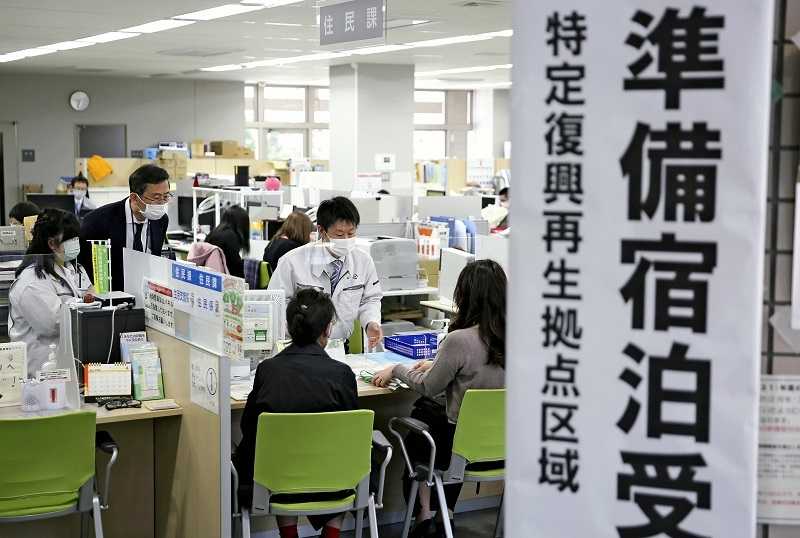 16:59 JST, April 11, 2022
TOMIOKA, Fukushima — Former residents of Tomioka, Fukushima Prefecture, began returning Monday to homes in the town, parts of which were subject to an evacuation order following the 2011 accident at the nearby Fukushima No. 1 nuclear power plant.
The Tomioka municipal government has started allowing former residents to spend the night in their erstwhile homes in a designated "reconstruction base" location in the town.
The municipality is eyeing next spring to fully lift the order in the locale, where decontamination work and infrastructure reconstruction have been prioritized. The local government hopes that by allowing residents to stay overnight to effect house repairs and other tasks, it will help smooth the way for a full-time return to the town.
The about 390-hectare area, which is situated in front of JR Yonomori Station, includes the Yonomori district, known for its cherry blossoms.
About 4,000 people — more than 20% of the town's population — were living in the area when the accident occurred at Tokyo Electric Power Company Holdings, Inc.'s plant.
The municipality has set a goal of having about 1,600 residents living in the town five years after the order is lifted. As of Sunday, nine households, or 11 people, had applied for preparatory stays.
On Monday, people who planned to return to the area visited the town government to be briefed on the stays. Participants also received dosimeters, which measure radiation.
"I'll be going back and forth between my home here and my post-evacuation domicile for a while," said a 75-year-old man visiting from Iwaki. "I'm so glad I can spend time relaxing at my real home."
There are reconstruction bases in six of the seven municipalities designated as difficult-to-return-to zones near the nuclear power plant.
Preparatory stays are also underway in Katsurao, Okuma and Futaba, and will begin in Namie and Iitate as early as this autumn.
Add TheJapanNews to your Google News feed.