Japanese government gives Ukrainian refugees unprecedented treatment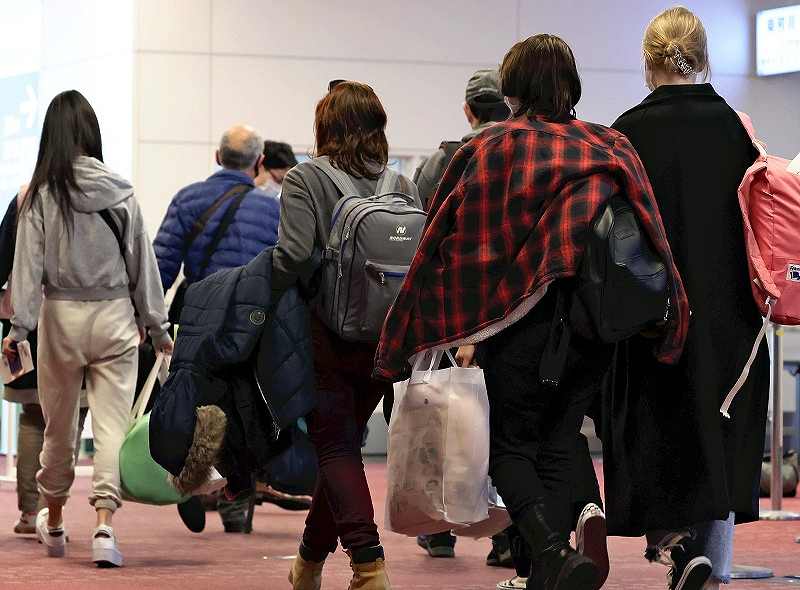 17:09 JST, April 6, 2022
The Japanese government has begun to provide unprecedented supportive aid for refugees who have fled from Ukraine. Offered in collaboration with local governments and private companies, the aid includes living expenses and medical expenses. And for 20 who arrived in Japan this week, it included a highly unusual form of transportation.
Speedy and thorough
The 20 refugees who landed at Haneda Airport on Tuesday moved into a nearby hotel, except for those who have relatives living in Japan.
If their PCR tests for the novel coronavirus are negative, they will be quarantined for three days and then moved to another hotel in or near the Kanto region for temporary accommodation.
During their stay in Japan, the government will provide the displaced Ukrainians with meals and also pay for their living and medical expenses, while matching them with employers, such as local governments and private companies.
The government will also provide Japanese language education for them. Sometime in the future, the government will assist them in returning to Ukraine or departing for third countries, if they wish to do so.
Eri Ishikawa, chair of the board of the Japan Association for Refugees, a certified nonprofit organization that has assisted refugees for many years, said, "Compared with responses of the Japanese government in the past, it is very speedy and thorough."
Special use of planes
A government plane operated by the Air Self-Defense Force transported the refugees, who were not asked to pay for the costs.
The arrangement was related to Foreign Minister Yoshimasa Hayashi's visit to Poland. When the prime minister travels abroad, the standard practice is to send a pair of government planes. One carries the prime minister and those accompanying him while the other, flying with its passenger seats empty, is a spare in case of emergencies.
This time, the spare plane transported the 20 refugees.
The Self-Defense Forces Law states that the government planes can transport state guests and people of equivalent status. In this case, with Hayashi having been sent to Poland to accept Ukrainian refugees as the prime minister's special envoy, the law was interpreted to apply to him as a person with state guest or similar status, and to apply to the refugees as those accompanying him.
A spare government plane was also used in 2004, when then Prime Minister Junichiro Koizumi visited North Korea. The spare plane was used for transporting people who had been abducted by North Korea back to Japan.
The flight carrying the Ukrainians was based on the same legal thinking, and thus was an almost unprecedented action for foreign refugees.
Eye on intl opinion
The proactive aid to the refugees is partly because of a judgment by officials of the Prime Minister's Office who are conscious of opinions in the international community.
Japan is known as a country with extremely cautious policies toward refugees.
Since the refugee recognition system was introduced in 1982, a total of more than 80,000 people sought to be recognized as refugees, but only about 800, or about 1%, have been recognized.
While sympathetic feelings toward Ukrainians, whose country has been unilaterally attacked, have been spreading in Japan, officials of the Prime Minister's Office instructed the Justice Ministry, which had initially been passive on the issue, to accelerate its actions in early March.
A senior government official said, "To wipe out an image in the international community that Japan is reluctant to accept refugees, the government presented proactive aid this time."
At a press conference Tuesday, Chief Cabinet Secretary Hirokazu Matsuno said of Ukrainian refugees, "We will continue providing necessary aid while gaining the understanding of the public."
However, as for accepting refugees from countries in armed conflicts other than the one in Ukraine, he said, "This action is an urgent measure based on the critical situation in Ukraine, and it is difficult to discuss it in comparison with responses in other cases."
He emphasized that the current measures are definitely a special case outside the framework of the refugee recognition system.
Some in the government voiced a cautious view. A government source said, "If the level of the aid is to be remarkably higher, there may be voices questioning, 'Why can only Ukrainians receive it?' and balance with other countries may be seen as a problem. If the number of those who are accepted increases, it is possible that criticism may occur also inside the nation. It is difficult to determine the acceptable range."
Add TheJapanNews to your Google News feed.