GSDF unit approaches 10,000th mission to transport emergency patients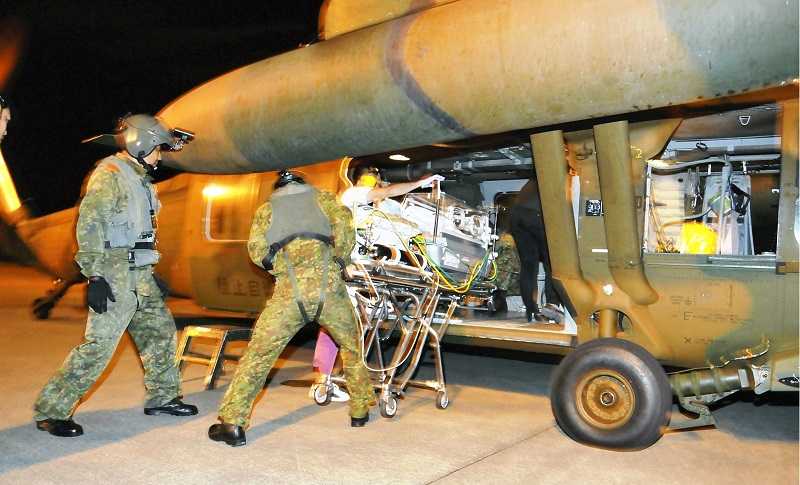 2:00 JST, April 5, 2022
A Ground Self-Defense Force unit in Naha will soon conduct its 10,000th mission to transport emergency patients from remote islands, mainly in Okinawa and Kagoshima prefectures.
To help compensate for the limited medical system on the islands, the 15th Helicopter Unit based out of Camp Naha airlifts residents out when necessary. It took over this responsibility from the U.S. military in 1972 when Okinawa returned to Japanese control.
The unit has about 190 members. At the request of the two prefectural governors, they transport patients from the remote islands, including those in Kagoshima Prefecture's Amami region, to Naha at any time of day and even in stormy weather.
Like the air ambulances widely known as "doctor helicopters" in Japan, the GSDF's chopper also has a doctor on board so that treatment can take place during transport. The operation covers 57 inhabited remote islands, stretching about 1,000 kilometers from east to west and 500 kilometers from north to south.
The unit has responded to calls about 200 times annually in recent years, with the number of transport missions totaling 9,997 as of 5 p.m. Sunday.
Unit members are often forced to land in places where there is no runway amid heavy winds, rain or poor visibility at night, resulting in some tragic accidents in the past.
In 1990, a fixed-wing aircraft heading to Miyakojima island in Okinawa Prefecture crashed, leaving three GSDF personnel and a doctor dead. In 2007, a cargo helicopter crashed on Tokunoshima island in Kagoshima Prefecture, killing four personnel.
"Tensions are very high, as we have to change the altitude and speed of the helicopter depending on the condition of the patient, such as pregnant women and patients who have been in diving accidents," said a veteran pilot who was part of the service for about eight years.
The unit was also in charge of the area around the main island of Okinawa Prefecture until 2008, when the Okinawa prefectural government introduced the air ambulance.
"Sometimes we received another request in the middle of transporting a patient," the former pilot recalled.
The prefectural government's disaster prevention and crisis management division coordinates with the GSDF when a request is made.
"There are many remote islands with poor medical facilities in Okinawa Prefecture, so the SDF will remain indispensable for us," said an official in charge.