Year of the bull: Niigata Pref. city to stage opera in bullring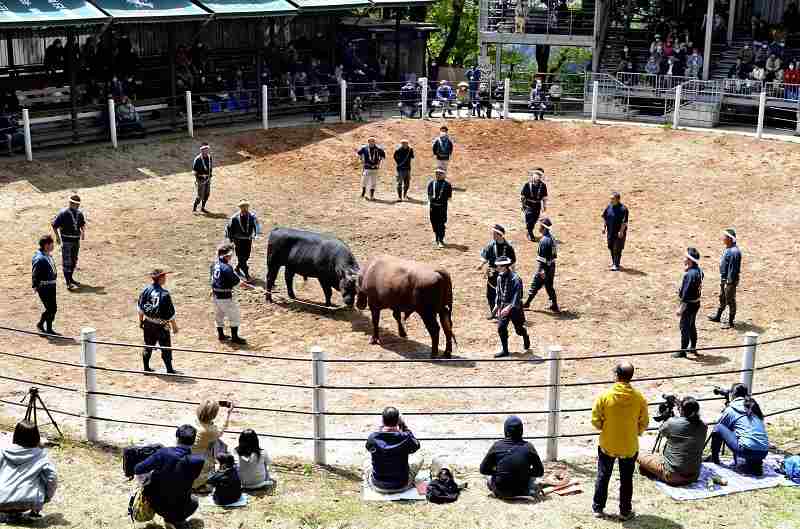 15:26 JST, April 4, 2022
OJIYA, Niigata — A city known for traditional Tsunotsuki bull wrestling is slated to host the nation's first opera in a bullring.
Tsunotsuki features two bulls that wrestle after locking horns and is designated as an important intangible folk cultural property. The bulls are separated from each other before they inflict mortal wounds on each other.
Hiroki Shinada, a 32-year-old hailing from Ojiya, Niigata Prefecture, came up with the idea of using his hometown's bull wrestling ring as a venue after he studied "Carmen," an opera that features bullfighting culture, in music college. Since then, he has hoped to do something that would link his hometown's tradition to the classic opera.
In 2018, Shinada and Ojiya Mayor Shoichi Otsuka hit it off and decided to perform "Carmen" with the cooperation of the Ojiya city government. The show, which will also be streamed online, will become the first opera to be performed in a bullring in Japan, according to the organizing committee.
About 40 people ranging from professional singers to local residents have been rehearsing for the opera since last May. Their ages range from five to 80s.
The production depicts a tragic love story between Carmen, a free-spirited woman, and a soldier from Spain, where bullfighting has a significant cultural footprint.
The opera features the songs "Toreador Song" and "Habanera," which are known to even many Japanese. But the lyrics depict a spear-stuck bull and a blood-spattered bullring among other scenes, which contrast wildly with Ojiya's bull wrestling culture where bulls are treated more like family members.
The committee decided to keep the lyrics in the original language unchanged for the performers to sing, but will alter the Japanese subtitles and will add a dash of local color with a scene of Seko bull handlers who encourage the animals in a Tsunotsuki session. It will also have a scene that shows how the bulls are separated from each other.
Asked about the details of the show, Shinada said, "Just wait until you see it on the day."
"Having this opera staged in an actual bullring will definitely make for a place with energy that the audience can't experience in an indoor hall," said Shinada who will play the role of a bullfighter.
Saaya Yamagishi, 11, a sixth-grader at Ojiya Elementary School who will take part in the choir, said, "I'll do my best in the performance to make Ojiya more widely known through this opera."
The performance is scheduled to take place on May 14. For more information and inhouse or online tickets, visit the city government's website:
https://adv.yomiuri.co.jp/m-data/english/index.html
To raise funds for the show's sound and lighting among other expenses, donations were accepted via crowdfunding through March 22. Tickets among other gifts will be distributed in proportion to the amount of donations.