Ukrainians living in Japan protest Russian invasion of homeland via photos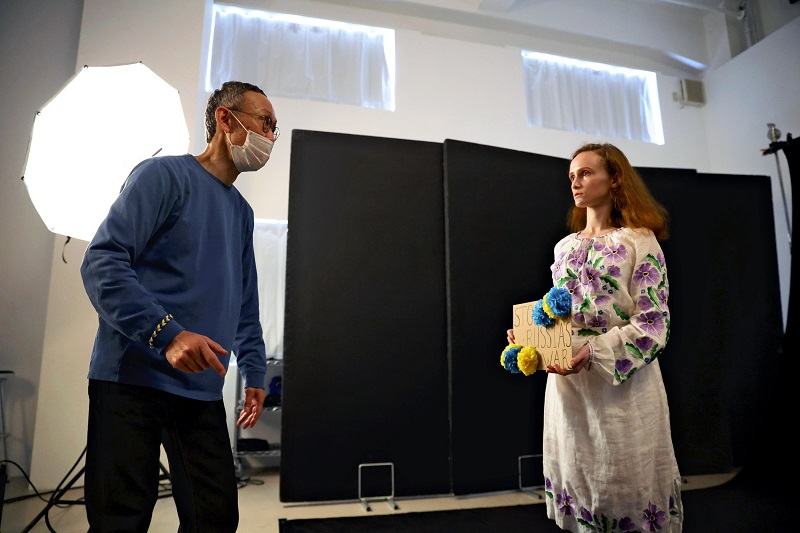 17:32 JST, March 30, 2022
A photo exhibition featuring Ukrainians living in Japan is scheduled to be held in early April in Tokyo in protest against Russia's invasion of their homeland.
"I hope people who see my photos will think about what they can do for Ukraine," photographer Naotaka Miyamoto said.
Miyamoto, 60, takes photos mainly for corporate advertisements.
Since turning his lens on athletes competing in the 2012 London Paralympics, Miyamoto has occasionally held photo exhibitions featuring people involved in social issues. In June 2020, amid the coronavirus pandemic, he held an exhibition showcasing doctors, nurses and other medical personnel.
For this project, Miyamoto chose 23 Ukrainian men and women living in Japan he contacted through social media. Some models are wearing traditional Ukrainian attire, while others are dressed in the blue and yellow colors of the national flag. Some are holding handmade signs with anti-war messages.
In previous photo exhibitions, most of Miyamoto's photos were close-ups from the knees up. However, this time, he uses a black background, which makes the entire body stand out. The photos will be displayed side by side to enhance the feeling of solidarity in protest against the invasion.
The photo sessions ran for three days from March 23 at a Tokyo studio.
"Some people were in tears during the sessions," Miyamoto said. "I felt their strong will [to protest the invasion] more than I had imagined," he added.
"Since the invasion began, all I can do is to pray, and I cry every day," Yulia Zhyla said. Zhyla, a 28-year-old hotel employee from Chernihiv in northeastern Ukraine, wept when Miyamoto was photographing her. Her parents remain in her hometown and her sister is in the capital, Kyiv.
"What is happening in Ukraine today may happen in Japan tomorrow," Zhyla said. "I hope our appearance [in the exhibition] will convey to people in Japan a message that it may happen to your family members tomorrow."
Add TheJapanNews to your Google News feed.