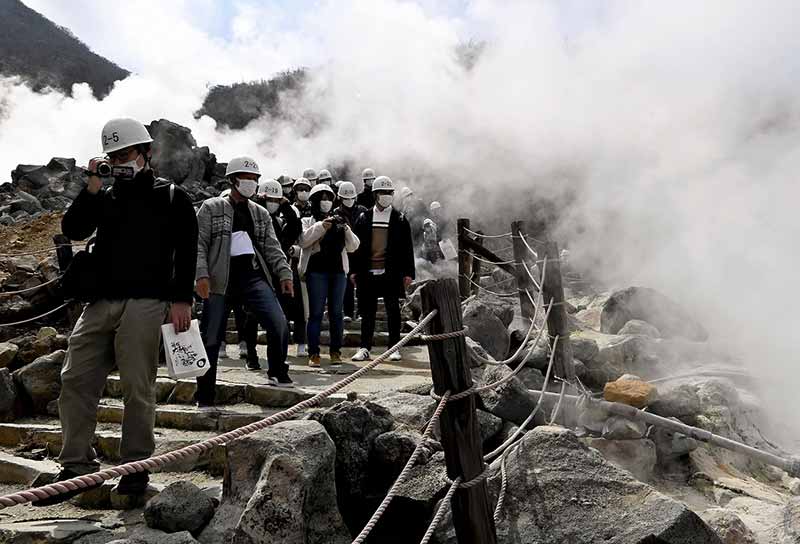 15:48 JST, March 29, 2022
Tourists were allowed to enter a path around a volcanic steam vent area in the Owakudani valley in Hakone, Kanagawa Prefecture, on Monday for the first time in nearly seven years.
They enjoyed walking the Owakudani Nature Research Trail, which had been closed since May 2015 due to the volcanic activity of Mt. Hakone.
The approximately 700-meter path with a view of Mt. Fuji is a popular tourist spot in Hakone. The path goes around an area where high-temperature volcanic steam and volcanic gases are vented from the ground.
To reopen the path, the Kanagawa prefectural government newly built seven concrete shelters that can withstand flying volcanic rocks up to 30 centimeters in diameter. Local fire stations repeatedly held tourist rescue drills.
On Monday, a total of about 60 visitors led by guides entered the path in two groups, one in the morning and the other in the afternoon.
In the morning, Hiromitsu Wakabayashi, the head of the town's tourist guide association, briefed participants on Mt. Hakone, the shelters and other topics.
At steaming hot-spring pond where eggs are boiled in the sulfurous water to produce kurotamago (black eggs), one visitor was heard to say: "Before, they used to sell black eggs here, and we could eat them on the spot. I hope they will be back soon."
"I'm overwhelmed that we've been able to come here for the first time since the entry restrictions were lifted. I'm feeling the power of nature again," said a 46-year-old man, part of a family of four who came from Takarazuka, Hyogo Prefecture.
"I hope the number of tourists [to Hakone] will increase overall now that a major tourist attraction of Owakudani has reopened," said Mamoru Sato, an executive of the town's tourist association.
Those who wish to walk the path are required to make reservations in advance at https://hakone.or.jp/od-booking and pay a cooperation fee of ¥500 per person for security and other measures. Visits to the path are restricted to four times a day for the time being, with up to 30 people allowed to join each time.
Add TheJapanNews to your Google News feed.