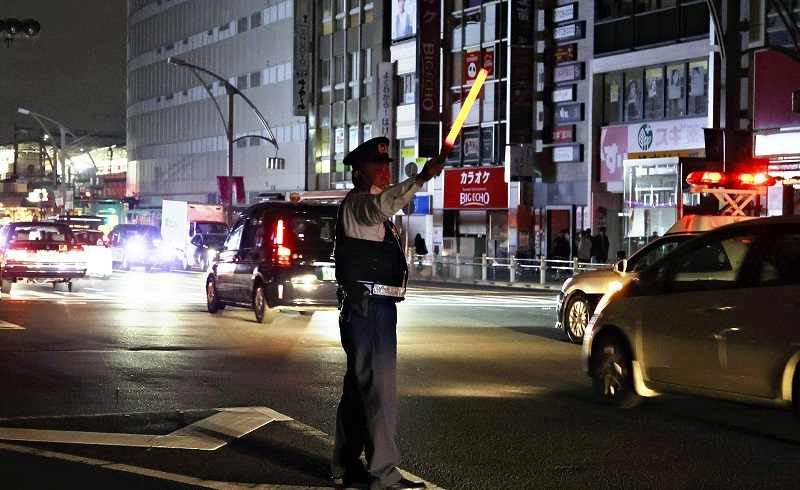 16:25 JST, March 28, 2022
An earthquake struck areas of Miyagi and Fukushima prefectures on March 16 at 11:36 p.m., recording a seismic intensity in the upper 6 range. In addition to casualties, most of which were in the Tohoku region, there were major power outages in the Tokyo metropolitan area. It is important to check preparations for nighttime disasters, power outages and other unexpected events.
The earthquake caused widespread power outages. This loss of power in an emergency makes it more difficult to gather information and increases psychological stress.
Nobue Kunizaki, head of the Risk & Crisis Management Educational Institute, said: "When moving around in the dark, you can't see your footing, which creates a risk of injury from falls or other accidents. Having light is important to reducing anxiety."
It is recommended that homes be equipped with lights at floor level that automatically turn on in a power outage. Some models of these lights can be removed and used as a flashlight.
Putting luminous tape in indoor areas will also help prevent falls. Kunizaki said tape placed on the floor and on handrails at the top and bottom of stairways will serve as a guide in a power failure.
A headlamp or a light that hangs from the neck can be used for illumination when on the move and leaves the hands free. And smartphones and battery-powered radios can be used to obtain information on disaster preparedness and evacuation. It may be helpful to download disaster preparedness apps.
"Transceiver apps for wireless communication can be used to communicate in an emergency," Kunizaki said.
A mobile battery can be used to charge one's smartphone, and putting a phone in power-saving mode, with reduced screen brightness and other changes, will conserve battery life. It is a good idea to check in advance whether certain apps still work in power-saving mode.
Securing a power supply is also important. Some household storage batteries, such as those for camping, are also equipped with lights and other functions. Storage batteries with solar panels can be recharged with sunlight. And emergency lights with built-in batteries that generate electricity from water or other liquids are also available. These can be useful when there is no power.
Remember to turn off the breakers when evacuating the home. When the power comes on again, appliances and heating equipment may turn back on and start a fire.
"Even if you stay home, unplug your appliances," Kunizaki said.
What should one do when there is a big tremor late at night like the recent earthquake? People are at their most vulnerable when they are asleep.
"If a big tremor occurs when you're in bed, the first thing to do is to protect your head with a blanket or pillow. See how things go, then evacuate to a safe place," said Tomoya Takani, a preparedness and disaster management advisor.
It is important to make preparedness a regular thing.
Avoid placing furniture in bedrooms as much as possible, as it can block evacuation routes or trap people underneath. If there are furniture that can tip over, take steps to anchor them.
Takani also recommends creating "safe zones" in your home where there is no danger of furniture or appliances falling over or glass shattering.
To be able to evacuate promptly, keep an LED flashlight at your bedside, as well as work gloves and slippers to protect your hands and feet in case a window breaks, a whistle to call for help if you become trapped, and spare eyeglasses if needed. Keep these items in a bag that is tied to your bed or something heavy to prevent them from being scattered by the shaking.
Takani urges people to "check again to make sure you're prepared."
Add TheJapanNews to your Google News feed.