Poll: Nearly 90% concerned about "serious" economic disparities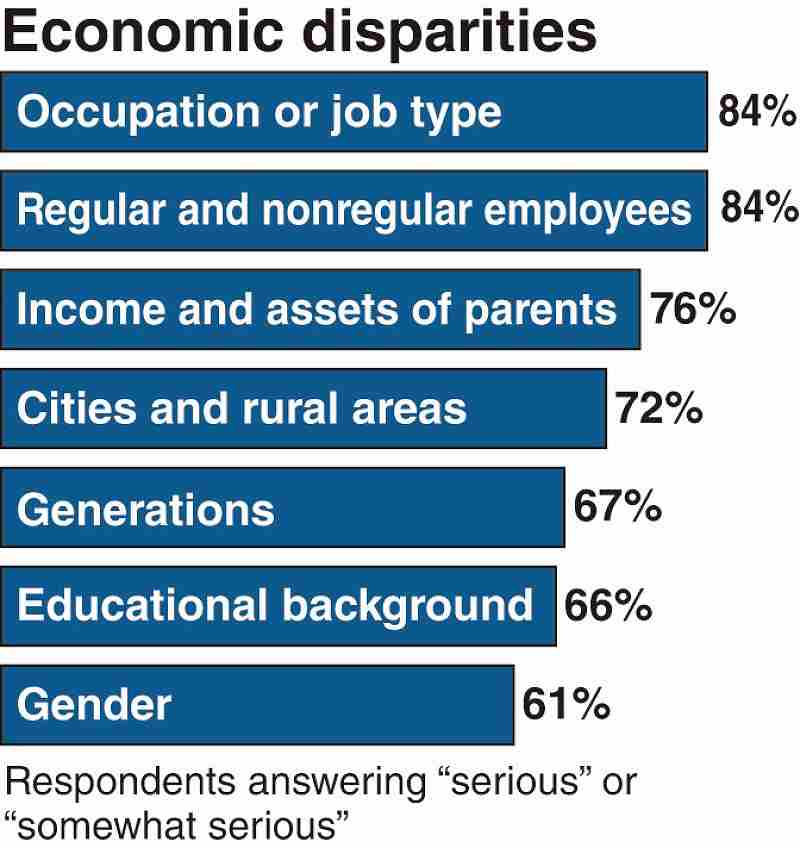 16:08 JST, March 27, 2022
A nationwide poll by The Yomiuri Shimbun found 88% of respondents believe there are serious economic disparities in Japanese society.
The figure comprised those who answered that the economic disparities in Japan were "serious" or "somewhat serious." In contrast, only 11% of respondents said the situation was "not serious" or "not that serious."
Among seven specific areas, the two most frequently selected as serious were disparities "by occupation or job type" and "between regular and nonregular employees." Each of these options was chosen by 84% of respondents.
Prime Minister Fumio Kishida has repeatedly argued that Japan's overreliance on markets has led to widening inequality and poverty, as part of his push for what Kishida calls "new capitalism." The survey demonstrated that awareness of the problem is widely shared.
Free answers were also compiled, a number of which referred to the treatment of essential workers amid the pandemic. A woman in her 70s in Hiroshima Prefecture wrote "wages for jobs related to nursing care and childcare are too low," for example.
The pandemic may have focused attention on disparities among occupations and employment status, and consequently these gaps are being taken more seriously than before.
Regarding the disparities that respondents have personally felt dissatisfied with, the most common choice was "between regular and nonregular employees" with 47%. Next were "by occupation or job type" at 42% and "between cities and rural areas" at 33%. Multiple answers were allowed.
Among those who felt dissatisfied with gaps between regular and nonregular employees, there was a significant divide between two groups. About 70% of temporary workers and 62% of part-time and contract workers were unhappy with the situation, compared to 24% of employers, executives and managers, and 33% of regular employees.
Respondents could choose up to three measures that they wanted the government to prioritize to remedy inequality. The most popular choices were "encourage higher wages" at 51%; "review the tax system, such as by strengthening taxation on large corporations and the wealthy" at 50%; and "make education free" at 45%.
Asked what they thought would happen to Japan's economic disparities in the future, 50% said they would widen, and 42% said they would remain the same. Only 7% said the gaps would narrow.
Regarding the idea that "widening economic disparities are unavoidable, because they are the result of free competition and individual effort," 57% of respondents said they "agree" or "somewhat agree." In contrast, 41% chose "disagree" or "somewhat disagree."
By party, 68% of Liberal Democratic Party supporters and 62% of Nippon Ishin no Kai (Japan Innovation Party) supporters agreed with that statement. This compared to 56% of Constitutional Democratic Party of Japan supporters saying they disagreed, exceeding the 42% who agreed.
Among independents, 52% agreed and 46% disagreed.
The results showed again that differences in party support are linked to opinions regarding the neo-liberal concept of achieving economic efficiency and development through free markets and competition.
The survey was conducted by mail from Jan. 25 to Feb. 28 among 3,000 voters nationwide. A total of 2,184 people, or 73%, responded.