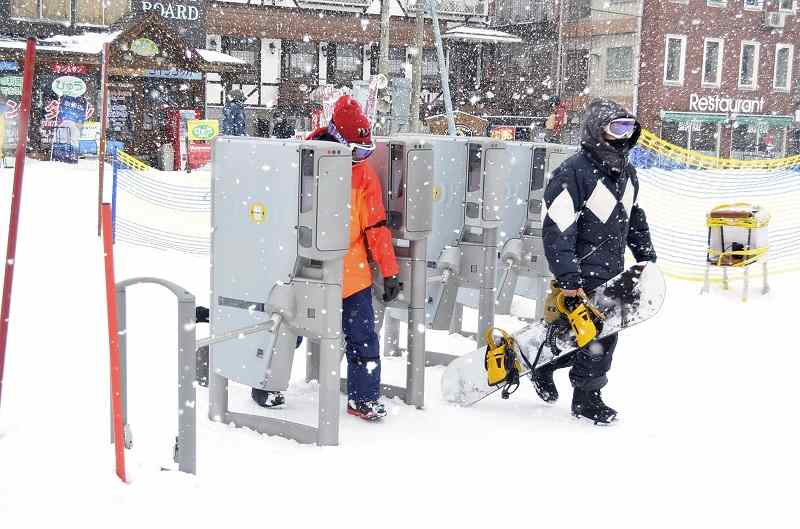 18:22 JST, March 15, 2022
Thirty ski resorts in Japan have either been forced into bankruptcy or suspended operations over the past two years since the worldwide spread of the coronavirus.
Ski slopes this year are in good condition thanks to heavy snow. Even so, some ski resorts are still struggling to stay open amid the quasi-emergency COVID-19 priority measures.
Five resorts have suspended operations this season in Niigata Prefecture, which is making efforts to attract overseas tourists.
The Itsukamachi ski resort in Minami-Uonuma, Niigata, has decided to shut down because profits through last season have experienced a sharp drop-off and uncertainty over future outbreaks remains.
"It's very difficult for small ski resorts to maintain operations," the resort operator said.
The operator of the lone ski resort in Saga Prefecture announced in January that it would close because of several years of low snowfall as well as coronavirus impact.
The Saga District Court issued the operator of the Tenzan ski resort in Saga commencement orders for bankruptcy proceedings. Located about an hour by car from Fukuoka City, the resort was popular and attracted more than 100,000 visitors each season.
The Tokyo-based Japan Funicular Transport Association said there were 437 nationwide resorts equipped with lifts and other facilities as of January this year. However, since the pandemic started two years ago, a string of resorts began suspending operations, with 30 resorts in Hokkaido, Nagano, Gifu and other prefectures either pausing business practices or completely shutting down.
The number of resorts has sunk to two-thirds since peaking at 698 in 1999.
"The pandemic has spurred the decline in the number of resorts that had already suffered from limited snowfalls and a declining ski population," a spokesperson of the association said.
Just this season, the Ishiuchi Maruyama resort in Minami-Uonuma installed lift tickets equipped with IC chips in an effort to mitigate physical contact.
It enjoyed brisk sales online and maintained its average number of skiers up until early January. However, it was forced to suspend new sales of discount lift tickets after COVID-19 priority measures were issued in Niigata Prefecture on Jan. 21, affecting the number of families visiting the resort.
The prefecture lifted its priority measures on March 6, but the ski season is just about to come to an end.
"There is less than one month now left in the business window," said a spokesperson from the resort's business planning section said. "We'll take all possible prevention measures and welcome as many customers as possible."
Add TheJapanNews to your Google News feed.