Educators worry Japan's entry ban on foreign students will hold back the next generation of Japanophiles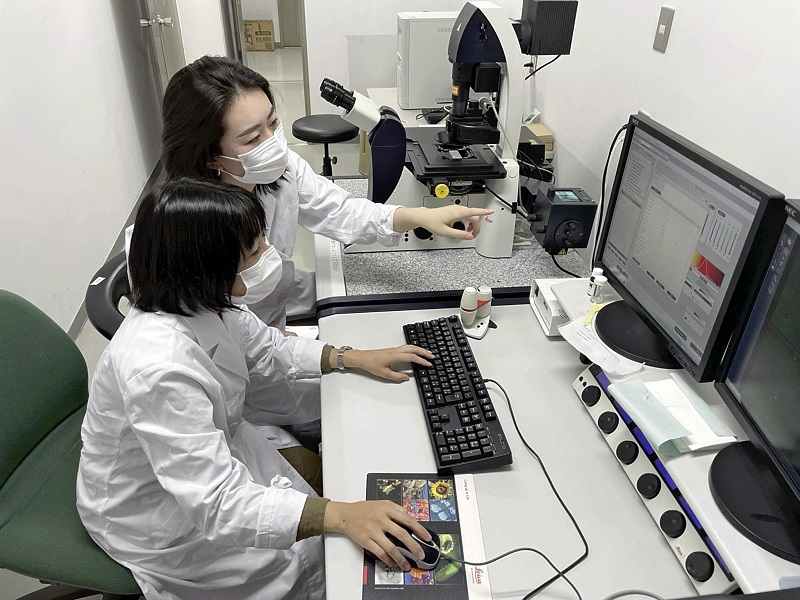 7:42 JST, October 29, 2021
The door remains firmly shut to the many international students who had hoped to study abroad in Japan, which remains the only country in the Group of Seven industrialized nations yet to resume issuing new visas to students and researchers in principle.
As international students start looking elsewhere, educators fear the protracted freezeout could lead to a cooling of recent interest in Japanese academia and research, with far-reaching implications for the next generation of Japanophiles, perhaps even in the economic and diplomatic spheres.
'Robbed of precious time'
"If [students] can't conduct experiments in the lab, they can't get a substantive education," said Takuji Iwasato, 58, a professor at the Graduate University for Advanced Studies' Department of Genetics, voicing his frustration. "Young people are being robbed of precious time."
Prof. Iwasato oversees five graduate students at his lab, which studies the development and function of mammalian neuronal circuits.
As three of the five are international students, the prolonged travel ban has begun jeopardizing his team's education in the experimental techniques required for the lab's future cohesion.
One of his students is a 25-year-old Chinese woman who has spent the past six months in limbo. Although she has been receiving remote instruction online since enrolling in the program in April, she remains unable to step foot in Japan, and thus unable to delve into her research in earnest.
In a typical year, the University of Tokyo would welcome about 300 exchange students on campus from July to October, while sending about 200 of its own students overseas. This year, the university accepted no international students through exchange programs, and only sent 54 of its own abroad.
A further 238 international students who had enrolled in degree programs at the university on their own dime have also been unable to enter Japan. These privately-financed students have been dialing in to lectures remotely, from the start of the academic year in April.
"This decline in the number of young people with firsthand experience of Japanese society and culture is bound to have a negative impact on Japan's prominence in the international community," said a program coordinator at the university.
Going elsewhere
In 2019, the number of foreign students in Japan peaked at over 310,000, exceeding the target of 300,000 set in a government initiative to promote globalization.
But the pandemic has wiped out these gains.
Starting last spring, Japan's border was gradually sealed off to non-nationals in a series of travel restrictions that ratcheted up in phases.
Restrictions were partially eased in autumn last year, if only for a fleeting window before a surge in coronavirus variants led the government to stop issuing new visas from December. A moratorium was placed on the entry of international students, with the exception of those who had already been studying in the country and would re-enter on valid student visas.
In May, the restrictions were eased for recipients of government scholarships who mainly come to Japan for research.
But the ban remains in place for the other 95% of the international student body paying their own way.
An Immigration Services Agency survey showed that only 7,078 foreign students newly entered Japan in the first half of this year — a mere 10% of pre-pandemic numbers.
Universities and other higher education institutions accounted for about 80% of the international student body in fiscal 2020, while the other 20% were enrolled at Japanese language schools. Roughly 80% of these language school graduates go on to matriculate into universities and vocational schools.
A survey conducted by a group of Japanese language educators found that 5,080 prospective students said they had scrapped plans to study abroad in Japan last year. This year, that count had reached 738 by summer.
Many students who wanted to study abroad in Japan have been forced to look elsewhere, with South Korea and Taiwan emerging as popular alternate destinations.
Human assets
In addition to academic degrees, alumni of study abroad programs take back to their home countries an affinity for Japan, creating a network of prominent pro-Japan voices that is a valuable asset on the diplomatic stage.
Many graduates of Japanese PhD programs can be found at the helm of universities throughout Southeast Asia.
The presidents of the University of the Philippines and Gadjah Mada University in Indonesia, for example, are two leaders in education and scientific research, who have also been enthusiastic proponents of exchange with Japan.
Kazuhiro Shiozaki, president of the Nara Institute of Science and Technology (NAIST), said there are benefits to accepting international students.
"Young talents with different cultural backgrounds and values can make new discoveries by conducting research together," Shiozaki explained, adding, "It also helps Japanese students hone a cosmopolitan sensitivity."
But 41 privately-financed international students who had planned to study at NAIST this year have been unable to enter the country, leading some to withdraw from the university altogether.
"We are losing out on opportunities to build on our global network through exchange with international students," said Shiozaki.
At the end of September, the Japan Association of National Universities and the Japan Association of Private Universities and Colleges petitioned the government to expedite the reopening of Japan's borders to privately-financed students.
The government has said it will conduct a "step-by-step review" of its border controls, but has yet to present a specific timeline.
Risk assessment
Other countries have enlisted vaccination and testing to grant entry to international students amid the pandemic.
The United States plans to require foreign nationals entering the country from early November to show proof of vaccination, in addition to providing the results of a negative coronavirus test taken during the three days preceding departure from their countries.
Canada has also reopened to international students of designated learning institutions with COVID-19 readiness plans approved by the province or territory where the school is located.
The South Korean Education Ministry in July announced that 33,826 foreign students had entered the country in the first half of this year. The ministry said 255 of these students tested positive for COVID-19, but that stringent testing and quarantine had prevented transmission of the virus to local communities.
"We should not uniformly restrict or ease entry into Japan," said Koji Wada, a professor of public health at the International University of Health and Welfare. "Possible risks must be assessed for each individual based on their vaccination status and the infection levels in their countries."
Wada cited public concern over the spread of the virus as one factor behind Japan's blanket entry ban.
"In order to gain the public's understanding, the government will need to carefully explain the criteria being used when deciding to grant entry," Wada said.
E-learning has its limits
The pandemic has ushered in a rapid shift in education, pushing classes and lessons online overnight. Although some universities have tapped technology to build a virtual bridge between students in Japan and overseas, it has been hard to provide content and experiences that compare to real immersion abroad.
Since autumn last year, Kansai Gaidai University has been offering remote classes on Japanese language and culture to international students who originally planned to study at the university for six months to a year.
Enrollment in the distance learning program is even slightly up compared to similar exchange programs before the pandemic. After all, it is easier to log on to a computer than live in a foreign country for a semester or more.
Time differences and other commitments mean many of the students participating in the curriculum can only take one or two lessons a day. But as part of the program, students scattered across the world can introduce their home cities and get to know their classmates, chatting in English through a video conferencing system. Many students report that having made friends with Japanese peers has heightened their interest in traveling to Japan someday.
In the past, Kansai University has welcomed international students to campus for short exchanges over the summer and winter terms to take courses taught in English on Japanese culture and customs. The university planned to offer the exchange programs online this year, but had to cancel after failing to attract enough registrants.
At Sophia University, most international students enrolled in six-month to yearlong exchanges have had to make do with online courses, as they await entry into Japan. The number of international students at the university is only about 30% of pre-pandemic levels.
"When learning online, students cannot fully interact with friends and teachers outside the classroom," said a program coordinator at the university. "Students, international and Japanese alike, have been missing out on valuable opportunities."