Lax club activity draws attention of schools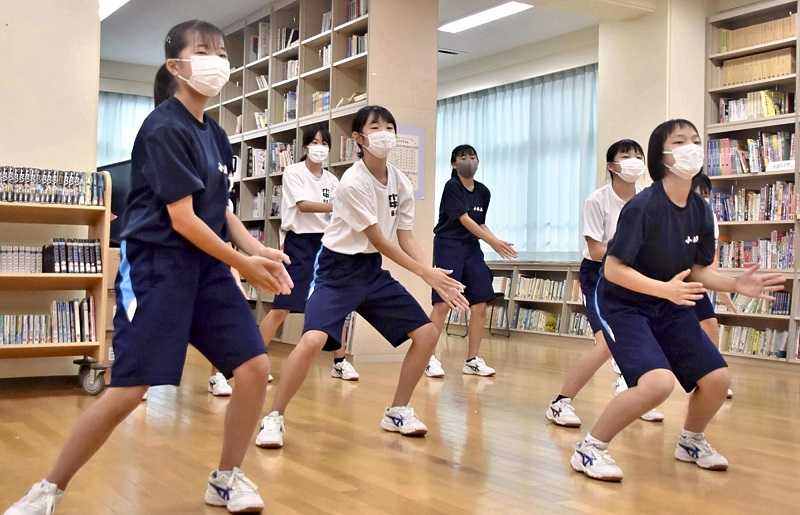 16:52 JST, October 27, 2021
Lax club activities — with no hierarchical relationship between seniors and juniors, and no emphasis on winning or losing — are gaining attention in the field of education at junior high and high schools.
While excessive long hours of practice and violent coaching of sports clubs at schools have become the focus of concern as a club activity with sweatshop-like conditions, the Sports Agency proposed an idea of creating a lax club activity at schools three years ago to encourage students to acquire the habit of exercising while having fun.
Schools in rural areas also are welcoming the idea as they have been struggling to maintain their club activities due to a decrease in the number of students.
On voluntary bases
"This dance is so difficult," said a student in a library of Komatsushima Junior High School in Komatsushima, Tokushima Prefecture. The student is one of about 20 members of the school's sports and health club who gathered at the library. In September, they were watching a YouTube dance video on a TV screen and moving their bodies to the dance on the video. The room was filled with the sound of laughter 90-minute activity on the day.
With the decrease in the number of students, the school has been unable to participate in official popular sports such as soccer due to a lack of members.
Last year, the school created the sports and health club as part of efforts to provide students with opportunities to exercise in a casual atmosphere.
After school on weekdays, the club members sweat out a variety of physical activities such as dancing, core training, rubber jumping, and soccer. The activities are decided by the club's advisor after hearing the wishes of the club members. Students can participate in the activities on a voluntary bases. The club is closed on weekends and during summer vacation.
With the entry of students who used to go straight home after school without attending any club activities, the sports and health club now has 27 members.
A 13-year-old second-year student, Anzu Hamamatsu, who had no athletic experience, gained confidence in physical strength after joining the club. In July, she participated in a prefectural track and field competition in July, and set a new personal best in the 200-meter run. "I was able to test my strength purely, not by wining or losing," she said.
20% not attend club activities
The agency formulated comprehensive guidelines on a desirable form of sports club activities, calling for the "development of an environment based on the needs of students." The agency also recommended schools to create a lax club activity as an example.
The agency's move comes as many students have become less interested in sports clubs.
According to a survey conducted by the National Institution for Youth Education in fiscal 2019, the rate of high school second-year students answered that they belong to a sports club stood at 47.3%, a decrease of 3.3 percentage points from the survey conducted five years ago.
On the other hand, the percentage of those who said they did not belong to any club activities increased by 1.1 percentage points to 20.1%. An official of the Sports Agency expressed concern, saying, "Under the current situation, many children will grow up without any exercise habit."
Tokyo's Setagaya Ward, for its part, has engaged in a program to create a lax club activity at schools.
In 2012, the ward's Higashi Fukazawa Junior High School created a club to improve physical strength. As a result of introducing the club to other schools, nine of the ward's 29 junior high schools now have a club of this kind at their schools.
The ward's Board of Education has received inquiries from school boards and schools nationwide. The staff member in charge of the program said, "Students who are not confident about their physical strength also are taking part in the activity."
In Osaka, two junior high schools have a lax club activity. At the yoga club of Tamade Junior High School that holds a 60-minute activity twice a week, students challenge each other with poses they have found in books they have brought with them.
A lax club activity is also beneficial for teachers as the hours they are supposed to use for the club is much shorter than for usual sports clubs.
Sachi Kuroda, the advisor of Komatsushima Junior High School's sports and health club, is glad to have the club at the school, saying, "I had to devote all my time to a club activity, but now I can balance it with my other duties."
Maintaining club activities
Creating a lax club activity also helps schools with a small number students to maintain their club activities.
At Kyoto Prefectural Kitakuwada High School in Kyoto's Ukyo Ward, the school's cycling club won this year's high school athletic championships, and its sports climbing club is also at the national level. However, with only less than 200 students in the school, it was difficult to find enough members for the team competition.
Thus in August last year, the school created the "free sports club." The club allows students to practice sports they wish to participate in when they join the club, and also allows them to practice more than one sport.
Wachi Junior High School in Kyotanba, Kyoto Prefecture, with about 40 students in total, created a free sports club in April. "Even in a small school, students can now feel the appeal of sports," Principal Kyoko Taniguchi said.
"A lax club activity is similar to university's club activities. Unlike conventional club activities where students only listen to what their advisors tell them, lax club activities are expected to help students think for themselves and acquire the ability to solve problems through flexible activities," said Kansai University Prof. Taku Kamiya, who specializes in Sports education.