'Corralling' rampant in serviced housing for elderly in Japan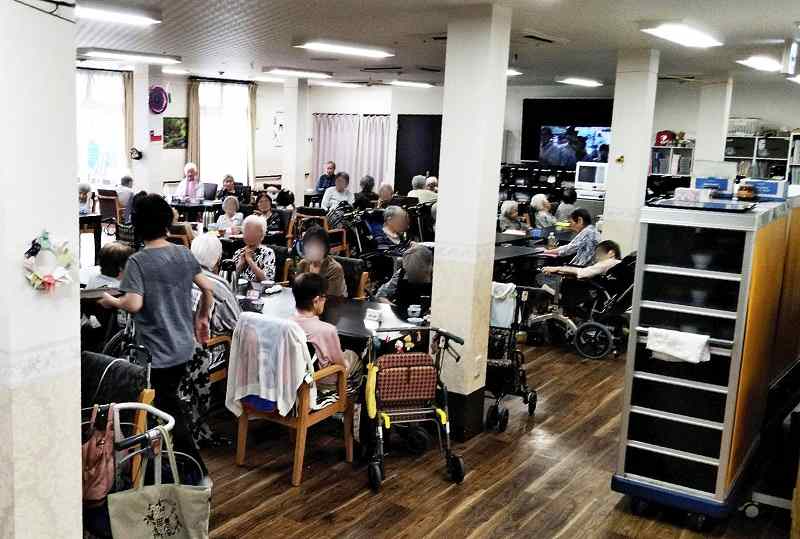 16:13 JST, October 18, 2021
Many operators of elderly housing that includes intermittent monitoring of the residents are increasing profits by forcing them to use unnecessary care services, a method known as "corralling," a Yomiuri Shimbun survey has found.
A survey of local governments with jurisdiction over such housing found that about 40% were aware of such inappropriate acts, while about 90% were unable to conduct on-site inspections as scheduled, bringing to light the problem of inadequate supervision of the system.
In the system, private rental units are set aside to support elderly people's lives by providing a service in which someone checks up on them to make sure they are safe. It was institutionalized in fiscal 2011 under the revised Law on the Securement of a Stable Supply of Elderly Persons' Housing.
Operators can register units with prefectural or city governments that meet certain conditions, including the size of the rooms and the method to be used to ensure resident safety by staff. In principle, residents must be 60 or older, and the average rent nationwide is about ¥105,000 a month.
There are about 270,000 people currently living in such housing, and on the occasion of the 10th anniversary of the establishment of the system, The Yomiuri Shimbun sent questionnaires between July and August to 129 local governments conducting the program. All responded.
It has been said that serviced housing operators attract residents with low rent, then "corral" them by making them use neighboring day care facilities that they own, securing profits from nursing-care insurance that is mainly funded by taxes and insurance premiums.
The Health, Labor and Welfare Ministry has urged local governments to impose thorough guidance on operators, as corralling could lead to excessive nursing care that prevents users from becoming self-reliant, and also increases nursing care disbursements which could result in higher insurance premiums.
In the survey, 51 local governments said they were aware of corralling through reports and complaints from residents.
With multiple answers allowed, 47 governments said residents are not allowed to receive services other than those affiliated with their housing operator, while 35 said residents are forced to use services up to the limit set by the nursing care insurance system.
Between fiscal 2018 and 2020, 18 local governments were able to conduct regular on-site inspections based on national guidelines as scheduled. In fiscal 2020, however, inspections were conducted at only 530 facilities, down about 60% from the previous year.
As for the 111 municipalities that could not carry out scheduled inspections, with multiple answers allowed, 101 cited the effects of the pandemic and 42 cited a shortage of inspectors.