Cheerful colors of Sunflowers add to Halloween decorations, attract tourists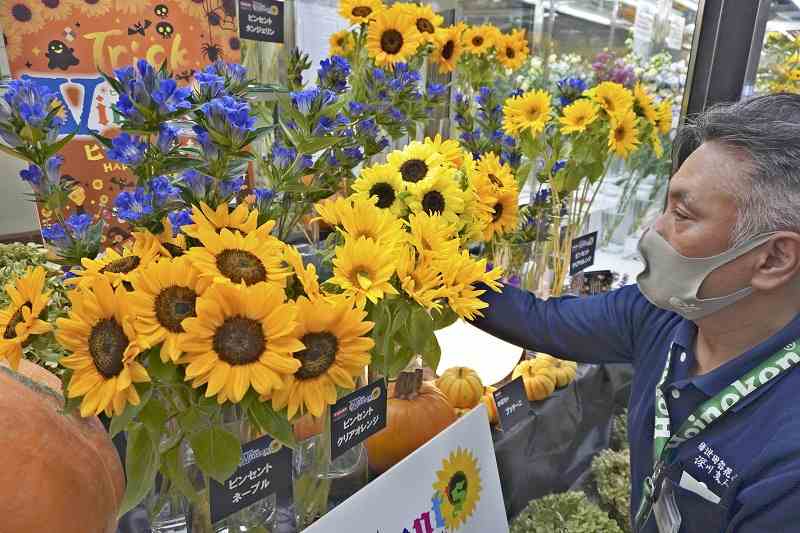 11:48 JST, October 14, 2021
A summer staple in Japan, cut sunflowers can also be found in autumn as well. The lingering heat in recent years has made the flowers feel less out of place in the fall, and their color goes well with the orange of Halloween pumpkins. As a result of their popularity, some tourist farms feature sunflowers in full bloom in autumn.
This month, the Setagaya Kaki flower wholesaler in Tokyo set up a section for autumn-blooming sunflowers at the Setagaya Wholesale Market, part of the Metropolitan Central Wholesale Market.
Sunflowers with bright yellow petals are popular in summer, as they look beautiful under the blue sky. In contrast, varieties with orange petals are the mainstay in autumn. A total of about 200 sunflowers in four types grown in Hokkaido and Kyushu were on display at the section.
A department manager at Setagaya Kaki, which started to emphasize autumn-blooming types in 2016, said there was no response from customers at first, partly because sunflowers were thought to be a summer flower.
In recent years, however, the volume of transactions in September and October has increased. This month, shipments to the company are about double that of the same period last year, he said.
One reason for the increase is the continuing summerlike heat in autumn. The company is still receiving inquiries and orders for the flower, which does not look strange on display at this time of year.
"[Sunflowers] are used as an ornament in seasons other than summer, too. A certain amount of sunflowers are now available for a longer period of time than before, from spring to autumn," he said.
Autumn business opportunity
Some businesses are taking advantage of the popularity of Halloween to sell sunflowers.
Sakata Seed Corp., based in Yokohama, has been running a campaign to promote autumn-blooming sunflowers since 2015. Seeking to have orange sunflowers included in Halloween decorations using orange pumpkins, the company has given away cut flowers of the Vincent variety, which it developed, at commercial facilities.
The manager of Sakata Seed's flower business department said: "In autumn as well, there's demand to display sunflowers in cheerful 'vitamin colors,'" meaning bright, vivid colors generally associated with vitamin-C-rich citrus fruits.
He also said sunflowers are recognized as an autumn flower in the United States, as their production of seed oil gives them a strong harvest-time image.
"I want to promote autumn-blooming sunflowers in Japan," he said.
Blossoming into winter
Some tourist spots feature autumn-blooming sunflowers.
The Kanko Noen Hana Hiroba sightseeing farm in Minami-Chita, Aichi Prefecture, has 11 fields where sunflowers are designed to bloom in turn, an attraction launched about 10 years ago.
With the promotional message "Sunflowers in Bloom until December," the farm entertains visitors with sunflowers for a long period of time.
Autumn-blooming types are 100 to 130 centimeters high, shorter than midsummer types due to lower temperatures, and their flowers bloom longer. Each year, the farm works hard to have its sunflower and cosmos flowers, a typical autumn flower, bloom simultaneously.
"Visitors say it's strange but pleasant," said the director of the sightseeing farm.
A gardening specialist said: "Sunflowers look gorgeous when they're displayed not only with pumpkins but also with other autumn foods such as chestnuts and fruits. I suggest using flowers for your Halloween decorations at home, too."