13:32 JST, October 5, 2021
The Land, Infrastructure, Transport and Tourism Ministry will install a number of small, inexpensive flood sensors in buildings along rivers to create a system that can quickly determine the extent of flooding. The sensors will be about the size and shape of ¥500 coins and will also cost about ¥500. The system will be field-tested next year, with the aim of implementing it within a few years.
The sensors are designed to transmit radio waves at all times, and will be installed in houses and public facilities. The radio waves weaken when the sensor is submerged. A receiver that monitors the incoming radio waves enables a computer to map the extent of flooding. The sensors are expected to work maintenance-free for about 10 years.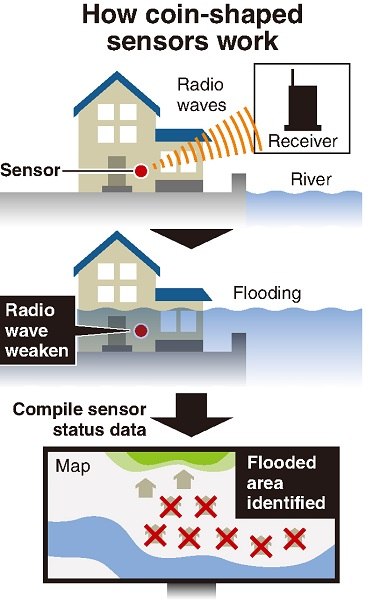 The ministry is considering setting up a council of companies, local governments and residents in river basin areas to operate the system. If the extent of inundation is known at an early stage, evacuation and rescue operations can be expedited, and recovery plans and insurance payments can be made more smoothly according to the damage.
The Kanto Regional Development Bureau conducted an experiment in 2019 using early versions of the sensors in Ibaraki and Saitama prefectures, and is on track to realize the system. The ministry is already soliciting applications from companies and local governments to participate in the new field test as the development of the sensors continues.
Add TheJapanNews to your Google News feed.