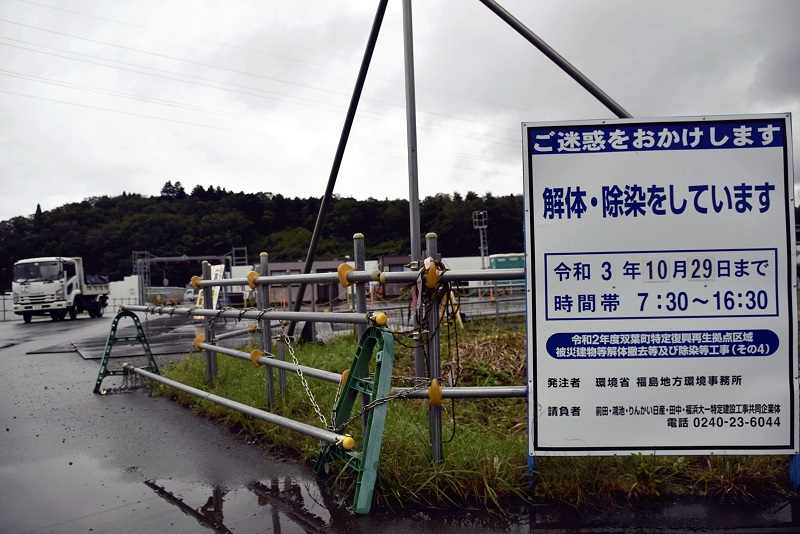 9:35 JST, September 20, 2021
FUKUSHIMA — The central and local governments have begun encouraging people from outside Fukushima Prefecture to move into areas surrounding Tokyo Electric Power Company Holdings, Inc.'s Fukushima No. 1 nuclear power plant, hoping that new residents will revive the areas.
The central government plans to lift evacuation orders in all areas categorized as difficult-to-return zones so that residents wishing to return to their homes can do so within the 2020s. However, in areas where such an order has already been lifted, residents have been slow to return.
300 newcomers sought
"I've long wanted to contribute to the reconstruction of Fukushima," said Daisuke Yamamoto, 49, an engineer who moved from Sapporo to the city of Tamura, Fukushima Prefecture, in August.
Yamamoto said he aimed to set up his own business there.
The central government's financial support system, which began in July, encouraged him to move in. The system grants up to ¥2 million to those who move into 12 municipalities near the nuclear plant from outside the prefecture. Additional funds of up to ¥4 million will be paid if they launch a business there. The government's goal is to bring in 300 new people this fiscal year alone.
Local municipalities are preparing for new residents. In July, the Fukushima prefectural government set up a joint support center with the 12 municipalities. In Minami-Soma, vacant houses will be renovated into rental housing. In the village of Katsurao, eight units of municipal apartment housing will be constructed.
10% want to return
Behind the move is the slow return of residents to areas where the evacuation orders were lifted. The Reconstruction Agency and others surveyed the residents of five towns, including Futaba and Okuma, and found that only about 10% wanted to return.
The town of Namie, where the evacuation order was partially lifted in 2017, now has a population of 1,717. In fiscal 2019, 70 people in 49 households moved into the town from outside the prefecture, thanks in part to the presence of factories opened by 10 companies, but the population is still only about a tenth of its pre-disaster size.
"The only way to keep the town going is to further increase the number of new arrivals," a town official said.
Commuting, restoring
Over 10 years after the nuclear accident, people who have rebuilt their lives in areas to which they evacuated will have the option of having residences in two locations, commuting to Fukushima Prefecture while carrying on with their present lives elsewhere.
A 66-year-old man who moved his family to Hitachi, Ibaraki Prefecture, has a home in an area categorized as a difficult-to-return zone in Namie. In order to return to that home, he would need to repair the now dilapidated house. His children have found jobs in Ibaraki. The man's life in Ibaraki, where he grows vegetables in rented fields, has become settled.
"I have no choice but to spend two hours each way to get to and from Fukushima," he said.
In a survey conducted last fiscal year by the towns of Futaba, Okuma and Tomioka on their residents, about 60% said they wanted to maintain ties with their hometowns.
The evacuation order for Naraha was lifted in 2015, but the number of residents in the town now has leveled off at 50% of the population before the accident. The town aims to raise the figure to 60% by 2030, or 5,130 people, by subsidizing JR train fares for residents who live in two locations.
The town of Tomioka supports residents who have been evacuated outside the town in the hope of bringing about "reconstruction by commuting." It opened social center and support office facilities in Iwaki, Fukushima Prefecture, and Saitama City, which are two places where many evacuated Tomioka residents now live. In those facilities, staff check up on the health of the evacuees or give counseling.
"Those who want to go home someday will become important people for the progress of reconstruction," said Yusuke Yamashita, a sociology professor at Tokyo Metropolitan University. "The central and local governments should continue to provide assistance from the perspective of 'reconstruction by commuting.'"
Add TheJapanNews to your Google News feed.