GENERAL NEWSPOLITICAL SERIES
Globally dominant U.S. tech giants big targets for antitrust regulators around the world.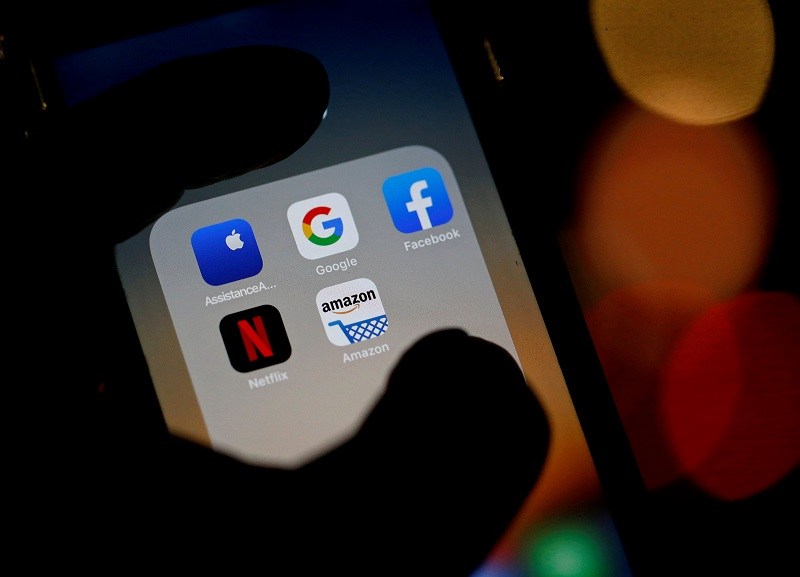 18:46 JST, September 15, 2021
The quartet of U.S. tech giants collectively dubbed GAFA — Google LLC, Amazon.com Inc., Facebook Inc. and Apple Inc. — have become targets of U.S. antitrust authorities and other government regulators around the world.
By enabling consumers to enjoy a more convenient lifestyle through their tech-related services and devices, they generate huge profits and attract enormous amounts of investment on the stock market. They occupy top global rankings in terms of market capitalization, and have dominant positions in their relevant markets.
800-pound gorilla
Amazon, the dominant online retailer, is feared by its rivals, which call it the 800-pound gorilla of e-commerce.
Amazon enjoys a more than 40% share of the U.S. online shopping market, with a large gap between it and second-place Walmart Inc., which has a share of about 7%. Experts say that Amazon is practically the only option for online sellers since other shopping sites cannot enable them to run a decent business.
In May, U.S. authorities in the District of Columbia sued Amazon, accusing the company of anticompetitive practices related to its third-party marketplace platform. The suit maintained that Amazon's contract provisions and policies prevented third-party sellers from offering their products at lower prices on any other online platform.
The suit alleges that Amazon punishes in various ways the sellers who don't abide by these terms, including using a system in which it is difficult for third-party sellers to sell their products without paying high commissions.
Rejecting the allegations, Amazon said in a prepared statement: "Amazon takes pride in the fact that we offer low prices across the broadest selection."
There have also been suspicions that Amazon is taking advantage of its position as an online shopping site operator to collect data on third-party sellers and using the information to develop products for its own brand and run its businesses.
The U.S. Congress is considering a bill that would effectively force Amazon to split up its businesses.
Killer acquisitions
Facebook has been questioned over its past acquisitions of start-ups.
A congressional committee criticized Facebook's acquisitions in an investigative report last autumn, saying the company had been buying up and killing off firms that pose a competitive threat to Facebook.
One of these firms is Instagram Inc., whose photo-sharing app has many users in Japan as well and is known for having contributed to the birth of the expression "Insuta-bae," or "Instagrammable."
The U.S. Federal Trade Commission filed a lawsuit against Facebook for antitrust violations last December, saying that the company wanted to eliminate the threat of future rivals by buying Instagram and messaging service provider WhatsApp Inc.
According to a research company, Facebook and Instagram have a combined share of about 80% of the social media market, far ahead of second-place Twitter. Facebook's actions aimed at eliminating emerging companies that may pose a competitive threat to itself are known as killer acquisitions and have been viewed as problematic.
Facebook has made 90 acquisitions in about 15 years, according to a U.S. nonprofit organization. It has made several acquisitions even after being sued by the FTC, showing a continuously strong appetite for buying up potential rivals.
Facebook has responded to the suit by saying that the acquisitions have not produced any concrete damage to consumers and that the FTC's assertion that Facebook is a monopoly has no legitimacy.
More powerful, more pernicious
In August last year, Epic Games, Inc., a U.S. developer of popular online video game "Fortnite," filed a lawsuit against Apple, claiming that Apple's rules on its App Store violated antitrust laws. Epic Games strongly criticized Apple's system, saying that app developers are forced to use Apple's payment system and pay high commissions in what is known as the "Apple tax." It said, "Apple is bigger, more powerful, more entrenched, and more pernicious than the monopolists of yesteryear."
Apple's iOS dominates the U.S. smartphone market, with nearly a 60% share. Some also say Apple is imposing rules that put its competitors at a disadvantage in the App Store to give an edge to its music distribution service.
An executive of Spotify Ltd., a major music distribution company, called for immediate legislative action against Apple during a U.S. congressional hearing, saying that Apple is using its dominant position to put rival services at a disadvantage.
There has been a move in Congress to introduce a bill to regulate the App Store. The U.S. Justice Department is reportedly investigating Apple's possible antitrust practices.
On Aug. 26, Apple announced that it had reached an agreement with some U.S. app developers as it promised them to strengthen efforts to improve the App Store.
In every corner of life
Google has been under the most scrutiny by the world's antitrust regulators. Since last autumn, U.S. authorities have filed four lawsuits against the company on suspicion of violating antitrust laws, covering a wide range of areas including its search engine, online advertising and its Google Play app store.
In response to the authorities' claims, Google said its search engine is designed to provide the most relevant results.
Google is believed to have been targeted because of the large number of areas it controls, as well as its high market share in each sector. In addition to more than a 90% share in the search engine market, Google enjoys the world's top-level share in online advertising. Its Chrome browser and Android smartphone operating system also have a prominent global market share. Android has been installed on more than 3 billion terminals worldwide.
It's not a stretch to say that Google's services have penetrated into every corner of people's lives.
Add TheJapanNews to your Google News feed.