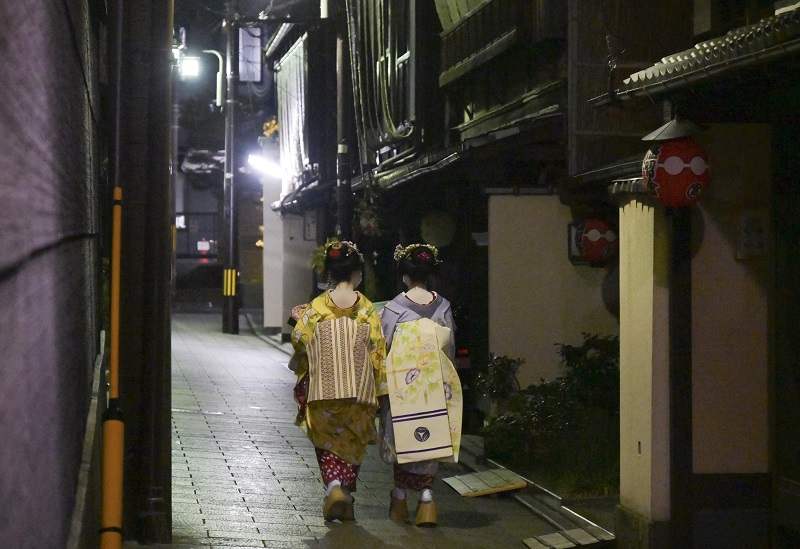 16:45 JST, September 12, 2021
KYOTO — Traditional geiko entertainers in Kyoto have lost opportunities to perform their dancing and other arts amid the prolonged coronavirus pandemic, and some have already left the business.
In normal times, geiko (as geisha are known in Kyoto) and maiko apprentices entertained guests at ozashiki, or banquets in rented rooms at ochaya teahouses. But in the Gokagai — five areas of geiko quarters in Kyoto — the number of reservations for ozashiki has plunged. Many of the regular stage performances by geiko have also been canceled.
Those in the business in Kyoto are increasingly concerned that the situation will hinder the preservation of traditional culture.
'I don't even do up my hair'
A special performance was given at a hall in Kyoto on Sept. 3, with dancing by geiko and maiko. The event was jointly held by the five geiko quarters.
An organization supporting the Gokagai districts planned the event to give geiko and maiko an opportunity to showcase their art. Young dancers belonging to each quarter appeared on the stage in turn.
A maiko named Masateru said she was happy to have the opportunity to dance on stage. The 17-year-old became a maiko in November last year, but she rarely has the chance to go to ozashiki. "I don't even do up my hair most of the time because I don't get any work at all," Masateru said.
Sixteen-year-old maiko Tomieri said, "I want society to get back to normal and I want to work a lot."
Making ends meet
Maiko candidates usually live in a house called an okiya that accommodates would-be geiko, after they graduate from junior high school. After a six-month to one-year training period, they make their debut as maiko. Another four to five years later, they become independent and are called geiko.
However, at the request of the Kyoto prefectural government, teahouses in the Gokagai quarters have repeatedly suspended their operations since last spring. Even now, signs indicating they are closed can be seen in front of many teahouses.
"There are almost no banquet reservations," said the owner of an okiya and a teahouse in the Gion district. "On some occasions, geiko and maiko are called on to join a regular customer for dinner, but revenue is less than half that before the pandemic."
Some have left the business. By the end of July 2021, there were 160 geiko in all of the Gokagai, down from 171 in January 2020 before the outbreak. The number of maiko decreased to 65 from 75.
Geiko are particularly hard hit because they need to earn a living on their own, unlike maiko, who are provided with housing and living expenses by their okiya. The main source of income for geiko is fees from customers at banquets, but the number of banquets being held is rapidly decreasing.
"The less work they get, the more time they have to think about their future, and some geiko decide to quit," says the proprietress of a long-established okiya.
Teahouses and individual geiko can also receive subsidies from the prefectural government, in the same way that money is paid to eateries that comply with the prefecture's requests to close or shorten their business hours. However, the situation is particularly tough for geiko who have just become independent.
"They need money to rent homes and have their kimonos made. It is difficult for them to live on governmental support alone," said a person involved in the business in the Pontocho district.
Impact on training
People are also concerned about maiko, who have lost opportunities to train in performing arts such as dancing and playing the shamisen. Young maiko must learn traditions and forms of hospitality that have been passed down in the Gokagai, but the chances to do so are disappearing.
In each quarter, the debuts of many maiko have been postponed for six months to a year, due to the decrease in banquets. Dance performances regularly held in spring and autumn are not taking place, with most of them canceled since last spring. In some districts training has stopped because dance masters cannot travel from Tokyo.
The Kyoto geiko districts have maintained their appeal by interacting with guests in accordance with their particular characteristics and ensuring customers do not get bored at ozashiki.
"Maiko have been deprived of their training and can't learn the spirit of hospitality and proper conduct from their seniors," the proprietress of a teahouse said.
Add TheJapanNews to your Google News feed.