Have sauna, will travel in Hokkaido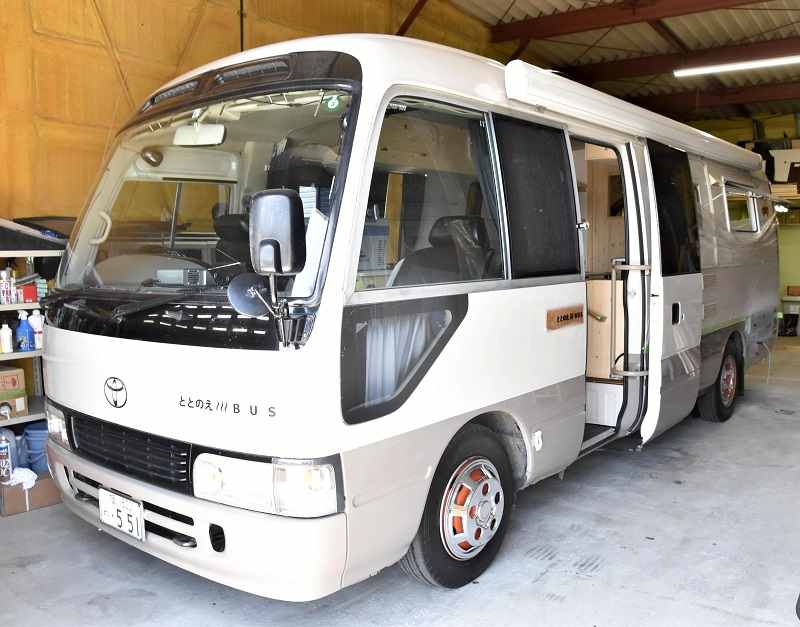 18:42 JST, September 7, 2021
A manufacturing company in Hokkaido has converted a recreational vehicle into a sauna, in a bid to help a local town revitalize itself amid the boom in teleworking and camping.
The town of Toma, Hokkaido, is aiming to give itself a boost by promoting health and leisure through saunas, which are popular among both men and women. It devised a "sauna bus project" and gained the cooperation of Touma Electronics Industry Co., a manufacturer of recreational vehicles and other products.
The company converted an RV into a "sedan bus" at its own expense, spending about ¥5 million.
To help promote the sauna bus, Toma will offer its rental as a return gift under the furusato nozei system of tax-deductible donations to people's hometowns.
Toma aims to develop an "auto site" where the sauna bus can park at the town's campground, and to update the aging sauna facilities at the town's bathhouse adjacent to the campground.
The RV's living room was converted into a sauna room. The interior is made of Todo fir grown in the town and supplied by Toma's forest cooperative. In this authentic Finnish-type sauna, the temperature can be heated up to 90 C and water is poured over the sauna stove to create steam called loyly. The bus also has showers and a rest space.
The sauna bus can be driven with certain regular licenses.
Company President Norihisa Tadano said, "I hope people will park along the river, and enjoy a dip in the water along with relaxing in the sauna."
In recent years, saunas have been featured in manga and TV dramas and become a booming business. Toma is also home to Mt. Toma, where people can enjoy snowshoeing in winter in addition to camping. After warming up in the sauna, people can dive into the snow in winter instead of taking a cold water bath.