Department stores strengthen infection control measures in Japan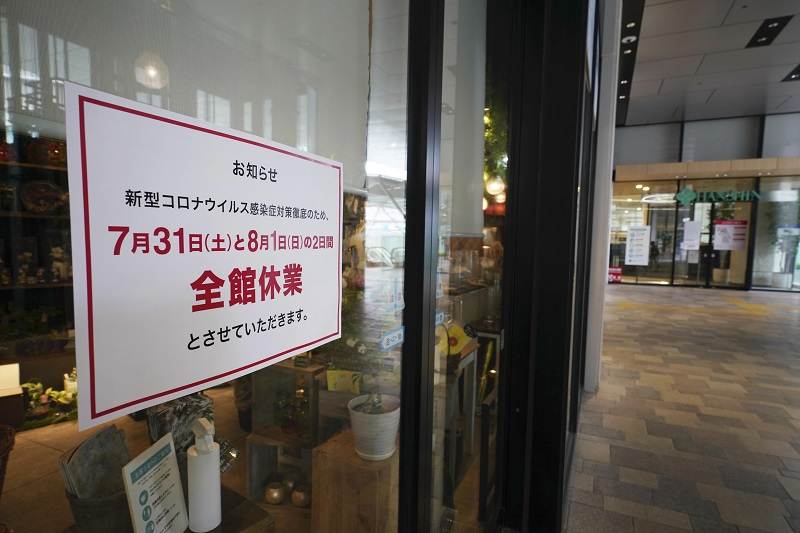 13:50 JST, August 13, 2021
Department stores and other commercial facilities, which have been urged by the government's subcommittee on measures against the novel coronavirus to curb the flow of people, have been stepping up infection control measures.
The Umeda main store of Hanshin Department Store in Osaka experienced an infection cluster in late July, with a total of 145 employees confirmed infected from July 26 to Aug. 8. More than 80% of them were working in the grocery sections on the basement and first floors.
Hankyu Hanshin Department Stores, Inc., the operator of the Umeda store, has so far conducted PCR tests on about 1,500 people, including all involved in grocery sales, and ordered those in close contact with infected people to stay home for two weeks.
"We have been strengthening our infection control measures, and we will closely monitor the government requests in response to the [subcommittee's] proposal," said a spokesperson of H2O Retailing Corp., the parent company of Hankyu Hanshin Department Stores.
In Tokyo, a total of 67 employees of the Isetan Shinjuku main store were confirmed infected during the week of Aug. 5-11. The department store is taking measures such as increasing the number of air purifiers and disinfectants for employees. If the number of people in the building exceeds a certain level, the store will consider restricting entry.
Sogo & Seibu Co. has installed machines that can automatically sterilize shopping baskets in the grocery sections of all 10 of its stores. Previously, employees had to wipe the baskets manually three times a day. The machine can sterilize 40 baskets in about five minutes, reducing the sterilizing time to less than one-tenth of what it had been.
Yoshio Murata, chairman of the Japan Department Stores Association and president of Takashimaya Co., issued a statement on Thursday. "We will conduct a comprehensive review of our existing measures and take additional measures as much as possible according to the actual situation of each company," it said.