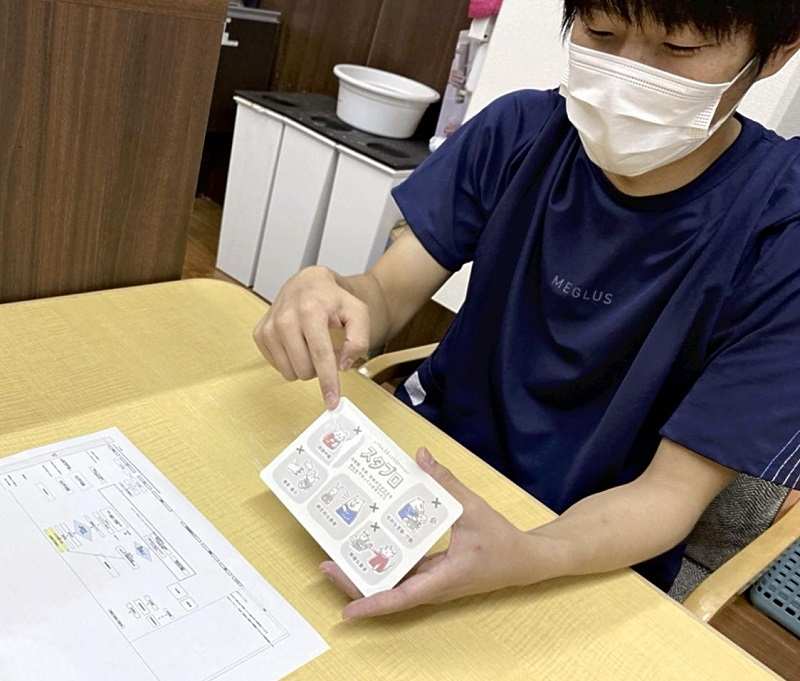 10:08 JST, August 12, 2021
Care workers are sometimes subjected to abusive language and physical violence from people they are helping, as well as from their families. This could result in staff quitting, worsening the labor shortage in this field, and nursing care providers have begun taking measures to protect their employees.
'Red' flags
Meglus Inc., a Nagoya-based company operating nursing care homes and other facilities, introduced guidelines in April to determine whether the words and actions of care recipients and their families constitute harassment of care workers.
Abusive language and intimidation that could cause staff to suffer from mental distress or obstruct their work, as well as violent behavior and sexual harassment, are considered harassment and categorized as red. The yellow category refers to excessive demands and cases in which care recipients and their families engage in problematic behavior but are accommodating when staff ask them to stop.
Meglus surveyed about 150 staff working at nursing care facilities to compile cases involving disruptive behavior. Based on the results and referring to relevant Health, Labor and Welfare Ministry manuals and other materials, the company categorized behavior into three groups of red, yellow and blue.
For example, behavior categorized as red includes yelling and slamming things to intimidate the staff; and touching the body of a care worker or hugging them.
When staff report suspected harassment to the company, a division that is not directly related to care recipients or their families makes a primary judgment based on the guidelines. If a case is determined to involve red or yellow behavior, Meglus sets up a team to handle it and hear from the parties concerned, including care workers and recipients.
If harassment is determined to have occurred, the company talks with the recipient and their family about measures to resolve the situation, including the possibility that service will no longer be provided.
Yoshika Wakita, 25, was involved in creating the system. "Some people say they don't know the line between words and actions constituting harassment and those that don't, so we needed to create standards," Wakita said.
Workers quitting
A resident of a Meglus nursing care home brandished a pair of scissors, causing a number of staff to resign out of fear for their physical safety. The company decided to create the guidelines after this incident, realizing it could not leave violent behavior and harassment of the staff unaddressed and that it would need to establish an environment in which employees can work with peace of mind.
Over the four months since the introduction of the guidelines, there have been two cases that fell into the red category. In one case, the company heard from parties concerned and found that the care recipient in question had sexually harassed the staff repeatedly, hugging multiple care workers and touching their bodies. The company talked with the care recipient's side and ultimately had them leave the facility.
Speaking up
"Staff are used to putting up with harassment by care recipients, because they're old or sick, but we want to change the situation," Wakita said.
If employees tell people to cease their problematic behavior at an early stage, it could be stopped before it escalates. The company put up stickers explaining the system in its facilities and are distributing the stickers to new residents and their families to obtain their understanding.
Tsuchiya, an Okayama Prefecture-based company that provides visiting care for persons with severe disabilities, created a committee on measures against harassment this year. The company will set up multiple channels to provide consultation services for the staff.
Chiaki Okada, the director of the company, pointed out the difficulty of distinguishing between sexual harassment and nursing care, especially when helping someone bathe or relieve themselves.
An example of this can be found in requests regarding ways of washing the body. Even though a care recipient makes sexual comments that could constitute harassment of workers of the opposite sex, some staff tend to tolerate such remarks and provide care.
"Continuous harassment might lead staff to resign. I hope that care recipients show consideration to the staff so that we can keep providing better care," Okada said.
Add TheJapanNews to your Google News feed.