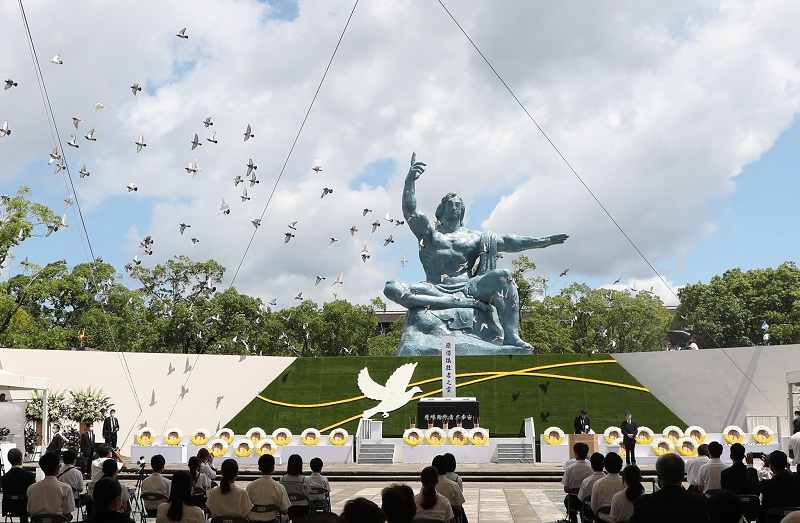 15:26 JST, August 9, 2021
NAGASAKI — The 76th anniversary of the atomic bombing of Nagasaki was marked Monday.
Due to the novel coronavirus pandemic, the annual ceremony to pray for peace in memory of the deceased was reduced in scale for the second year in a row.
The ceremony at Nagasaki Peace Park was attended by about 500 people, including hibakusha who survived the bombing, bereaved families of the victims and Prime Minister Yoshihide Suga.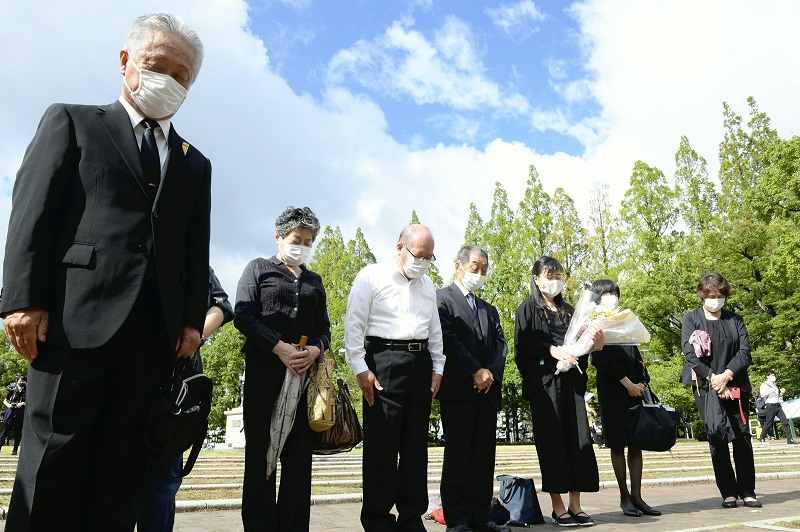 At 11:02 a.m., the time the bomb exploded on Aug. 9, 1945, the peace bell of Nagasaki rang, and the attendees observed a moment of silence.
In the Nagasaki Peace Declaration, Nagasaki Mayor Tomihisa Taue urged the central government to sign and ratify the Treaty on the Prohibition of Nuclear Weapons, which took effect in January, and attend the meeting of the treaty's signatory countries as an observer. The mayor also demanded that the government help people who were exposed to the atomic bombing in places that are not designated as atomic-bombed areas.
During the ceremony, three books listing the names of 3,202 additional survivors of the Nagasaki bombing who were confirmed to have died in the year through the end of July were enshrined. There are now 194 such books. The official death toll from the bombing and of the hibakusha who later died has reached 189,163.
Add TheJapanNews to your Google News feed.