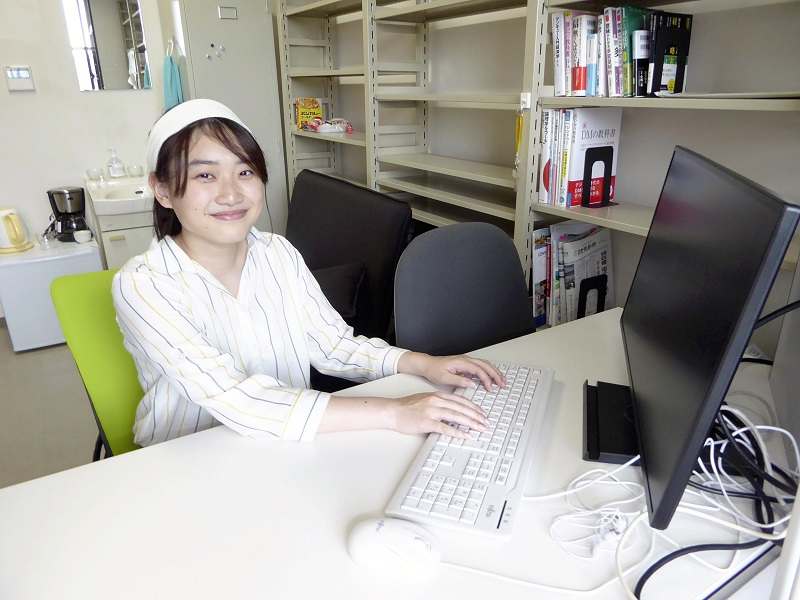 8:57 JST, July 28, 2021
Faculties dealing with data science and artificial intelligence, which analyze vast amounts of data that can lead to innovations in various fields, are gaining a larger foothold in universities.
This spring, the first students from Japan's first data science department finished university. Some of them started their own businesses while still in school.
The interest of students is high, and some universities have made it a pillar of their strategy to survive the declining birth rate.
Starting business in school
Many of the comments from customers who bought water bottles at a household goods store emphasized cuteness and stylishness rather than functional aspects such as keeping cool.
This useful business trend information is the result of an analysis of a large number of word-of-mouth comments on social media by Miyu Imoto, a first-batch data science student at Shiga University who graduated in March.
When Imoto was in high school, she learned that a Faculty of Data Science would be established at Shiga University in 2017. She was looking for a learning experience that transcended the boundaries of humanities and science, and was attracted by the fact that it was the first of its kind in Japan, so she decided to enroll.
She was a beginner in programming, but as she studied a wide range of subjects, such as statistics, she began to feel that "data science itself, which can analyze all kinds of things, can become a job."
Instead of looking for a job, she started her own business with an acquaintance in June last year, based in the university. The name of the company is Mitei, which focuses on data analysis for companies and programming education for employees. The name expresses the company's desire to "help determine the future of the 'undecided' through data science."
The company has received orders from dozens of companies not only in Shiga Prefecture but also in the Kansai and Chubu regions.
"I want to make Shiga Prefecture the Silicon Valley of the data science field," Imoto said, her words filled with enthusiasm.
The first batch of Shiga University students who graduated this spring found employment in a wide range of fields, including information and communications, manufacturing, mass media and infrastructure, while 20% went on to graduate school.
A person in charge of job-hunting support at the university said, "Recently, we are attracting attention from industries we had not expected, such as general trading companies."
Thousands of waka poems
In the spring of 2019, the Faculty of Data Science at Musashino University in Tokyo was established to provide students with practical training and exercises to acquire skills in data collection and analysis.
Aiha Ikegami, a second-year student in the department, studied the words used with the word "spring" in more than 7,000 poems from the anthologies Manyoshu, Kokin Wakashu, and Shinkokin Wakashu. As a result, she found that "bloom" was used more often in the Manyoshu, while "scatter" was used more often in the Kokin Wakashu and Shinkokin Wakashu, which were established later.
Her research, which suggests that aesthetic concepts changed from "blooming" to "scattering" over the period when the anthologies were established, won a prize at a presentation in the field of data engineering in March.
"The appeal of data science is that you can study it in connection with any academic discipline," Ikegami said.
First new faculty in 72 years
The rush to establish new information-related faculties continues. In the spring of 2023, Hitotsubashi University plans to open its first new faculty in 72 years, tentatively named the Faculty of Social Data Science.
As the birth rate continues to decline, universities are aiming to create new faculties that will attract students.
According to Kawaijuku, a major prep school chain, the number of applicants for general entrance examinations for information-related faculties and departments at private universities totaled 222,000, which is 1.5 times more than five years ago.
There is also a widespread trend for companies to give preferential treatment to people with expertise in data analysis.
In March of this year, Mitsui & Co. held its first internship program limited to students with a strong background in the digital field.
Osamu Kondo, an adviser at Kawaijuku's education research and development division, said: "Today's high school students prefer faculties that are directly linked to employment. More and more high school students want to learn programming, which will be compulsory in high school from next spring, at university as well. So the popularity of information-related faculties is likely to continue for the time being."
Add TheJapanNews to your Google News feed.