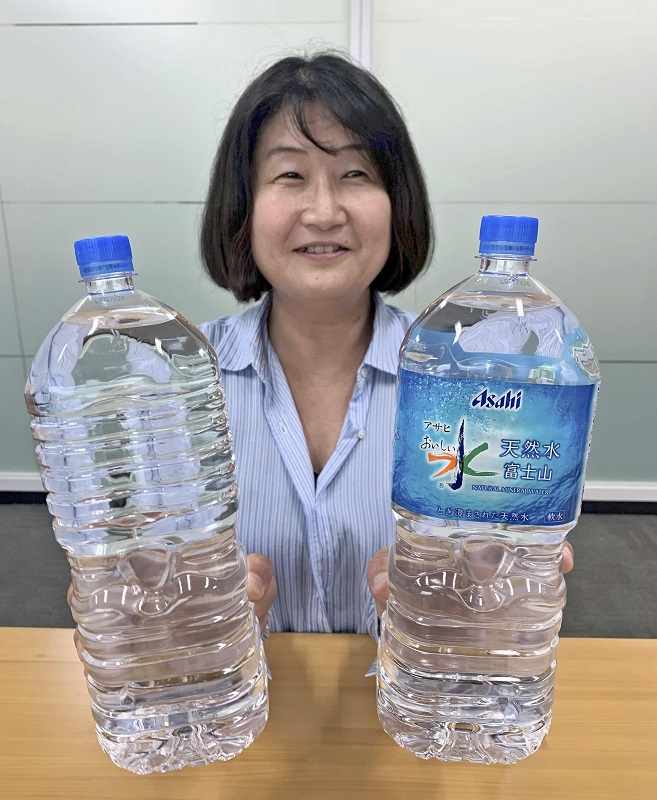 12:05 JST, July 22, 2021
Yokohama company employee Masako Hori, 51, began regularly buying 2-liter PET (polyethylene terephthalate) bottles of water in bulk last year, both for daily use and stockpiling, via mail order. The bottles have no labels on them.
In the past, Hori bought drinks in PET bottles that had labels, and she said it was inconvenient peeling them off.
"Now, I don't have to do that before throwing them away," she said. "It's easier than before."
Drinks in label-free plastic bottles are gaining a following. The bottles save consumers time and energy, with no need to peel off a label before recycling the bottle. Plastic used to make the labels is also rendered unnecessary.
Under the Law for the Promotion of Effective Utilization of Resources, plastic PET bottles containing drinks are required to be marked with the identification code of PET to facilitate sorting trash.
Beginning in April last year, and as a result of a revision to the ministerial order, the labeling of individual bottles is not required for beverages sold by the case if the identification code is marked on the outer packaging of the cases.
Hori buys Asahi Oishii Mizu bottled water, a product of Asahi Soft Drinks Co. In 2018, the company became the first in the industry to start selling label-free bottles by the case.
Until March last year, a small sticker with an identification mark printed on it had been attached on the product, instead of a label.
The company expects to reduce the amount of resin, which is used to make labels, by about 70 tons this year, a spokesperson of the company said.
Various drinks in label-free bottles are available via online shopping, including Pocari Sweat by Otsuka Pharmaceutical Co. and coffee by UCC Ueshima Coffee Co.
Kirin Beverage Co. began selling 525-milliliter green tea in label-free bottles at brick-and-mortar stores this year. Six bottles are packed in a paper case with the identification mark printed on it.
Coca-Cola (Japan) Co. polled 400 people across the country in April last year about what they feel is stressful about sorting garbage. Twenty-three percent of respondents said, "Peeling off the labels of plastic bottles," which came in second to "flattening and bundling cardboard boxes," chosen by 24%.
In a survey conducted in September of last year by a research organization, respondents said labels are important, as many "buy certain products because they like the label's design," and they "cannot remember what beverage is in the bottle after purchasing in bulk."
Ricoh Co., a precision equipment manufacturer, is developing a technology to etch letters and designs directly onto PET bottles. This method uses a laser to put the designs onto the surface of each bottle. The method does not use ink, which would interfere with recycling such bottles.
"If this technology is put to practical use, we will be able to save resources and create a variety of designs as well," said Yoshinori Hayashi of the company's advanced technology research institute.
There are some points of caution regarding label-free bottles.
Tatsuya Kakita, head of a consumer affairs research institute who is well versed in food labeling, said: "As no information on nutritional contents is provided on individual label-free products, we don't know, for example, whether it contains any allergens. It is advisable not to give bottles of drinks purchased by the case separately to people at events and lecture venues."
Add TheJapanNews to your Google News feed.