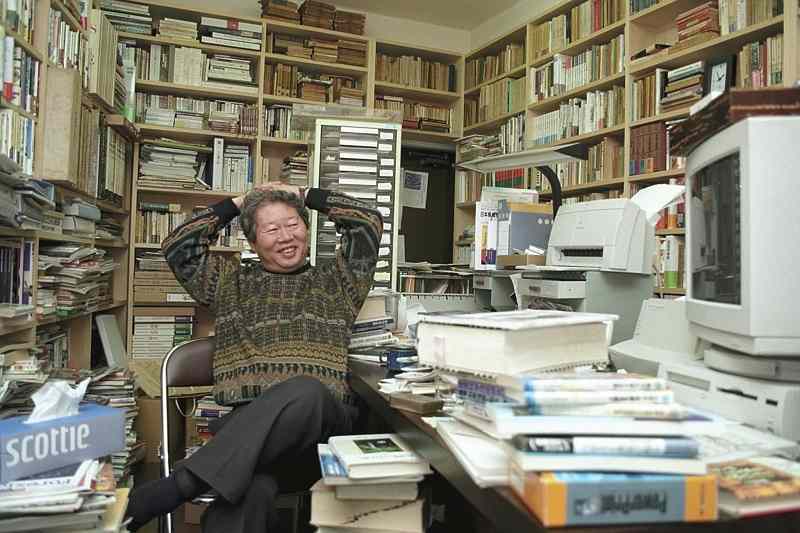 7:46 JST, July 21, 2021
A famous investigative report, delving into possible corruption related to then Prime Minister Kakuei Tanaka's questionable finances and connections, begins with a rather unimpressive sentence: "After all this time, there is no need to dwell too much on Prime Minister Tanaka's so-called money politics."
It was written by journalist and critic Takashi Tachibana, the intellectual giant who died in late April of acute coronary syndrome at 80, as reported widely in late June.
When the article was published in the November 1974 issue of Bungei Shunju monthly magazine, on sale in October 1974, the then 34-year-old Tachibana did not expect it to lead to Tanaka's resignation just a couple of months later.
Initially, the public was talking more about another report carried in that issue: Takaya Kodama's article headlined "Melancholic Queen of Etsuzankai," detailing Tanaka's political support organization and possible mistresses.
Shoichi Oikawa, now 79 and chairman of the board and senior deputy editor-in-chief of The Yomiuri Shimbun Holdings, was at the time in his fourth year as a reporter in The Yomiuri Shimbun's Political News Department.
"It was known to a certain extent that Kakuei Tanaka had carried out his brand of money-oriented politics, so the Kodama article, which exposed the existence of this woman who was Tanaka's treasurer, was considered more shocking in the political world," said Oikawa, who is also chairman of the editorial board at The Yomiuri Shimbun and editor-in-chief of The Japan News.
The tide turned about two weeks after the publication of the magazine when Tanaka was grilled about Tachibana's article at a Foreign Correspondents' Club of Japan press conference. The scandal regarding Tanaka's financial irregularities became major international news.
Within Tanaka's Liberal Democratic Party, a power struggle soon broke out, led by anti-Tanaka LDP members Takeo Fukuda and Takeo Miki. On Nov. 26, 1974, Tanaka announced his intention to resign.
What was so groundbreaking about Tachibana's report? His critical approach is seen in the research section of the article: "All things considered, there has to be a massive amount of money for so much to be disbursed through pork barrel projects. Where on earth does it possibly come from? This simple question keeps arising."
In August 1974, an about 20-member Team Tachibana was formed within the editorial department of Bungei Shunju. The team combed through political funds reports and other data, such as on Tanaka's home and the registries of related companies to get to the bottom of the overall structure of slush funds created by dummy corporations and other entities.
"Political news reporters were disgusted by Tanaka's money politics, but because it was taken for granted in the political sphere that politics costs money, they didn't make any move to investigate the actual situation of the slush funds," Oikawa said. "Mr. Tachibana was beyond this way of thinking and that made his work significant."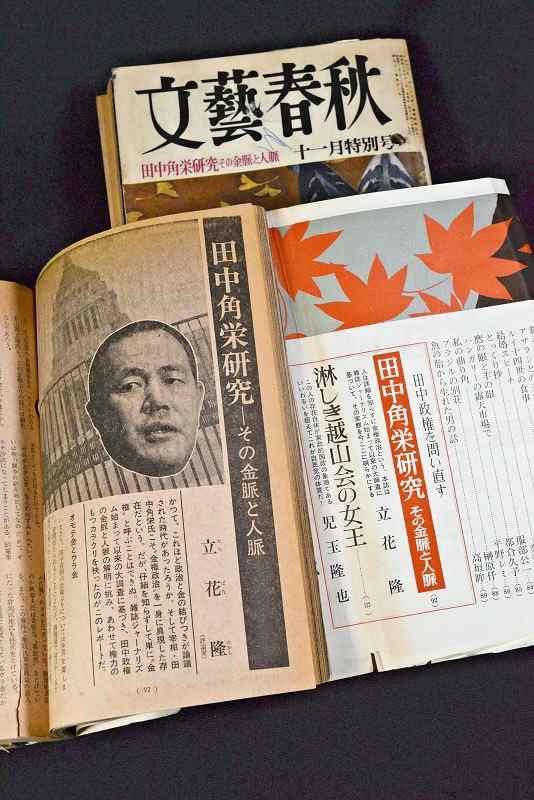 Essence of the man
"Simple questions and intellectual curiosity are the essence of Mr. Tachibana," said Yutaka Yukawa, 82, a literary critic who joined Bungei Shunju the same year as Tachibana. Yukawa later edited Tachibana's work "Boku wa Konna Hon wo Yondekita (These are the books I have read)."
Among his other works, Tachibana explored the inner changes in humans who had been to space in his book "Uchu Kara no Kikan (Return from space)." He also believed it was necessary to learn from primates to understand humans, resulting in the book "The Frontiers of Primatology," in which he covers brain death, near-death experiences and his experience with cancer.
"Whenever we met, we talked about books, and our interests ranged from Greek philosophy to cutting-edge science," Yukawa said.
Always curious, Tachibana as a child used to read the school library's books from one end of the shelf to the other, according to former NHK managing director Shunichi Itaya, 80. Itaya was Tachibana's classmate in elementary and junior high school in Mito and at the University of Tokyo.
When Tachibana was in the third grade of elementary school, he recited some passages from "The Tale of the Heike," Itaya said.
Itaya also remembers some of Tachibana's playfulness.
"Tachibana committed Morse code to memory and started writing love letters in the cipher for fun," he said. "He did it during class and was roundly scolded."
Then there was an impressive incident that foreshadowed Tachibana's future as a critic.
During the winter when they were in fifth grade, the elementary school used coal cinders to cover the schoolyard, which was slippery with frost. Still, many children fell and injured themselves. But for some reason, the teachers then told students to remove the cinders. Tachibana wrote a scathing piece on a bulletin posted on the wall of the school, including the sentence: "These inconsistencies are ridiculous."
"He did not cringe to authority even then," Itaya said.
Itaya added that they were proud of being the first students to have a postwar democratic education, having entered the new elementary school system established in 1947.
After they graduated from the University of Tokyo, Tachibana went to work for Bungei Shunju and Itaya for NHK.
About 1½ years later, Tachibana made a bet with four friends.
"Our companies are worthless and don't value our work," Tachibana said. "If any of us doesn't quit their company within a year, they have to pay ¥20,000," which was a substantial amount at the time.
Itaya knew from experience how hard it was to work freelance as his grandfather Hazan Itaya was a potter, though awarded with the Order of Cultural Merit, so he did not take the bet.
"Tachibana and the others really did quit their companies," Itaya said.
After that, Tachibana enrolled in the Department of Philosophy at the University of Tokyo, became a freelance writer, ran a bar called Gargantua in Shinjuku's Golden-gai area, and roamed around Europe and the Middle East.
"I wondered if things would be all right for him, but he wouldn't even listen to a friend's advice," Itaya said with a laugh. "I knew he would accomplish something, but I was surprised when his report on Tanaka caused a big stir."
In early April, he phoned the hospitalized Tachibana in what became their final conversation.
"His voice was surprisingly cheerful," Itaya said. "He seemed to be accepting his approaching death."
Add TheJapanNews to your Google News feed.