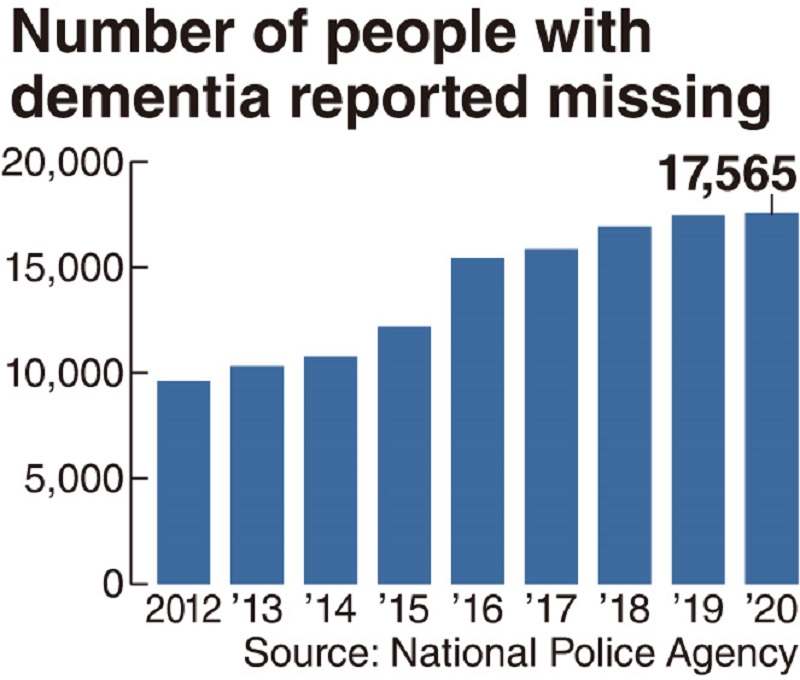 16:00 JST, June 26, 2021
A total of 17,565 people known or suspected to be suffering from dementia went missing in 2020, an increase of 86 from the previous year, according to reports received by police nationwide.
The 2020 figure marked a new high for the eighth consecutive year, the National Police Agency said. The government began collecting such statistics in 2012.
Many of those who went missing were in urban areas with large populations. The country's aging population is considered to be a factor in the rise.
Men accounted for 9,749 of the missing, and women accounted for 7,816. Osaka ranked highest in missing persons cases by prefecture with 1,990, followed by 1,889 in Saitama, 1,745 in Hyogo, 1,618 in Kanagawa, 1,349 in Aichi and 1,169 in Tokyo.
Regional police have been working with local governments to strengthen responses to missing persons cases as some of the lost people ended up being involved in traffic accidents.
When police receive a missing persons report, they ask local residents to cooperate in the search and to provide relevant information through emergency radio communication systems and by sending emails.
Last year, 16,887 people were safely taken into custody, including 58 people who had gone missing in 2019 or before. However, 527 were found after they had died. In April last year, an 80-year-old woman with dementia died after being hit by an express train in Nagahama, Shiga Prefecture.
The total number of people who went missing in 2020 was 77,022, a decrease of 9,911 from the previous year, and the lowest since statistics became available in 1956.
Of those who went missing, 13,915 were 19 or younger. In 39% of such cases, family problems such as discord with parents appeared to be the reason for young people to leave home, while school issues such as poor academic performance were cited in 9% of cases. In 17% of cases, no reason or motive was known.
Add TheJapanNews to your Google News feed.