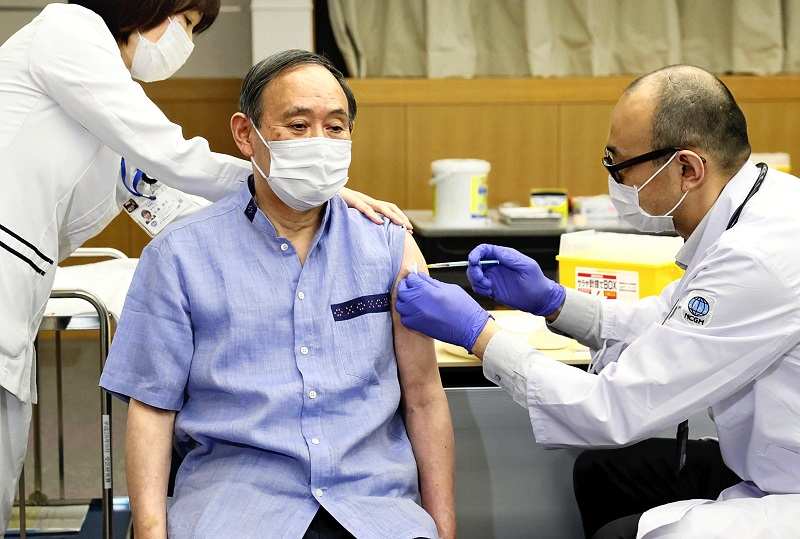 10:21 JST, April 23, 2021
As Japan braces for its fourth wave of coronavirus infections, the country has just begun vaccinating the elderly, prompting many to wonder why a country with such advanced medical technology is yet to launch its own domestically developed vaccine. Why has Japan fallen behind countries in Europe and the United States in vaccine development, and what measures should be implemented in the future?
National security matter
The United States and Europe have succeeded in developing COVID-19 vaccines at an astonishing speed, less than a year after the outbreak of the epidemic in China. In Japan, five firms have been leading the drive to develop vaccines, four of which have begun conducting clinical trials. However, their vaccines will not be available before the end of the year.
In May last year, the government earmarked nearly ¥200 billion in a supplementary budget for vaccine research, development, and mass production. The United States appropriated more than ¥1 trillion in the same month.
Deep wallets certainly help to hasten work. But even if Japanese teams had received subsidies of a similar scale, it seems unlikely that they would have been able to develop a vaccine in the same time frame. Japan simply does not have anywhere near as much R&D acumen to draw upon.
The Japanese government has been reluctant to adopt vaccine policies ever since a spate of class-action lawsuits over vaccine scandals, dating back to the 1970s.
However, it is the government's responsibility to support technological development for the production of vaccines that will protect people from future infectious diseases. The flu pandemic of 2009 to 2010, caused by a new flu strain that killed over 200 people and infected an estimated 20 million in Japan alone, should have been a prime opportunity to act.
Unheeded proposals
In June 2010, when the pandemic was winding down, the government's expert panel issued a report proposing support for vaccine manufacturers, promotion of vaccine development, and strengthening of production systems, stressing that doing so would be necessary "from the perspective of national security." But the government ultimately failed to make use of the proposals.
In the spring of 2009, the Health, Labor and Welfare Ministry set aside about ¥100 billion to have three Japanese companies build plants for the manufacture of vaccines against new strains of influenza. The epidemic ended before there was a need for the plants to produce vaccines, but the three firms were required to keep the unused facilities operational in case they were called upon to respond in future emergencies. The government provided no financial support to offset the facilities' maintenance costs, which amounted to hundreds of millions of yen each year, so the companies had to bear the burden.
In 2014, a Japanese company applied for approval of an influenza vaccine based on genetic recombination technology to the Pharmaceuticals and Medical Devices Agency, an administrative body under the jurisdiction of the health ministry. More efficient to produce and more effective than the conventional method of using chicken eggs to culture influenza strains, this type of vaccine had already been approved and administered in the United States. However, the agency was reluctant to grant approval and the company withdrew its application in 2017.
In January 2020, scientists discovered that coronavirus vaccines are difficult to produce using the conventional, egg-based method. Having neglected opportunities to support the development of new technologies, Japan was unable to respond quickly.
Budget cuts
By contrast, the U.S. government has continually supported the research and development of therapeutic drugs and vaccines to prepare for the emergence of new diseases from the perspective of national security.
The U.S. biotechnology firm Moderna Inc. received subsidies equivalent to about ¥2.7 billion from the Defense Department in 2013 and about ¥13.5 billion from the Health & Human Services Department in 2016, while working on technology for an mRNA vaccine that had yet to be commercialized. Moderna, which was able to draw on these experiences when it began work on the development of a COVID-19 vaccine in January last year, completed the clinical batch of the vaccine the following month.
In Japan, the National Institute of Biomedical Innovation, Health and Nutrition had been developing mRNA vaccines, but the project was suspended in 2018, when the clinical trial budget for vaccines related to the control of infectious diseases was cut.
"For a long time, Japan's vaccine policy was merely a subsection in the main health policy of the Health, Labor and Welfare Ministry," said Kenji Okada, president of the Japanese Society for Vaccinology and a professor at Fukuoka Nursing College. "I believe Japan has now learned from the novel coronavirus pandemic that vaccine development is an important part of national crisis management that it should be tackled through the combined efforts of industry, government and academia."
National strategy needed for vaccine development
The first step Japan must take is to strongly facilitate the use of domestic vaccines under development.
In February, the Health, Labor and Welfare Ministry allocated a supplementary budget of about ¥120 billion to support clinical trials.
However, it has been impossible to conduct trials involving tens of thousands of participants in Japan, where there are few coronavirus cases. Even if trials are conducted overseas, it is expected to be difficult to gather participants as vaccination programs are well underway in other countries.
A health ministry official said, "if conducting large-scale clinical trials is difficult, we will think about other approval methods that are scientifically valid and meet international standards." However, approval may not be granted in time to deal with the current pandemic.
Still, Japan needs to possess the capabilities to develop vaccines domestically as new infectious diseases will inevitably appear sooner or later.
It will be difficult for Japan to secure vaccines in large quantities swiftly if it maintains a policy of importing drugs it cannot produce domestically. Such policy will make it hard for Japan to gain international trust.
To prepare for the next emergency, Japan needs to work with the International Coalition of Medicines Regulatory Authorities — which provides guidelines for clinical trials and pharmaceutical approvals — and come up with an approval method that leads to the practical use of new drugs.
Japan also needs to start taking necessary measures in normal times.
Firstly, a dedicated organization must be created in the Cabinet Office to deal with infectious diseases that will collect information on and from companies and research institutes engaged in developing new technologies, and a national strategy must be formulated.
Secondly, the government must actively support companies and research institutes, especially firms involved in the production of drugs for infectious diseases for which demand is unstable.
Britain has signed a subscription deal for the world's first antibacterial drug for multidrug-resistant bacteria developed by Shionogi & Co.
Under such contracts, Britain pays a fixed amount each year to receive a drug as it is needed, enabling drug developers to maintain production systems with peace of mind.
It would be worthwhile for the Japanese government to consider entering into such contracts with domestic vaccine manufacturers.
Shionogi President Isao Teshirogi said: "The fire extinguisher in your home shouldn't feel like a waste of money, even if it is left unused for the next couple of years. Spending on vaccines and therapeutic medicines for infectious diseases is similar. I want the whole country to seriously discuss the significance of spending taxpayers' money in ordinary times on the development and production of vaccines."
Add TheJapanNews to your Google News feed.