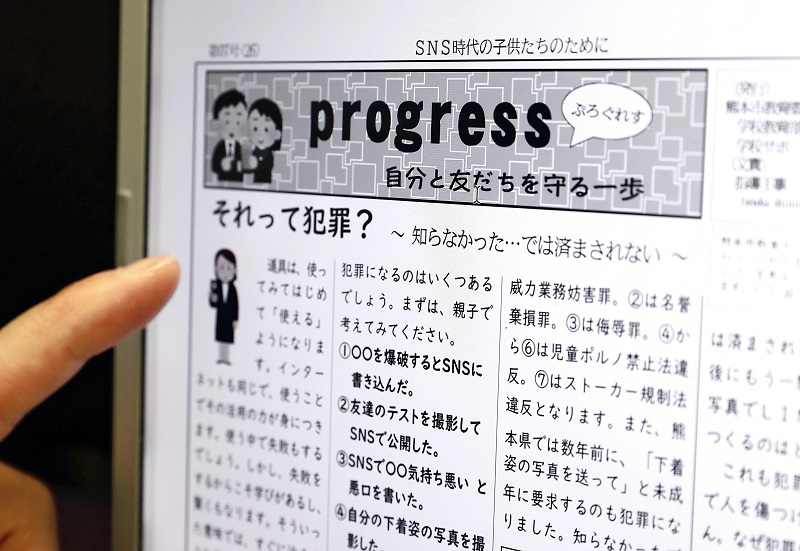 9:23 JST, April 5, 2021
As smartphones become increasingly ubiquitous, numerous incidents have occurred of students secretly taking photos or filming videos at school.
In some cases, students' thoughtless actions have led to charges of violating the law on child prostitution and child pornography. As the season approaches in which more students will start using smartphones as they enter a higher-level school, experts are cautioning that students must be taught not only how to avoid becoming the victim of a crime, but also not to commit one.
'Completely unexpected'
"Students secretly taking photos in school was the last thing we expected. We never even imagined this," said a teacher at a high school in northern Kyushu.
It was discovered last school year that a hidden smartphone camera had been used to photograph and film students. The school will begin warning students from the upcoming school year not to engage in such behavior.
According to police and the school, a male student and several of his friends placed a smartphone with its camera on in a classroom and elsewhere, taking photos and shooting videos of female students changing their clothes. Papers on the case were sent to the prosecutors office on suspicion of violating the law against child pornography.
When the police examined the male student's smartphone, multiple images were found that had been taken secretly.
Although they are not allowed to use them, students have been permitted to bring their smartphones to this school because some would go to cram school after class. Over the past few years, the school had cautioned students during classes to be on guard against sex crimes and the like perpetrated through social media.
One teacher said regretfully: "We were conscious of preventing students from falling victim to such crimes. But a student committing such a crime was beyond our expectations."
The teacher added, "The number of students carrying smartphones from a very young age has increased, so we've realized that we must give them proper guidance."
Cases of kids who misuse smartphones and end up committing a crime have been occurring in various parts of the country.
In Nara Prefecture in February 2020, a male student at a municipal-run junior high school was found to have secretly taken photographs of female students changing their clothes at school with his smartphone, and to have shared the images with other students via social media.
In Saga Prefecture last June, about 30 male students at a junior high school and others were taken into police custody on suspicion of disseminating an image of a naked female student at the school.
There are no statistics on the number of incidents involving the misuse of smartphones, according to the Education, Culture, Sports, Science and Technology Ministry and other sources. However, a school official in Fukuoka Prefecture said: "We sometimes deal with such cases confidentially, so only a few have been made public. But I do feel that such cases are increasing steadily."
Authorities taking action
Some local governments are taking steps to deal with the situation.
The Kumamoto municipal board of education is regularly producing materials containing suggestions for students and their parents for the students' use of smartphones.
Cases in which students themselves committed crimes were among those made public by the board last November. The board referred to seven cases, including one in which a student's test answers were secretly photographed and posted on social media.
The board said it hoped "parents and children would think over the materials together."
Add TheJapanNews to your Google News feed.