3/11 Family Chronicle 3 / Family feels alienated after 10 years of living as evacuees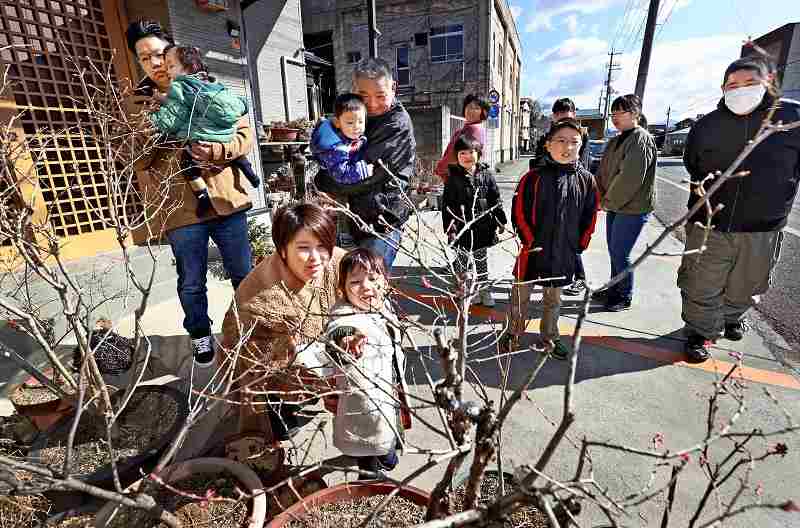 10:47 JST, March 22, 2021
Stores and houses are scattered around vacant lots of land with withered grass.
On Feb. 25, I visited the center of Namie, Fukushima Prefecture, with Akinori Shibata, 54, and his wife, Akemi, 56. About 8 kilometers north of Tokyo Electric Power Company Holdings, Inc.'s Fukushima No. 1 nuclear power plant, this area used to be home to a shopping center and a large electrical appliance store. It's said to have been thronged with families, but that's hard to imagine now.
About 21,500 people lived in the town at the time of the disaster. Although 80% of them are still registered as residents, only about 1,500 people actually live there now.
The house where the Shibatas were living is in the Tsushima district — located in the mountains and about another 20 kilometers away from the nuclear plant.
"With all that, it should be safe here," Shibata said he thought 10 years ago. But radioactive material, scattered by the explosion at the plant, was carried on the wind and mixed with snow falling on the district.
The evacuation order was lifted for the central part of the town in 2017, but the neighboring area where Shibata's house is located remains in a zone where returning has been deemed difficult. It is therefore uninhabitable.
"We feel like we've been abandoned," Shibata sighed.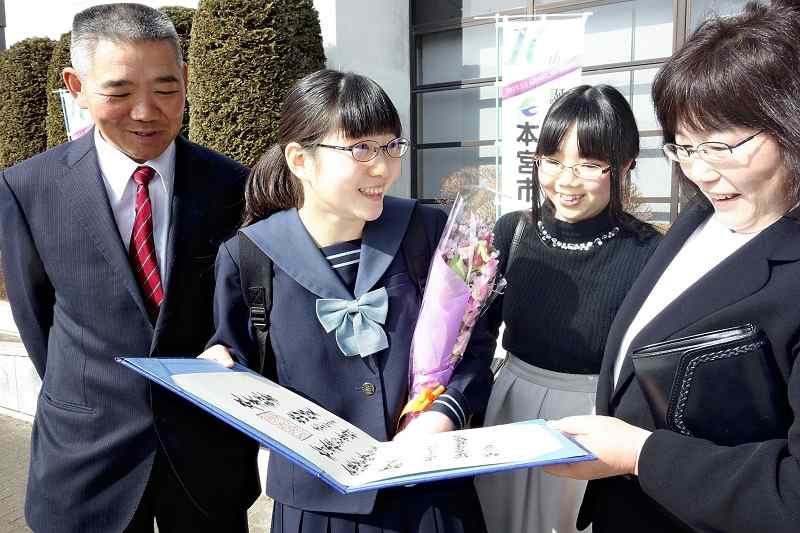 Insensitive words
"You have plenty of compensation money from TEPCO left, don't you?"
Last fall, Shibata quit his job at a construction company in Nihonmatsu, Fukushima Prefecture, because he couldn't endure how his colleagues repeatedly made insensitive comments like this.
Shibata used to work as a regular employee at a stone-breaking company before the 2011 disaster. But because of the nuclear accident at the power plant, he, his wife and their five children were plunged into a life of uncertainty.
On March 15, 2011, four days after the quake, the Shibatas evacuated to a relative's house in Nikko, Tochigi Prefecture. In April, they moved into a hotel for evacuees in the city of Nihonmatsu, so their children could go to school. There, Shibata's second daughter Yumi — now 22 but who had just started junior high school then — suffered from fever and vomiting due to mental stress and was briefly unable to go to school.
Later, the family moved into temporary housing. This time, Shibata collapsed due to mental stress. It was around that point, in August 2011, when I met the Shibata family at temporary housing set up at a park in Nihonmatsu.
In the fall of 2013, Shibata gave up their lives in the temporary housing, in which they could not plan for the future, and bought a used private house where his family could live together. Even though he has been holding out in Nihonmatsu, spending money for the family to live there, the eyes of those around them have not changed even after nearly 10 years since the nuclear accident.
Their sense of alienation did not dissipate, and Shibata feels despondent.
On Feb. 26, I accompanied the Shibatas on a brief return home to Namie. Ravaged by a wild boar, the windows of their house were broken and a tree was growing inside it. The field where his family used to cultivate autumn bellflowers and other plants had turned into a wasteland.
The Shibata family goes home briefly about five times a year, and I visit there every year. But the devastation of their field has been steadily advancing.
Hoping to regain a daily life that is close to the soil, two years ago Shibata and his wife began growing vegetables outside the house of their eldest son, Ryo, who is 34 and lives in Nihonmatsu.
Shibata had the idea to rent more land so he could grow enough vegetables to sell. He felt hopeful when he learned that if a person resumed farming in the area to which they had evacuated, the prefectural government would provide support. When he went to the office of administrative services, however, he learned the only plot of land available was abandoned farmland, which had trees growing on it. Heavy construction machinery is needed to make such land cultivable again, and he could not afford to rent it.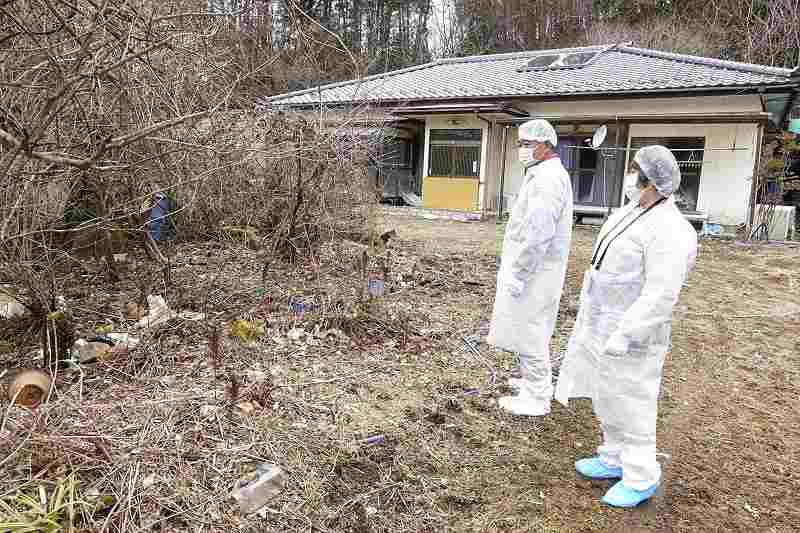 It was a heavy blow.
The Shibatas were a family of 10, including the couple's parents at the time of the disaster. They have since become a family of 16 when including the households of Ryo, and their third son Toshinori, 30. Both have gotten married and now live on their own.
On Feb. 27, Shibata's entire family gathered at his current house in Nihonmatsu. Right in front of the entrance, the buds on Lonicera gracilipes honeysuckle planted in pots were about to bloom — a tree that Shibata said was growing beautifully in part of their garden at their house in Namie.
After a long winter, spring would come. Longing for such a "spring" in which his family can go back to their house in Namie, along with his neighbors, Shibata will try to find a new job while farming little by little in Nihonmatsu. The Shibata family is doing their best day by day.
"Ten years is not a turning point at all," Shibata said.
Shibata family profile:
Akinori Shibata and his wife, Akemi, from Namie, Fukushima Prefecture, have five children: three sons and two daughters, ages 22 to 34. Their house in Namie stands on a plot of land cleared by Shibata's grandfather and father. In the fields that surround their house, the couple was growing autumn bellflowers, blueberries and other plants as a side business.
Add TheJapanNews to your Google News feed.