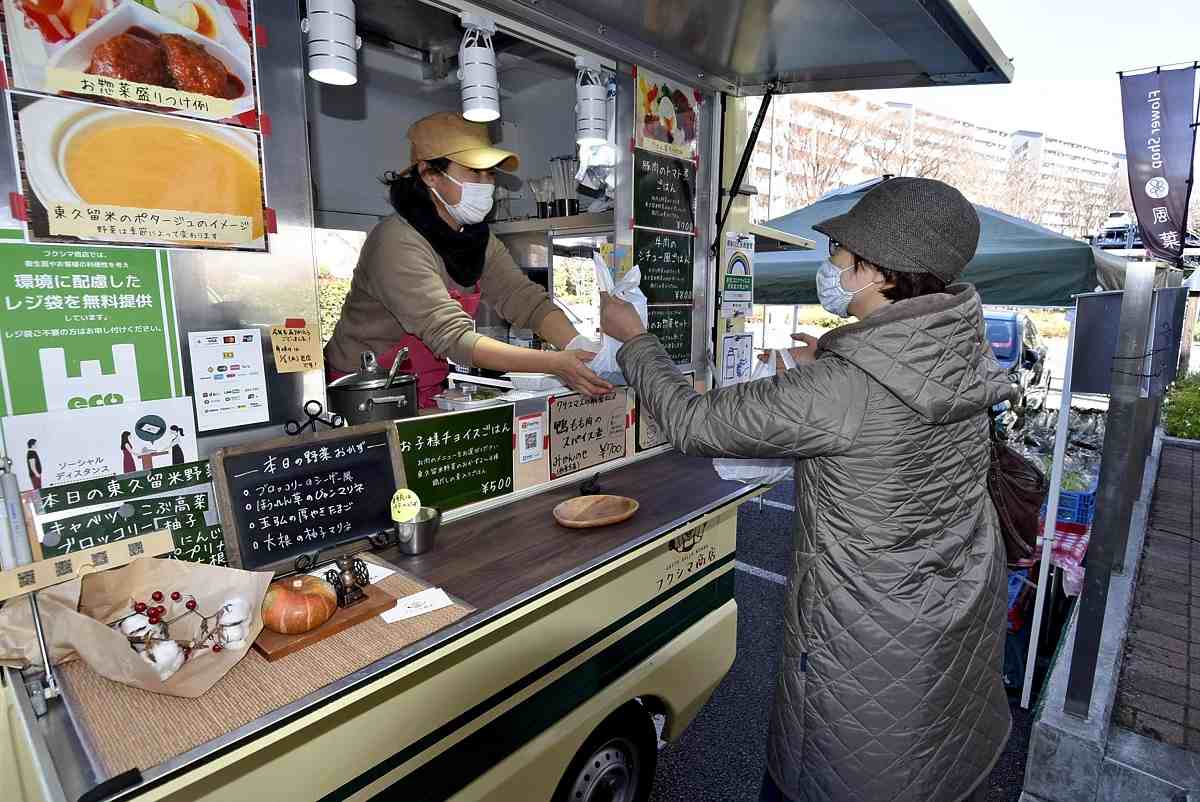 12:02 JST, March 2, 2021
Food trucks may be a common sight in business districts, but many are now coming to residential areas to bring their meals to the people.
One afternoon in early December, the Fukushima Shoten food truck was parked near a community center in the Hibarigaoka district of Nishitokyo in western Tokyo, and people were buying Italian food from the truck.
"I spend more time at home because of the coronavirus pandemic," said Ayako Kitagawa, a 34-year-old company employee who lives nearby. "I needed a break and I heard the food was delicious, so I decided to give it a try."
A 45-year-old woman who also bought lunch from the truck said, "Since my husband works from home, it's really exhausting preparing three meals a day, so I like coming to this food truck."
Chisato Fukushima, 40, who operates the food truck once a week, said: "I enjoy chatting with customers. Now I have regulars."
The community center is operated by the association Machiniwa-Hibarigaoka, which approached local businesses and began letting food trucks operate there since May last year.
Food trucks usually operate in open areas, from business districts to event venues. As they operate outdoors, they avoid the Three Cs — closed spaces, crowded places and close-contact settings — and have gained attention as a culinary alternative in residential areas.
The Ryukyu Kitchen Kodama food truck operates during the evenings on the premises of an apartment complex in Katsushika Ward, Tokyo. The truck serves Okinawan dishes, such as simmered pork belly known as rafute.
"I wanted one more dish for dinner, so this is helpful," said a homemaker in her 30s who bought the rafute.
A 38-year-old female company employee who bought Okinawa soba noodles said, "I'm not good at cooking, but since I work from home now, I often buy food from the truck."
The food truck's owner, Kota Kodama, 41, said: "I run an izakaya [Japanese-style pub], but the number of customers drastically dropped because of the pandemic. To run the food truck, I have to prepare meals for each group of customers for the afternoon and the evening, but I want to focus on this business because I'm gaining more customers."
Tokyo-based start-up Mellow Inc. introduced the location to Kodama. The company secures open spaces in the Tokyo metropolitan area and other cities and connects food truck operators with locations for a commission. The number of food trucks signed up with the company was 1,033 as of December, up by about 40% compared to a year earlier.
"Restaurant owners have entered the food truck business because of the coronavirus, and it has led to higher food quality for food trucks," said a spokesperson of the company. "They are now operating in various locations, such as at hospitals and colleges, while some started selling fresh fish, vegetables and other products as well as meals."
Administrative bodies believe food trucks could help those who are unable to regularly go shopping, such as the elderly.
The Kobe municipal government dispatched food trucks and mobile market vehicles to six areas in the city that did not have many supermarkets or convenience stores nearby from September to December last year. The usage rate, profit and other data will be analyzed to consider whether to continue with the initiative, according to the municipal government.
Kuni Takeda of the Hot Pepper Gourmet Gaishoku Soken research group, who is familiar with the restaurant business, said: "With the population declining, the number of stores in regional areas and on the outskirts of cities is also decreasing. Food mobility is important in resolving this situation. Food trucks have become more mainstream as a result of the novel coronavirus pandemic and they could be an important part of food infrastructure in the future if they gain more popularity in regional areas with the help of local governments and other support structures."
Add TheJapanNews to your Google News feed.