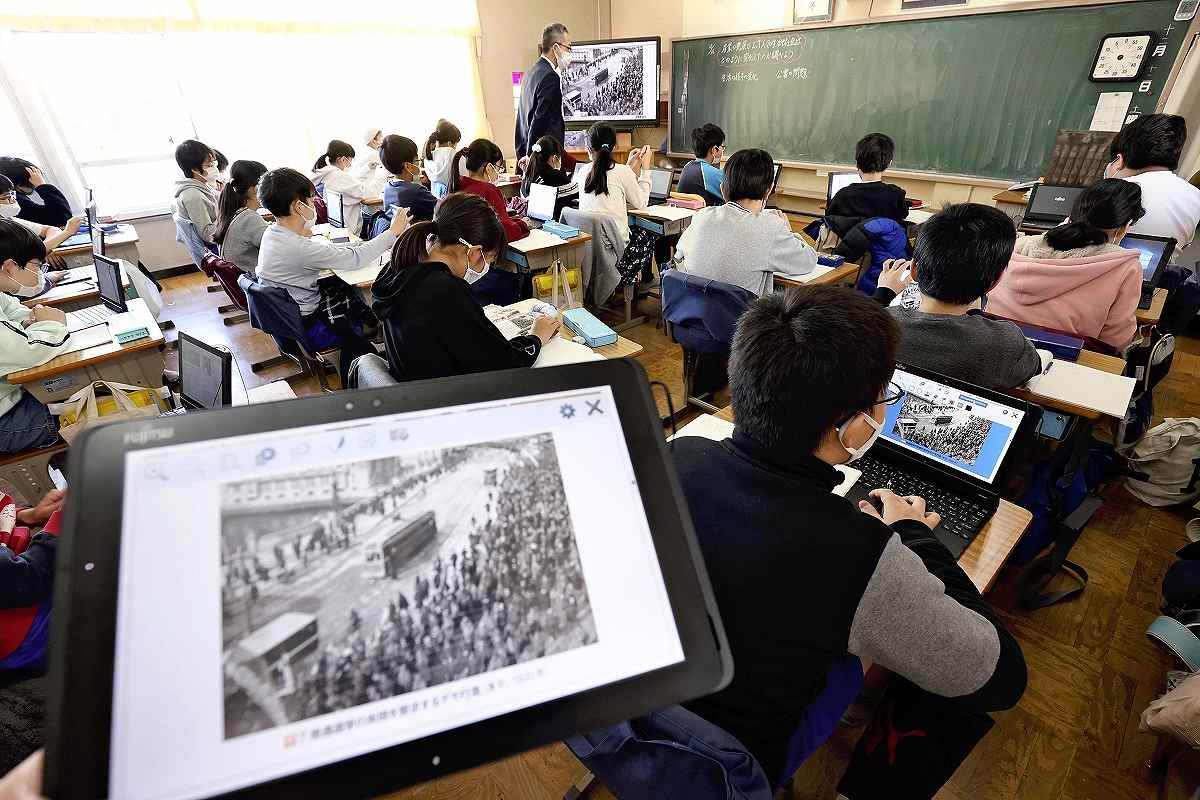 12:56 JST, January 12, 2021
Discussions about the shift from printed textbooks to digital versions at elementary and junior high schools have been accelerating in Prime Minister Yoshihide Suga's Cabinet, and educators and officials are voicing concerns about the hastiness of this push.
The actual state of affairs at schools and local governments became more clear in a recent survey by The Yomiuri Shimbun, indicating strong concern over the use of electronic textbooks.
At a meeting of experts held Dec. 22 at the Education, Culture, Sports, Science and Technology Ministry, a proposal was approved to remove the standards that limit the use of electronic textbooks — now set at fewer than half of the time periods allocated in a year for each subject at school.
More than 90% of the 74 local governments surveyed – or 69 cities and wards among prefectural capitals, ordinance-designated cities and the 23 special wards in Tokyo – expressed concerns about a full-fledged introduction of digital textbooks. Many of those municipalities want the central government to consider a full adoption cautiously.
Among those 69 local governments responding that they have "concerns" or "slight concerns" in the recent survey, 55 cities and wards (79.7%) listed "[adverse] health effects [of digital textbooks] on school-age children, including the weakening of their eyesight," as a specific concern.
The city government of Nagano said it "is concerned about health damage with the use of digital textbooks for many hours," while the municipal government of Naha said, "We'd like to hear experts' opinion as to possible harm to children's eyes and brains."
To teach classes using electronic textbooks, it is also indispensable that teachers know how to use online resources. A total of 40 cities and wards — 58% — cited "teachers' leadership ability in the field of ICT [information and communication technology]" as a reason to worry. An official in charge of the matter at a local government in the Tokyo metropolitan area said, "There are discrepancies in the abilities of teachers, which would bring about differences in the content of [digital] classwork."
The usual fashion for digital instruction is to have the textbooks connected to a server at the school, which is connected to networks at textbook companies and other entities.
Forty cities and wards, or 58% of the total, cited "the securing of a stable communication environment both within and outside schools," as their reason for concern. The municipal government of Shibuya Ward, Tokyo, said the central government should assume the financial burden for building the system.
The financial burden of developing such networks, including outside of schools, is yet to be decided.
The city government of Yokohama, which cited "the limit on the hours of use of digital textbooks and web browsing at home" as a reason for worry, is concerned that, "Even if a certain limit was imposed at school, there is a possibility of portable devices being linked to harmful websites when they are brought back home."
On the other hand, as to the current standards set at less than half of the time allocated for each subject at school, the responses among local governments were split, with 36 cities and wards (48.6%) saying that the standards "should be eased," while 35 cities and wards (47.3%) said they "don't know."
When asked about the desired style of classwork, the city government of Toyama said, "We'd like to run our classes by making the most of both printed and digital textbooks," while the municipal government of Katsushika Ward, Tokyo, said, "Rather than choosing either a printed textbook or a digital one, the combined use of both kinds can be an option."
Calls on the central government to discuss the full-scale introduction have also been made.
The city government of Sapporo said, "We want the central government to consider cautiously and from various angles the possible effect of the adoption of digital textbooks and the risks involved." Meanwhile, the city government of Meguro Ward, Tokyo, said: "Both printed and digital textbooks have merits and demerits. For the shift from print to digital at school, sufficient discussion is needed."
Digital devices need to be replaced about every five years. On this point, 53 cities and wards (71.6%) said the central government that should bear the related expenses. The city government of Sagamihara responded to the questionnaire by saying, "As the financial burden is so huge, there is no other way except for us to ask the central government to assume it."
The education ministry next fiscal year will conduct a large-scale project to push the introduction of digital textbooks at schools across the country, at a cost of ¥2.2 billion. As the penetration rate of digital textbooks at public-run, elementary, junior high and high schools remained only at 7.9% in fiscal 2019, many teachers have never used electronic textbooks and have worries about the use of such devices.
A veteran teacher at an elementary school in Tokyo said: "Digital textbook displays are smaller than the size of printed textbooks for children in lower classes. If children need to take the trouble of enlarging images or other elements because of such constraints, they can hardly concentrate on their classwork."
Another teacher at a junior high school said, "Unless on-the-job training for teachers is held sufficiently, classes will be sent into a state of confusion."
The current standards of limiting classroom hours using digital textbooks to less than half of the time allocatedd are likely to be eased.
Kazuyuki Shirai, the principal of Dai-ichi Nippori Elementary School in Arakawa Ward, Tokyo, which has already introduced digital textbooks, welcomed an easing of the standards. "Our teachers are using the digital devices when they think they are effective for children's study, and it is desirable that there are no time restraints in their use," the principal said.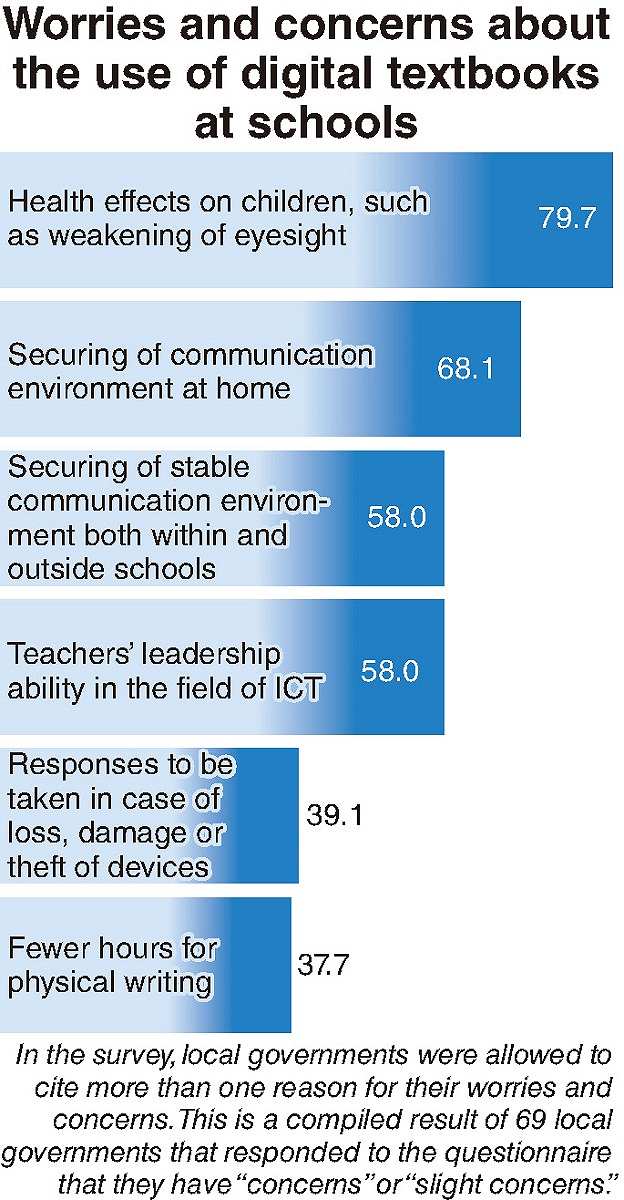 Add TheJapanNews to your Google News feed.