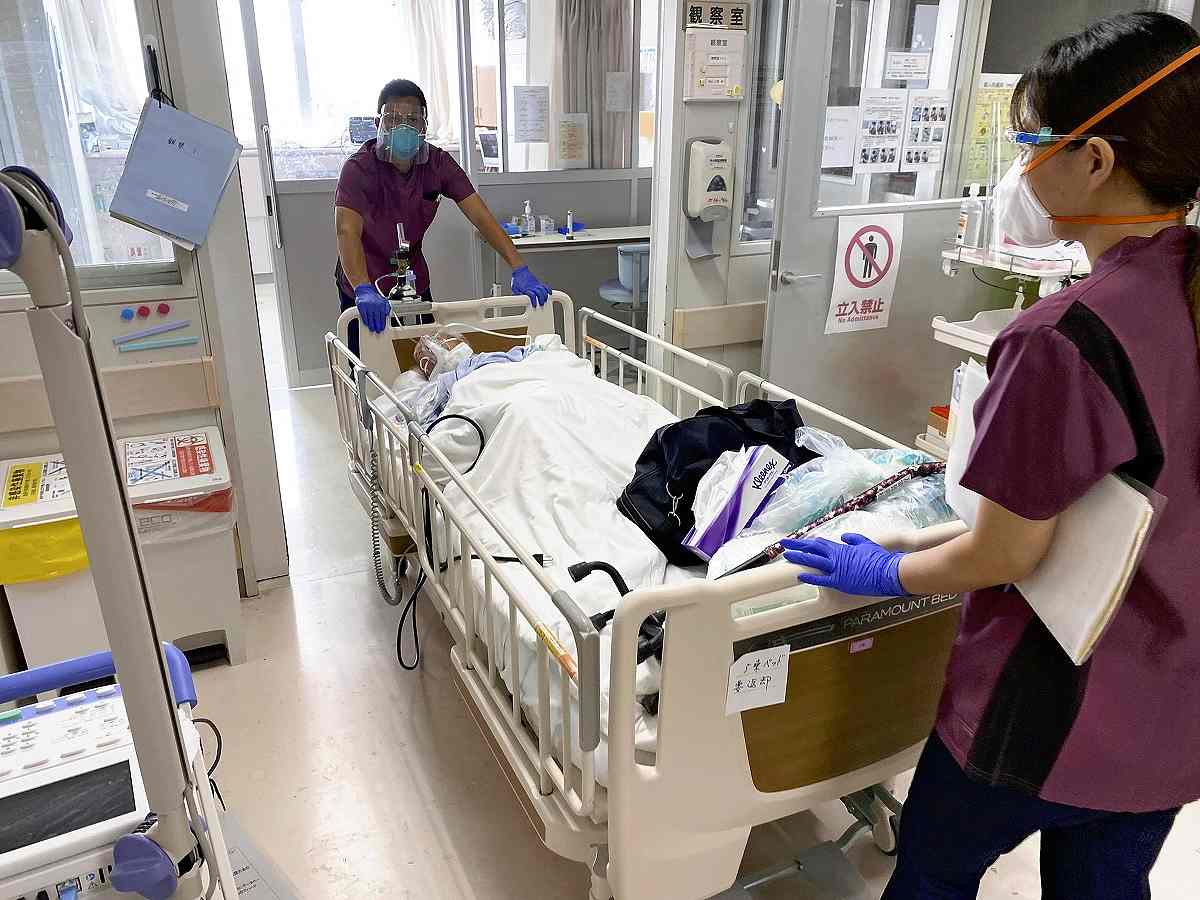 15:25 JST, July 8, 2023
COVID-19 is spreading rapidly in Okinawa Prefecture, with 48.39 cases reported per medical institution during the weeklong period of June 26-July 2, representing the highest figures across the nation.
Hospital bed usage in the prefecture had risen to 78% as of Wednesday. "If the infection spreads nationwide, there's a risk of the nation's medical care system becoming strained," said a member of an advisory body to the Health, Labor, and Welfare Ministry at a meeting on Friday.
According to the Okinawa prefectural government, there were an estimated 12,260 cases in the prefecture, surpassing the 10,472 cases registered during the peak of the eighth wave of the coronavirus (from Jan. 2-8), when all cases were reported under a related law.
As of Wednesday, the number of hospitalized patients, including those being treated at general wards, stood at 1,099 — nearly double the number 579 beds reserved to deal with the disease.
At Okinawa Hokubu Hospital in Nago, the 25 beds secured for COVID-19 patients have remained almost fully occupied, forcing the hospital to use beds in a general ward.
An increase in the number of medical staff unable to come to work due to personal or family-related infection has made it difficult for the hospital to maintain its normal system operations.
"We're asking inpatients to leave when their symptoms improve," a doctor at the facility said. "The hospital is in the midst of the harshest ever situation."
On Thursday, the hospital announced a limit on nonemergency hospitalizations and surgeries until July 31.
According to the prefectural medical association, an increasing number of medical institutions have been forced to restrict treatment or postpone surgeries.
Previously, the prefectural government and public health centers would ascertain the status of infected individuals before assigning them to medical institutions. However, following the downgrading of COVID-19 to a Category V disease, patients have become concentrated at certain medical institutions due to lack of the coordination, severely stretching the prefecture's medical care services.
"The rise in the number of patients being hospitalized and an increase in cluster infections in hospitals have exacerbated the burden on medical services," said a member of the ministry's advisory body.
The figure for confirmed cases reported by around 5,000 prefecture-designated medical institutions across the nation stood at 7.24 per institution, a 18% increase on the previous week.
Takaji Wakita, chair of the advisory body and director general of the National Institute of Infectious Diseases said: "At the moment, infections are primarily spreading in western Japan. We need to keep an eye on whether this trend will spread nationwide."
Add TheJapanNews to your Google News feed.