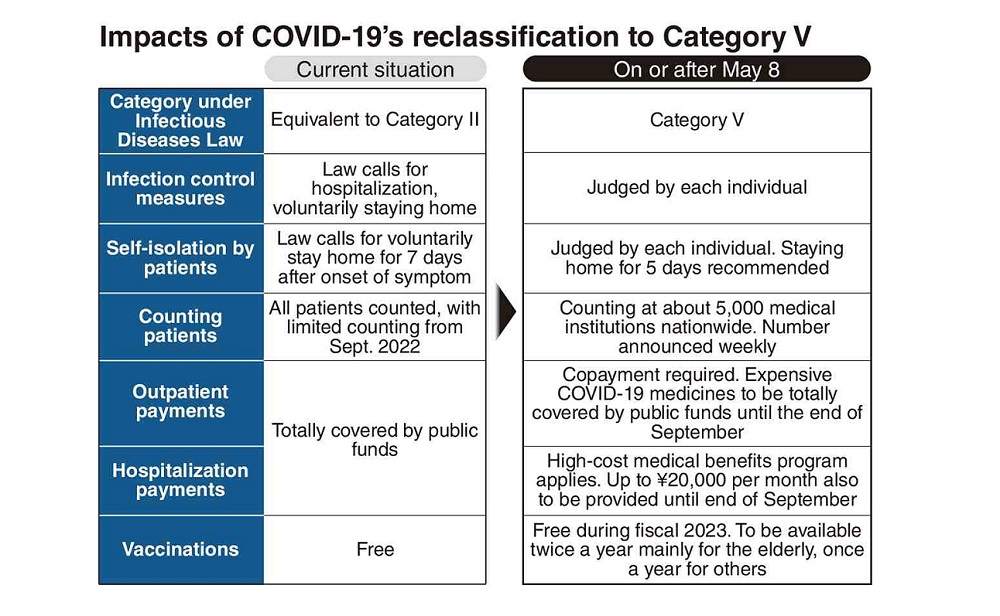 18:08 JST, April 28, 2023
After COVID-19 is downgraded from the equivalent of Category II to Category V under the Infectious Diseases Law on May 8, major changes will be introduced regarding infection control measures, medical expenses borne by COVID-19 patients and patients' voluntary efforts to stay home.
Currently, the law authorizes prefectural governors to instruct people infected with COVID-19 to be hospitalized or to ask them to stay home. However, the recategorization of the disease means there will no longer be such uniform requirements or requests on COVID-19 patients.
As prefectural governments will no longer be able to easily gather information on COVID-19 patients, the tallying of all COVID-19 patients will end, to be replaced by fixed-point counting at approximately 5,000 medical institutions nationwide.
After the recategorization, COVID-19 patients will in principle be required to pay 10% to 30% of their own medical expenses. However, when COVID-19 patients pay for hospitalization, a high-cost medical benefits program will apply, so that patient's out-of-pocket expenses will not exceed the copayment limit set according to their age and income. As a transitional measure until the end of September, up to ¥20,000 per month will be also provided for COVID-19 hospitalization.
Expensive medicines for COVID-19 outpatients will be provided for free. COVID-19 vaccinations will continue to be available free of charge.
Effective Saturday, all border control measures for all people who arrive in Japan, including Japanese nationals, were to end.
Kazunori Oishi, director of the Toyama Institute of Health, said, "Infections caused by the novel coronavirus will not be contained even after lowering classification to Category V. Stronger self-awareness will be required to prevent the spread of infections, such as wearing masks on crowded trains and recuperating at home when there are symptoms."
Add TheJapanNews to your Google News feed.