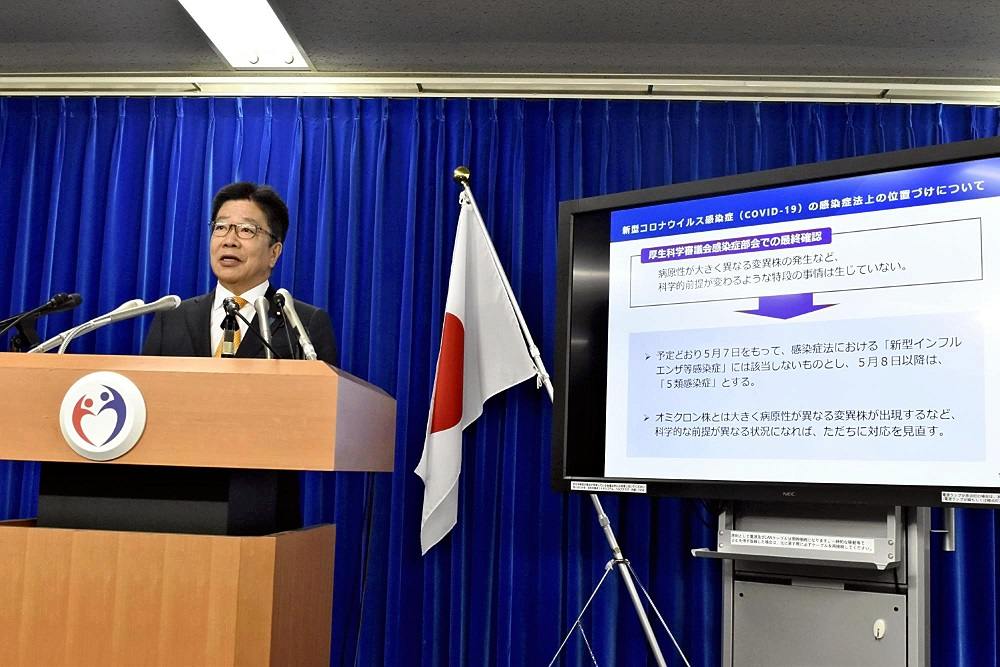 20:00 JST, April 28, 2023
The government has made a final decision to downgrade COVID-19's status to Category V under the Infectious Diseases Law, the same level as seasonal flu, as scheduled on May 8.
However, assuming that COVID-19 will spread again in the future, the government is also speeding up efforts to build a system able to hospitalize up to 58,000 COVID-19 patients at about 8,400 medical institutions across the country. Measures need to be taken steadily so that elderly people and others will be able to receive appropriate treatment.
At a Thursday meeting of the infectious disease subcommittee of the Health Sciences Council, an advisory body to the health minister, members expressed no opposition to the government's decision.
While the national number of new infection cases has been on an uptrend since early April, the overall number is lower than it was in the period before the massive surge of cases seen in the summer of 2022. According to the Cabinet Secretariat, the average bed occupancy rate was below 30% in all prefectures including Tokyo as of Thursday. More pathogenic strains than the omicron variants have not been confirmed so far.
Given these circumstances, the health ministry decided there was no reason to expect higher risks such as an increased burden on the healthcare system or a rise in the rates of people developing severe symptoms and dying of the disease.
At the meeting, a member asked to maintain the monitoring system to detect new COVID-19 variants, saying, "It is important to keep tabs on changes in the pathogenicity of the virus."
1,600 institutions to be added
Many infectious disease experts believe that Japan could be hit by a "ninth wave of COVID-19 infections" and some point to the possibility of it being larger than the eighth wave.
To prepare for a resurgence of COVID-19 cases, Tokyo and other prefectures have compiled plans to transition to a new medical system, aiming to have a wide range of medical institutions treat COVID-19 patients and accept up to 58,000 inpatients in total, up from the current maximum of about 53,000 inpatients. About 1,600 medical institutions that have not taken in COVID-19 patients so far are expected to accept such patients going forward.
The government will also develop a system to prevent medical institutions from being overwhelmed by an influx of patients.
In light of the risk of cluster infections at facilities for elderly people, about 8,700 medical institutions will cooperate in having doctors visit these facilities or dispatching them there so that infected people can recuperate at their own facilities.
Regarding accommodation facilities for COVID-19 patients, which will be abolished in principle after COVID-19 is reclassified as Category V, a total of about 1,700 rooms will be prepared across the nation for elderly people and pregnant women at high risk of developing severe symptoms.
Feasibility questions remain
But will the new system really function as shown by the numbers set out in the plans?
"The key is whether or not small and medium-sized hospitals, which have been negative about treating COVID-19 patients, will really accept them," said Hideaki Oka, a professor in the Department of General Internal Medicine of Saitama Medical Center in Kawagoe, Saitama Prefecture.
The center has designated 40 beds for COVID-19 patients so far but will reduce the number to four after the disease is recategorized. If the virus spreads again, the center will increase the number of such beds to as many as 14. However, Oka said, "We will basically shift our focus back to advanced medical services, which is the original role of a university hospital."
The Osaka prefectural government plans to develop a system to treat up to 4,440 COVID-19 inpatients at 499 medical institutions. However, there is some uncertainty as to whether enough hospital beds can be secured, as some medical institutions currently setting beds aside for COVID-19 patients are hesitant to cooperate, citing reasons such as "Cooperating in the plan makes it difficult for us to accept other regular patients" and "We are understaffed."
"We have no choice but to keep asking for cooperation," a prefectural government official in charge of the issue said.
The same situation applies to outpatient services. According to the ministry, about 42,000 medical institutions currently treat outpatients with COVID-19 and the number of such medical institutions is expected to increase to about 44,000 on May 8. But the number falls far short of the target of about 64,000. A source close to a local doctors' association said, "Ophthalmologists, orthopedists, dermatologists and clinics run by elderly doctors will find it difficult to participate in the system."
Norio Omagari, director of the Disease Control and Prevention Center of the National Center for Global Health and Medicine, said: "It is important that the central and prefectural governments work together to check if the number of hospital beds increases steadily in accordance with transition plans and if COVID-19 patients are treated smoothly when the virus spreads again. Prefectures have to provide support in adjusting hospitalization when necessary."
Add TheJapanNews to your Google News feed.