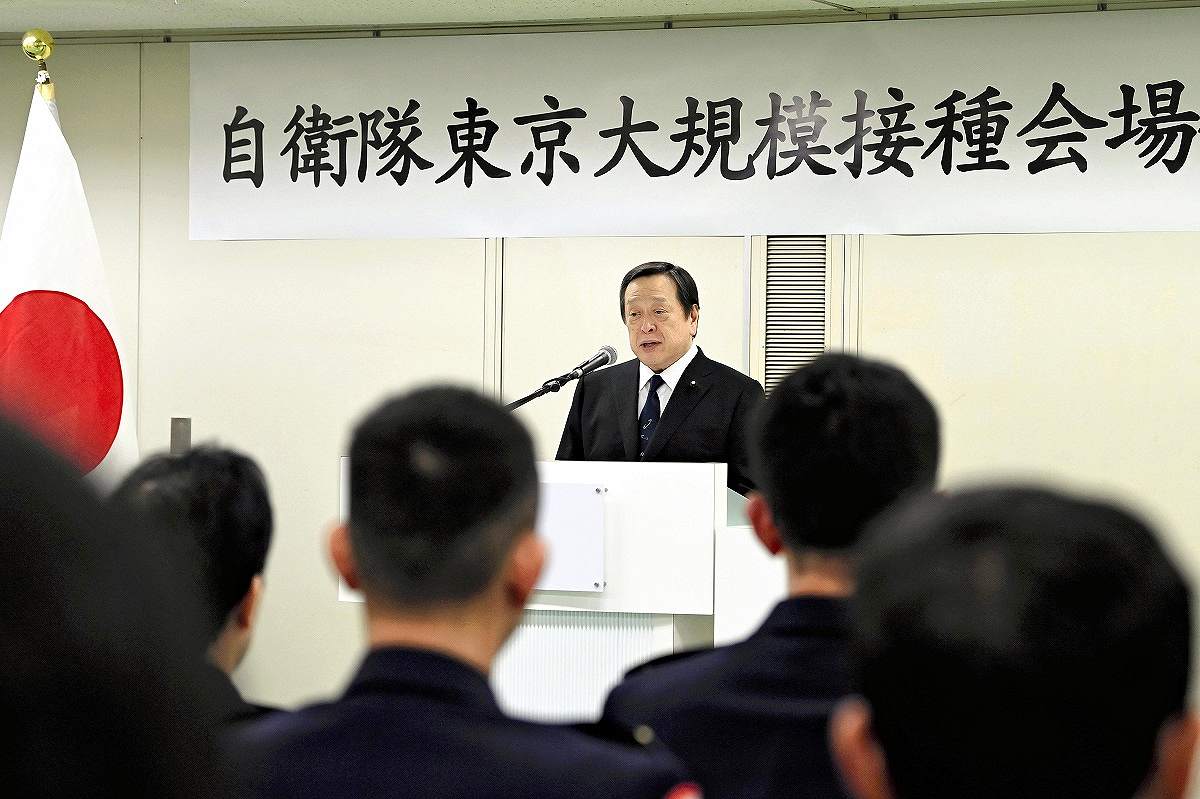 15:20 JST, March 27, 2023
TOKYO (Jiji Press) — A Self-Defense Forces-run large-scale vaccination program against COVID-19 at sites in Tokyo and Osaka, western Japan, have ended, with ceremonies marking the completion held at the two venues on Sunday.
A total of some 2.48 million doses of novel coronavirus vaccines were given at the sites since their opening in 2021.
The government decided to end the program, as reservations have decreased markedly in line with a recent plunge in new infection cases and the classification of COVID-19 under the infectious disease law is set to be lowered to Category V in May from Category II at present.
The ceremony in Tokyo, held at a common government building in the Otemachi district in the Japanese capital's Chiyoda Ward, brought together about 30 participants including SDF members.
Defense Minister Yasukazu Hamada praised SDF personnel who engaged in the inoculation program, saying: "You have completed the mission while always having high motivation and pride. Your hard work gave the public a sense of security, and you won people's trust and lived up to their expectations."
The SDF-run program started in May 2021 to reduce the burden of local governments and encourage as many people as possible to receive COVID-19 vaccinations.
It ended in November 2021 after providing some 1.96 million shots.
But the government soon decided to resume the program, following a resurge in new infection cases reflecting the spread of the highly transmissible omicron variant. It was restarted in January 2022 at the Tokyo venue and the following month at the site in Osaka, with a total of around 520,000 additional shots given until Saturday.
A total of 104,000 SDF members, including medical officers and nurses from the Self-Defense Forces Central Hospital, engaged in the vaccination program. They were joined by private-sector nurses and other people who did jobs such as guiding vaccine recipients at the venues and work related to reservations.
At a press conference Thursday, Gen. Yoshihide Yoshida, chief of staff of the Ground SDF, said: "The program proved an unusually long mission, spanning 14 months after the resumption alone. It was an operation in which how to develop an enduring sense of responsibility and motivation was a challenge."
"Participants from the public and private sectors accomplished the mission as one, so this achievement will be useful for the future," he said.
Add TheJapanNews to your Google News feed.