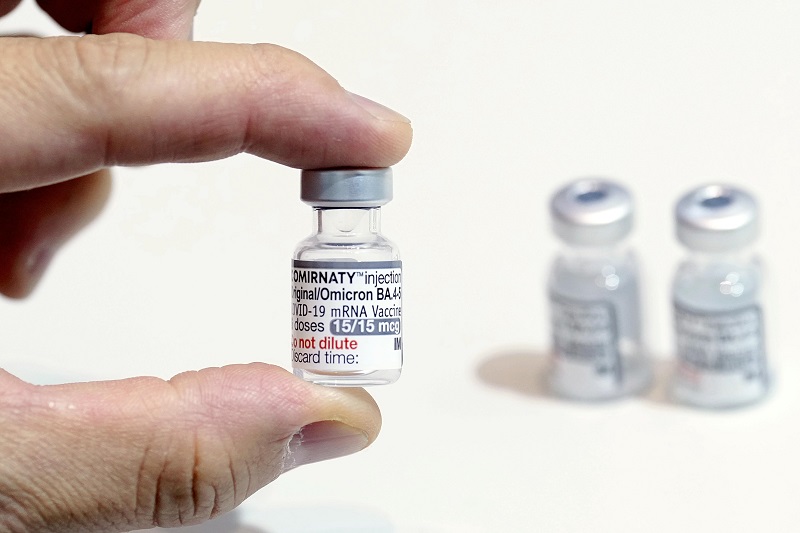 17:18 JST, February 23, 2023
The health ministry plans to allow the elderly and others at higher risk of serious illness from a novel coronavirus infection to get two shots of COVID-19 vaccine between April and the end of the year.
Eligible individuals will be able to receive the first shot between May and August and the second between September and December, when vaccination will be made available to all.
The Health, Labor and Welfare Ministry also plans to extend free vaccination for all ages by one year to the end of March 2024.
The vaccination plan, aimed at reducing the number of people who become seriously ill from COVID-19, was approved Wednesday at an expert subcommittee of the ministry. Emphasis will be placed on vaccinating people age 65 or older, those with underlying conditions and medical workers and nurses who often deal with the elderly.
The double shots are intended to restore declining immunity from past vaccination, and the first round of shots will use omicron-adapted vaccines.
Since COVID-19 can also cause severe illness in many who are not elderly, vaccinations will be made available for all ages from September to December. The vaccines to be used for the shots will be decided based on the current situation, such as by looking at which variants are most widespread.
First time vaccination using the original monovalent vaccines will be encouraged for children 4 months to 11 years old. Those age 5 to 11 with underlying conditions such as heart disease will be allowed to receive an additional shot every year.
People can currently get vaccinated against the coronavirus for free, as the vaccines have been given a special legal classification. Although that status is scheduled to expire at the end of March, the government plans to extend free vaccinations until the end of fiscal 2023.
The government will consider reclassifying COVID-19 vaccination as a routine inoculation from fiscal 2024, which could require individuals to shoulder some of the costs.
In light of fewer people becoming severely ill after catching the virus, the government will not distribute letters in the mail recommending vaccination to those not at high risk of falling seriously ill, nor require them to make an effort to get vaccinated.
The government will discuss whether vaccination vouchers should be distributed to those eligible for vaccination.
Add TheJapanNews to your Google News feed.