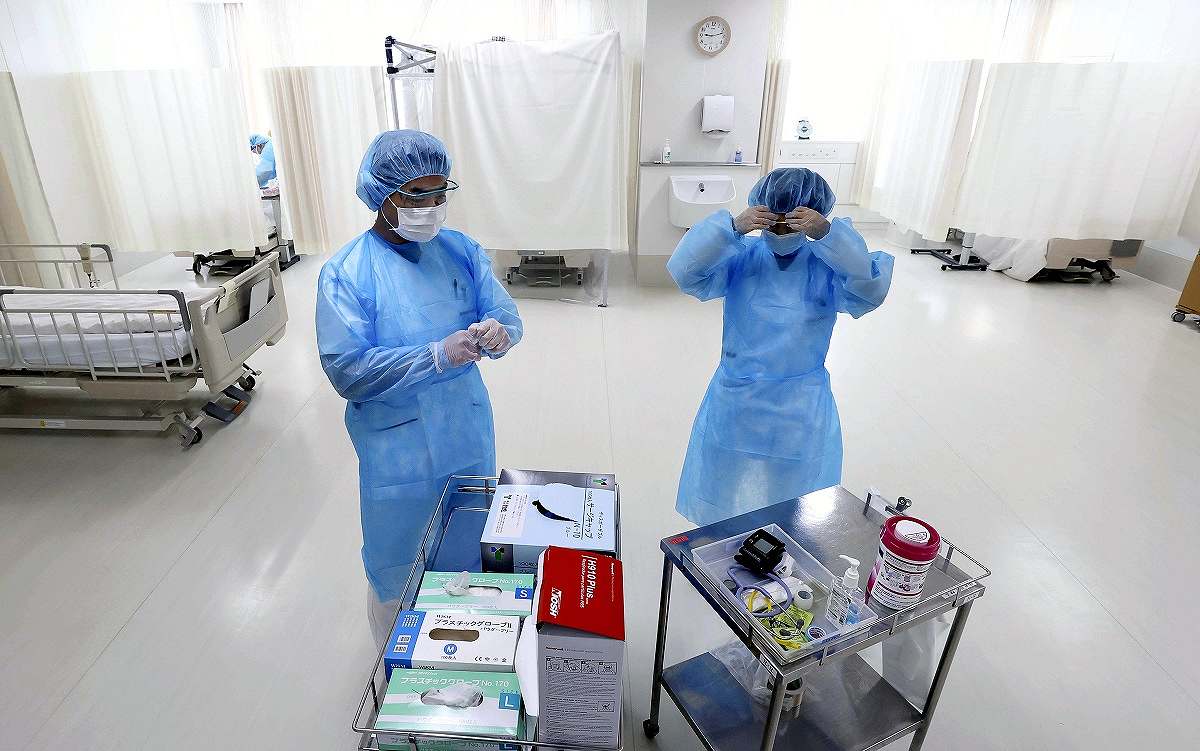 13:30 JST, February 22, 2023
Hospital beds will no longer be reserved exclusively for COVID-19 patients within a year after the disease's status is lowered to the same level as seasonal flu, it has been learned.
On May 8, COVID-19 will be reclassified from its current "equivalent to Category II" to "Category V" under the Infectious Diseases Control Law. According to the government's plan, the medical care system will be gradually normalized during the transition period for the new ranking.
Hospital beds specifically for COVID-19 patients will continue to exist for a while after the downgrade but will be abolished within a year.
Once COVID-specific beds are discontinued, all hospitals in the country will accept COVID-19 patients. The government hopes to increase the number of medical institutions providing outpatient care to about 64,000, or about 50% above the current level.
Category V does not require a special medical system, such as the one currently in place, or public funding of medical expenses. However, to avoid confusion, the government plans to gradually shift to a medical system similar to that for seasonal influenza during a transition period of about one year.
The question is whether medical care can be reliably provided to COVID-19 patients after the transition. The government will offer support for infection prevention measures during the transition period to medical institutions that accept inpatients and outpatients.
During the seventh wave of the pandemic last summer, a total of about 51,000 beds for inpatients were secured at 1,982 designated medical institutions nationwide. The government currently pays these medical institutions subsidies and gives them special preferential treatment regarding medical service fees.
Under the government's transition plan, the subsidies and special treatment regarding medical service fees will continue for a while after the reclassification of COVID-19. The government will avoid a sudden decrease in the number of hospital beds by gradually reducing its financial assistance, and plans at the same time to encourage other medical institutions to accept COVID-19 inpatients.
The government first aims to secure 46,000 beds overall at a wide range of hospitals from May on.
After the one-year transition period ends, the government will no longer designate beds for COVID-19 patients and will require all 8,205 hospitals in Japan to accept inpatients.
Outpatient care is currently available at about 42,000 outpatient fever clinics. After May 8, the government will gradually expand the number of medical institutions where outpatients can receive care, and the special measures regarding medical service fees will be phased out.
According to the Health, Labor, and Welfare Ministry, about 64,000 medical institutions, including those involved with internal medicine and pediatrics, treated seasonal influenza before the COVID-19 pandemic. The government aims to establish a system in which the same level of medical institutions will be able to treat COVID-19 patients.
New infections during the seventh wave reached about 250,000 a day. The ministry expects a maximum of 450,000 patients per day after the status of COVID-19 is downgraded to Category V.
Meanwhile, the government is also considering a plan for phased reduction of public funding of medical expenses and support for facilities for the elderly with a plan to announce it by early March.
Add TheJapanNews to your Google News feed.