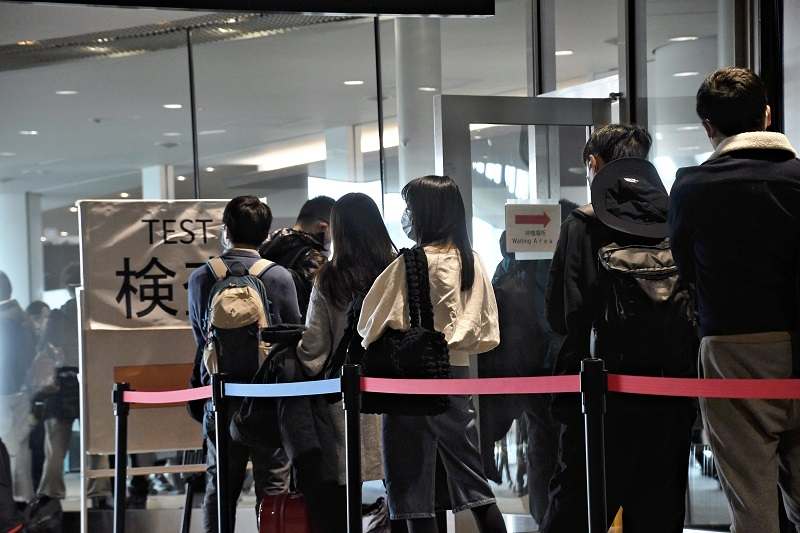 16:25 JST, January 9, 2023
Japan on Sunday ramped up its COVID-19 border controls for those arriving from mainland China via direct flights, requiring them to submit certificates of negative test results for the coronavirus within 72 hours of departure.
The same day, the Chinese government ended mandatory quarantine for those arriving in China, a measure previously enforced as part of its anti-COVID strategy.
At Narita Airport in Chiba Prefecture on Sunday afternoon, about 150 passengers who arrived on a flight from Shanghai underwent an antigen test before submitting a negative test certificate.
"Border controls have to be thoroughly implemented since infection is spreading in China," said a 51-year-old company employee of Machida, Tokyo, who was one of the passengers.
A 42-year-old Chinese woman who arrived on a flight from Shenzhen, China, expressed irritation with the measure. "It is not right that only China is targeted."
The Japanese government started conducting viral tests on those arriving from mainland China on Dec. 30. The government has said arrivals from Hong Kong and Macao will be allowed at all airports where COVID-19 testing is being thoroughly implemented.
China ends travel quarantine
TIANJIN, China — With the removal of mandatory quarantine for those entering the country, China's zero-COVID policy has effectively come to an end. The quarantine requirement had remained in place even after China lifted other zero-COVID measures last month.
While restrictions on movement after arrival may be gone, the number of flights between China and Japan still hangs at about 10% of pre-pandemic levels, and there are no signs that flights will recover.
A Japan Airlines flight direct from Narita Airport arrived at Tianjin's international airport, not far from Beijing, on Sunday afternoon.
A 51-year-old expatriate who spent the New Year's holiday back in Japan had experienced quarantine several times. "It was a huge burden, mentally and physically," the expat said. "Now, it will be easier to come and go between the company headquarters [in Japan and the company's business base in China]."
Since 2020, the Chinese government had required those arriving in China to undergo PCR tests and be isolated at designated facilities or at home.
That changed Sunday, with those testing negative on a PCR test 48 hours before departure being allowed to enter China without any further hindrance.
This year's big holiday season around Jan. 22, the Chinese New Year, will be the first New Year holiday season without travel and other restrictions since 2019. According to an announcement by the Chinese authorities, a total of 2.1 billion people are expected to travel during a 40-day period around New Year's Day for leisure and home-town visits.
The Chinese government has said that overseas travel by Chinese nationals will resume in an orderly manner. But the government has yet to allow sightseeing trips abroad, so most people are expected to stay in the country during the major holiday season.
Meanwhile, Chinese branches of Japanese travel companies have received numerous inquires about business trips to Japan, such as those saying, "We want to dispatch hundreds of Chinese employees to Japan and hold meetings there."
However, with Japan tightening border controls for arrivals from China, it is widely believed that the number of Chinese visitors to Japan will not recover to pre-pandemic levels anytime soon.
This year, regions such as Southeast Asia, where Thailand and Vietnam do not impose border controls for those arriving from China, are likely to be the big draw for Chinese travelers. According to Chinese travel booking agency Ctrip, reservations to such areas are up 540% from the previous year.
Add TheJapanNews to your Google News feed.