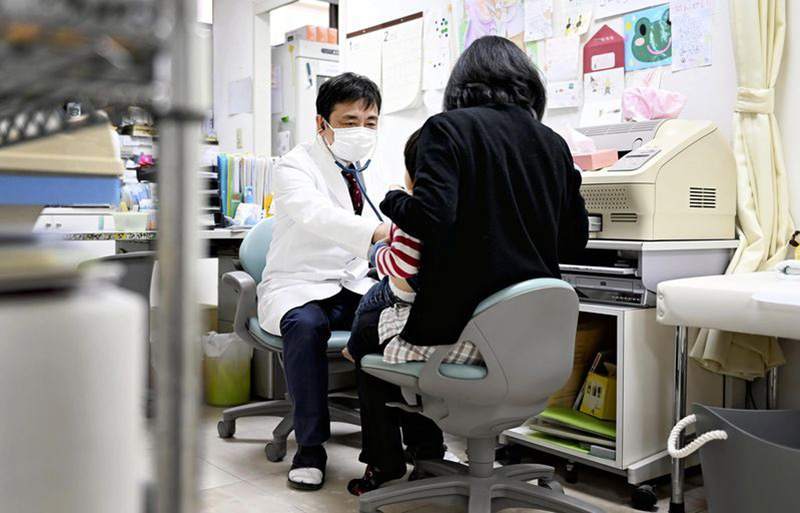 16:14 JST, August 13, 2022
TOKYO (Jiji Press) — More children developed novel coronavirus symptoms such as fever and convulsions in Japan when omicron variants raged early this year than when the delta variant was dominant, a Japanese study showed Friday.
This is the first large-scale survey in Japan to compare symptoms of COVID-19 sufferers aged under 18 before and after the outbreak of the first omicron variant in Japan, according to the National Center for Child Health and Development.
The survey, led by the center, is based on data on hospitalized COVID-19 patients across the country.
It compared the symptoms of 458 infected children registered between August and December last year, when the delta variant was dominant, and those of 389 children registered between January and March this year during the country's COVID-19 sixth wave driven by omicron variants.
The proportion of surveyed cases who had a fever of 38 C or higher was some 40% in the age group of 2 to 12 during the omicron period, about twice the level during the delta period.
The share of children who had convulsions also grew in the same age group. That of cases who developed a sore throat increased sharply among those aged 13 or over.
By contrast, the proportion of children who experienced olfactory and taste disorders fell among those aged 6 or over.
Of the 790 children whose COVID-19 vaccination records were available, none of the 43 who needed oxygen administration or other treatment for severely ill patients had received two COVID-19 vaccine shots, according to the survey.
The survey suggests that COVID-19 vaccinations are effective in preventing severe symptoms, according to the center.
"We have not been able to examine the impact of the currently dominant BA.5 omicron variant, but the increase in fever and convulsions is considered to be important information for COVID-19 diagnosis of children," the institution said.
Add TheJapanNews to your Google News feed.