Tokyo, Osaka Pref. try to ease pressure on clinics overwhelmed by COVID-19-related testing, treatment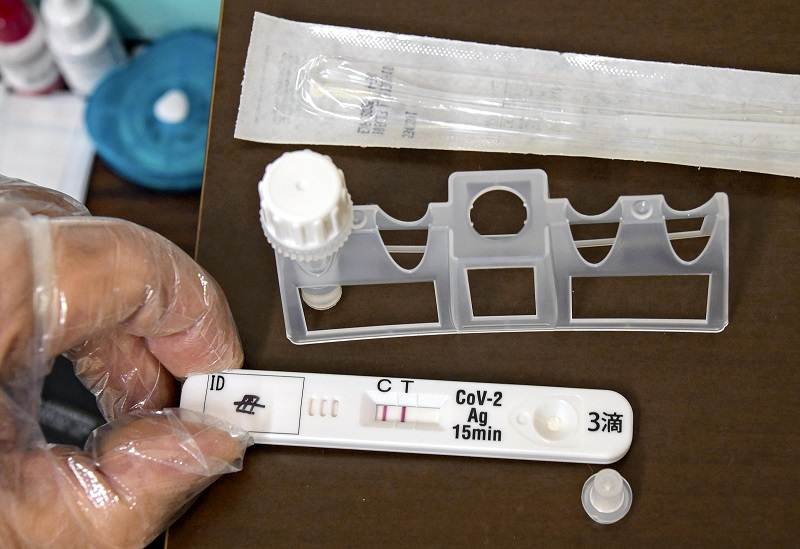 13:37 JST, July 29, 2022
As Japan reels from its largest-ever COVID-19 surge, Tokyo and Osaka prefectures are trying to ease pressure on clinics inundated with people seeking coronavirus testing and treatment.
The Tokyo metropolitan government decided Thursday to introduce an online system that will confirm positive test results, so outpatients do not have to visit a clinic.
The Osaka prefectural government, meanwhile, plans to ask coronavirus patients at low risk of developing serious symptoms to refrain from seeking medical care, so as to prioritize people at high risk of becoming seriously ill.
The Tokyo government's online center — slated to open Aug. 3 — will allow people who test positive after using a self-test kit to submit a photo of the result, as well as information about their symptoms. Doctors stationed at the center will confirm each person's status based on the submitted information and relay the details to a public health center.
If a patient is deemed to be at risk of becoming seriously ill, doctors will advise that they visit a medical institution. Patients with mild symptoms will be asked to convalesce at home.
Initially, the service will only be available to people in their 20s, but it is planned to gradually expand the age group. The metropolitan government said it will be able to deal without 3,000 reports each day.
The center will dispatch free test kits to people in their 20s who report COVID-19-like symptoms and will be able to send out 70,000 kits each day. If a person reports symptoms in the morning they will receive a test kit the following day. This will save time for patients and clinics, as people will not have to search for and go to an outpatient clinic to be tested.
"We'll alleviate residents' worries while easing the burden on medical institutions," Tokyo Gov. Yuriko Koike said.
From as early as next week, Osaka Prefecture will ask COVID-19 patients age 20 to 49 with mild symptoms to refrain from seeking medical care, in principle.
The prefecture has recently been logging daily coronavirus cases in excess of 20,000, and the prefectural government believes it has reached the limit of its testing capacity.
To allow elderly people and those at risk of serious illness to receive medical examinations, the prefecture is mulling a system for people age 20 to 49 with mild symptoms and no underlying diseases to be tested and diagnosed at nonmedical facilities.
Asymptomatic patients are being urged to get a free virus test.
Add TheJapanNews to your Google News feed.