Fever outpatient sections swamped; many suspected infections untested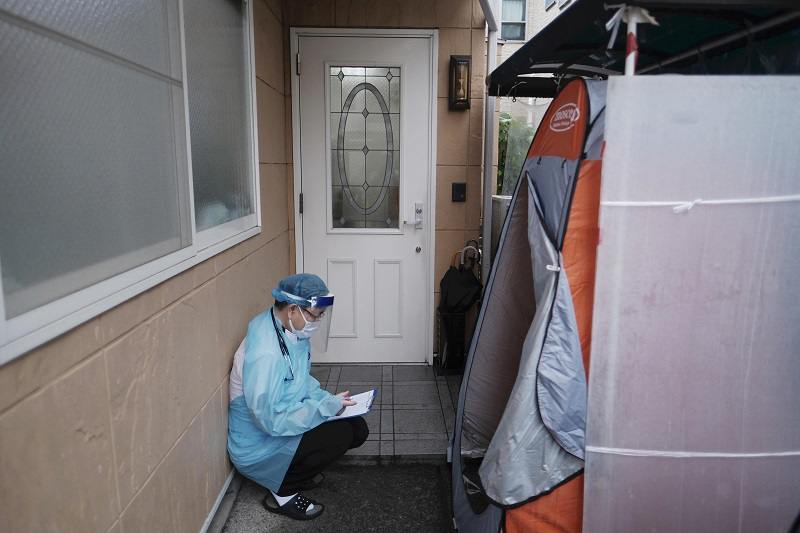 18:00 JST, July 27, 2022
People suspected of being infected with the novel coronavirus have increasingly been unable to get tested. The rising case numbers in this seventh wave of infections has meant fever outpatient sections at hospitals and clinics are unable to deal with all the surge.
The government has decided to introduce a system where people suspected of being infected will be provided with free test kits for self-testing at home. But it is unclear how this system will work.
"I finally got an appointment after calling more than 30 times while I had a fever of 39 C," a 32-year-old company worker said.
After making the appointment, the woman visited an internal medicine clinic in Suginami Ward, Tokyo, which offers fever outpatient services, on Tuesday. She was given an antigen test, which turned out positive.
In recent days at this clinic, the phone never seems to stop ringing. On that Tuesday, within an hour, all appointment slots were filled. The clinic has to turn down about 40 to 50 people every day.
"We would like to treat as many people as possible," said Akihiko Takeuchi, the head of the clinic. "But we have reached capacity."
Supply falls behind demand
Due to the surge of infections, the distribution of test reagents and test kits has not been able to keep up with the increasing demand.
"Some types of test kits are becoming scarce," said an official of KSK Co., an Osaka-based pharmaceutical wholesaler. "We are only able to deliver 60-70% of the requested quantity."
According to the Health, Labor and Welfare Ministry, about 180 million antigen test kits had been secured as of early July.
"Due to the sharp increase in the number of orders from places such as pharmacies, delivery of some types of kits have been delayed," said Health, Labor and Welfare Minister Shigeyuki Goto.
Fever outpatient services for COVID-19 at hospitals and clinics are also insufficient. The number of medical institutions with internal medicine departments that treat seasonal influenza totals about 70,000 across the nation. But the number of medical institutions with fever outpatient services that offer COVID-19 treatment is only about 39,000 nationwide.
To relieve the situation where people suspected of being infected are unable to get tested, the health ministry has requested local governments to introduce the free test kit system. If people with COVID-19 symptoms visit a fever outpatient service, they can receive antigen qualitative test kits for use at home. If the home test is positive, the patients then contact a doctor-staffed health follow-up center set up by the local government for further observation.
Under this system, the burdens on medical institutions with fever outpatient services will be reduced. People with high risk of becoming seriously ill are advised to go through the conventional process.
The Chiba prefectural government set up such a system prior to the central government's decision. The follow-up center was flooded by more than 1,700 inquiries on July 21, whereas the expectation had been only 100 cases a day. Staffed by only two doctors and unable to deal with all the cases, the center has temporarily stopped accepting inquiries.
The Tokyo metropolitan government, which has not yet introduced the system, has four health follow-up centers. Only one doctor is available at all times at each center, so more doctors are needed before the system can be introduced. It is not easy to do so while normal medical treatment is in a constricted state.
Add TheJapanNews to your Google News feed.