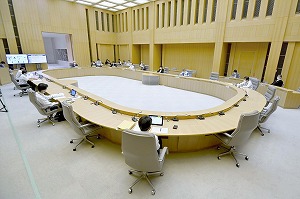 17:09 JST, July 8, 2022
Coronavirus infections have been surging nationwide, with all 47 prefectures seeing a week-on-week increase in the number of new cases.
On Thursday, Japan's coronavirus cases doubled from a week earlier to 47,977. A number of prefectural governors say that the seventh wave of infections has arrived and the central government is asking municipalities to accelerate efforts to secure enough hospital beds.
The same day, 8,529 new daily cases were recorded in Tokyo, a 140% increase from a week earlier, and 4,615 were recorded in Osaka Prefecture, up 110% during the same period. Tottori and Saga prefectures each confirmed a record high number of new daily cases. During the past seven days, the number hit a record high in five prefectures including Shimane, Ehime and Kumamoto.
According to the Cabinet Secretariat, the weekly average of new infections as of Wednesday exceeded that of the previous week in all prefectures including Tokyo.
Tokyo Gov. Yuriko Koike said Thursday, "It seems that the seventh wave of the pandemic has started." Governors of Chiba and Gunma prefectures also made mention of the seventh wave.
The possible reasons for the increase are a deterioration in immunity acquired from vaccination or previous infection and the spread of the omicron subvariant BA.5.
More than 80% of people in all age groups have received two doses of a vaccine. However, only 62% of people have been triple vaccinated. The three-dose vaccination rates for age groups falling below the average are as follows: 31% among people ages 12 to 19, 46% among those in their 20s, 50% among those in their 30s and 59% among those in their 40s. Infections are particularly increasing among these younger generations. Less than a quarter, or 23%, of people have received a fourth dose of a vaccine, which is available to people ages 60 and up, among others, and intended to prevent such people from becoming seriously ill.
In late June, people infected with the BA.5 subvariant accounted for 80% of COVID-19 patients in Shimane Prefecture, while the proportion reached 30% in Tokyo. The National Institute of Infectious Diseases forecasts that more than 50% of existing coronavirus strains will be replaced by the BA.5 subvariant across the country by late July.
Koike has asked medical institutions to prepare to increase the number of hospital beds set aside for COVID-19 patients to up to about 7,000 from the current 5,000.
The number of seriously ill COVID-19 patients across the nation stood at 67 on Thursday, only 4% of the peak number in the sixth wave of the pandemic. However, if infections spread among the elderly, there could be more and more cases of severe illness.
Meanwhile, the World Health Organization confirmed that the number of coronavirus cases reached about 4.6 million worldwide for the week up to July 3, increasing for four weeks in a row. It surged by nearly 30% in the last two weeks alone.
The WHO points out that the surge has been driven by the BA.4 and BA.5 subvariants replacing existing strains. BA.5 subvariant cases in particular have been spiking over the past few weeks, accounting for 52% of total infections
Caution over behavioral restrictions
The government is cautious about applying quasi-emergency measures such as asking restaurants to operate shorter hours. Deputy Chief Cabinet Secretary Seiji Kihara said at a press conference Thursday, "We have not received requests from any prefectures and are not considering imposing behavioral restrictions such as by applying quasi-emergency measures."
During the coronavirus pandemic, the government has repeatedly issued state of emergency declarations and applied quasi-emergency measures, while many people tired of exercising voluntary self-restraint. Behavioral restrictions dealt a serious blow to the economy, and the government has been placing emphasis on keeping economic and social activities going.
While the government was aiming for an early July start to a national version of an existing tourism support program, which is currently limited to travel by residents within a prefecture or to neighboring prefectures, it is considering postponing the plan. The government believes that if it encourages people to travel, it could result in more infections.
On the other hand, the government wants as much as possible to avoid behavioral restrictions that put a brake on the economy. A dominant view within the government is that many residents now want the government to get the economy moving, not strengthen restrictions, according to an aide to Prime Minister Fumio Kishida.
In the sixth wave starting in January, epicenters of infections shifted from restaurants to welfare facilities for elderly people and schools, so some municipalities and business communities expressed skepticism about only requesting restaurants to have shorter business hours. For that reason, an expert panel tasked with discussing government responses stipulated in a proposal submitted in June that it is important to minimize restrictions and the period they are in effect.
In preparation for the next possible crisis, the government announced that it would review behavioral restrictions, but it has not yet produced any great ideas. If the number of infections further increases in the future, the government will consider responses carefully, taking into account public opinion and expert views.
Add TheJapanNews to your Google News feed.