Elderly, vulnerable patients likely to be targeted for Japan's 4th COVID vaccine shots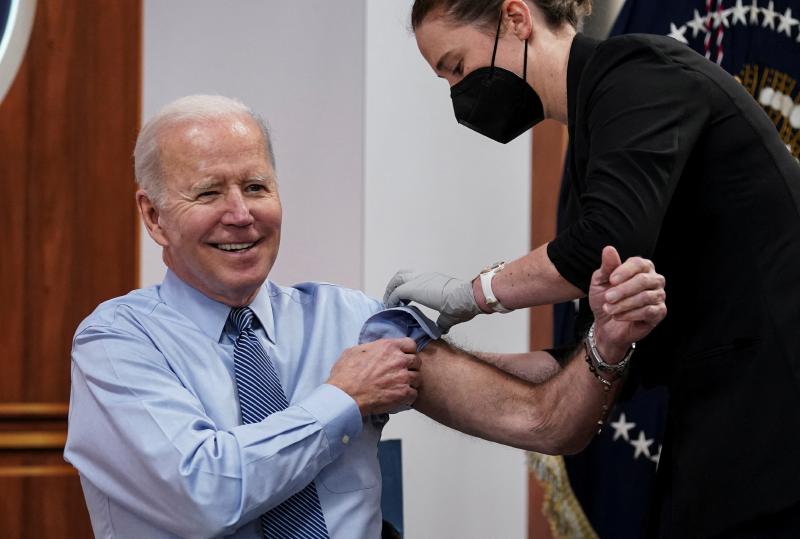 12:00 JST, April 20, 2022
The government is considering narrowing the target of recipients in the fourth round of COVID-19 vaccines to high-risk patients amid concerns of a coronavirus resurgence.
As some data indicates the protection offered by a fourth shot is lower than that of the third dose, the United States and some European countries have targeted people at high risk of serious illness such as elderly patients in the latest booster round.
Japan, which has included most of the population in vaccine campaigns until now, is likely to reconsider its approach in future booster rollouts.
A COVID-19 subcommittee of the Health, Labor and Welfare Ministry discussed the implementation of a future booster rollout at a meeting in late March. "Should everybody who got a third shot automatically get a fourth shot?" a participant asked.
Bearing in mind the delays in previous vaccine rollouts, the government is pushing ahead with preparations for the fourth round of vaccinations.
In March, Prime Minister Fumio Kishida announced a plan to secure an additional 145 million doses of vaccine manufactured by Pfizer and Moderna.
Although less than 50% of people in Japan have received a third shot, the government is aiming for the fourth round to begin "as early as May" and has asked local governments to start preparing vaccination venues and coupons based on a view that everyone who has received a third shot will be eligible for a fourth.
With the dominance of the BA.2 omicron subvariant raising fears of a coronavirus resurgence, the health ministry has said it will consider the situation abroad when assessing who should be targeted in the upcoming booster campaign and the interval between the third and fourth shot.
However, the fourth round of vaccines has only just begun in some countries, so information from overseas is limited.
Israel began administering fourth shots late last year, targeting people over 60 years old, at least four months after they had received their third shot. In February and March, European countries including Germany, France and Britain followed suit.
Although the age range and the interval between the booster shots vary from country to country, they have all limited the target of the fourth round to people at high risk of serious illness, including the elderly and immunocompromised patients.
The United States approved fourth shots for people 50 years old and above. Initial plans set the target at people 60 and older but the age range was expanded, with the Food and Drug Administration (FDA) stating it had considered who would be at higher risk of becoming seriously ill when making its decision.
On the other hand, the European Medicines Agency (EMA) said on April 6 that nations should focus on people 80 years old or above because it was "too early" to target the general population in the fourth round of COVID-19 vaccines, citing a lack of clear evidence that protection wanes after the third jab among people under 80 years old.
According to an Israeli study released in March, a fourth COVID-19 jab may offer only marginal benefits for healthy young people.
The study, which covered about 1,000 health care workers aged 18 or older, found that a fourth shot offered protection against the disease in 11% to 30% of participants and prevented symptoms in 31% to 43%., compared to 70% protection against the disease and symptoms among people who had received a third shot.
However, according to an analysis of vaccine data covering about 1.1 million Israeli people aged 60 or older, the fourth shot reduced the infection rate to 50% and the incidence of serious illness to 25%, compared to people who had received only three shots.
As a result, there is growing consensus among Japanese experts that the next booster campaign should target people who are at high risk of serious illness such as the elderly and immunocompromised patients.
On Friday, the Liberal Democratic Party's project team on vaccine measures drafted a proposal to "target the elderly and people with underlying medical conditions."
The government has promoted vaccinations among the general public in the first three rounds of the vaccine rollout based on expectations that wide-reaching campaigns would contain the pandemic to some extent.
Limiting the target group for booster shots would be a major turning point.
"If preventing severe symptoms becomes the main objective of boosters, the government may be urged to adjust COVID-19 policy so as to accept an increase in infection cases to some degree," said Osaka Metropolitan University Prof. Wakaba Fukushima, a member of the health ministry's COVID-19 subcommittee.
Add TheJapanNews to your Google News feed.