Survey finds COVID booster greatly reduces risk of severe illness, death
13:41 JST, April 14, 2022
The rate of severe illness and death among infected people in their 70s and 80s who had received a third shot of COVID-19 vaccine was half that among people who received just one or two doses, the Health, Labor and Welfare Ministry has announced.
This indicates the efficacy of a third shot even amid a surge in the omicron variant of the coronavirus.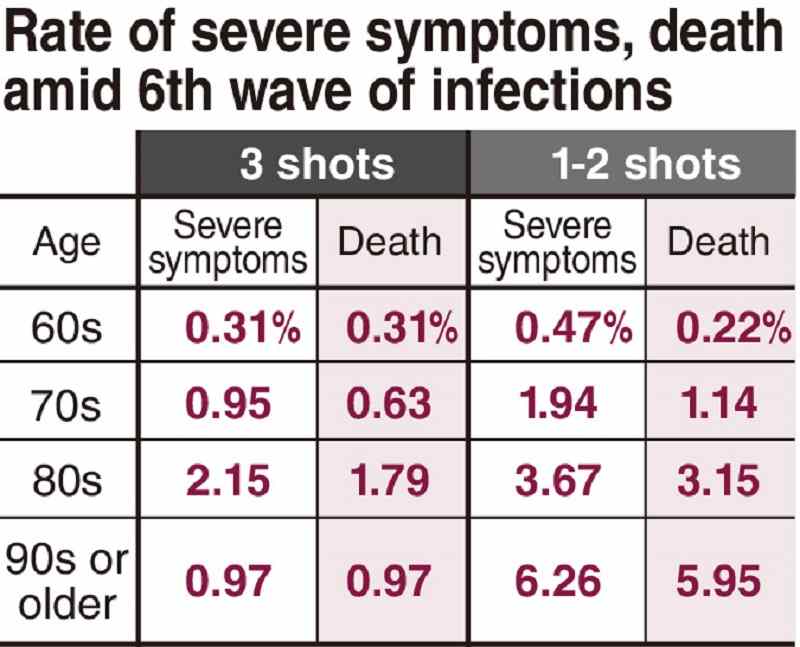 The ministry collected data on about 120,000 people infected with the virus between January and February in the prefectures of Ishikawa, Ibaraki and Hiroshima. People defined as having severe symptoms included those who needed a respirator or were treated in an intensive care unit.
Among people who had received a third shot, 0.95% of those in their 70s and 2.15% of those in their 80s developed serious symptoms, about half the percentages among the subjects who got only one or two shots. Similar results were obtained regarding fatality rates.
People in their 40s to 60s who got three shots also developed severe symptoms at lower rates. Severe symptoms were rare among people in their 30s or younger, so significant differences based on the number of shots were not seen.
Serious illness and death among people in their 60s to 80s who got a third shot ranged from one-fifth to half the rate among those who were unvaccinated. This figure dropped to one-tenth among people in their 90s or older.