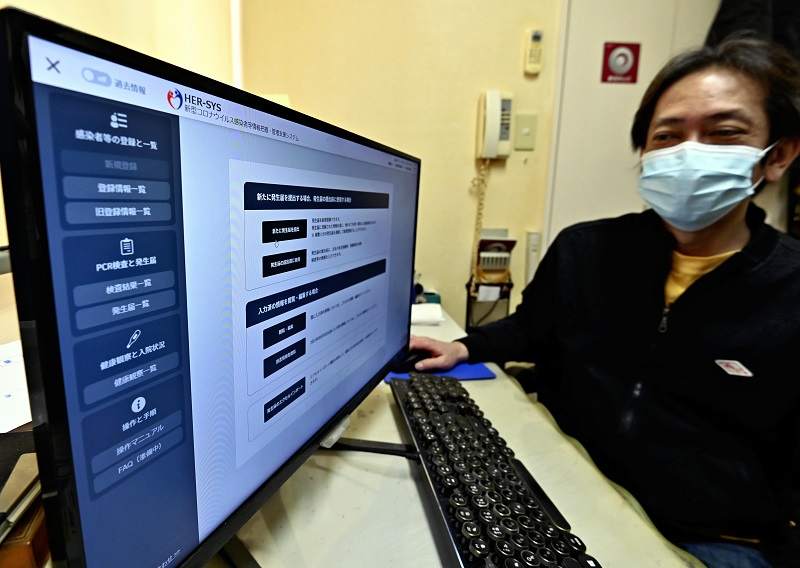 17:42 JST, April 2, 2022
OSAKA — Medical facilities in some cities are not fully utilizing the centralized system to manage data on coronavirus patients, The Yomiuri Shimbun has learned.
Heavy workloads at public health centers have led to delays in contacting patients, raising the risk that patients whose symptoms have deteriorated will get overlooked.
Medical facilities are required by law to submit reports on COVID-19 cases to public health centers, including patient names and the date of onset of symptom.
The reports were initially submitted via fax, but in a bid to quickly identify infected patients and reduce the burden on public health centers, the Health, Labor and Welfare Ministry launched the HER-SYS system in May 2020, enabling medical facilities to log data directly.
However, medical facilities were also permitted to continue submitting reports via fax, with public health centers inputting the data into the system on their behalf.
According to the ministry, 70% of the data has been logged directly by medical facilities, with public health centers handling the rest.
However, in 14 cities, including Yokohama, Kyoto, Osaka, Kobe, and Kitakyushu, the majority of public health centers inputted the data on behalf of medical facilities, with the percentage exceeding 90% in some cities, according to a Yomiuri Shimbun survey of public health centers in 20 major cities.
Lack of personnel is believed to be a factor, as many clinics in urban areas are small. Among the 14 major cities where public health centers did most of the data entry on behalf of medical facilities, nine exceeded the national average of 81.3 clinics per 100,000 people, with Osaka topping the list with 127.5.
The time and effort required to input data are believed to be the main hurdles. There are about 30 fields that need to be completed, and it takes about 5 minutes to enter data on each coronavirus patient. It takes time to get used to the system, and many doctors say handwritten forms are faster. The fact that medical facilities routinely use faxes to exchange patient information is also a factor.
During the 6th wave of the pandemic, when the daily number of new cases skyrocketed, the burden on public health centers increased rapidly, and centers could not keep up with the workload, leading to delays in contacting patients.
In Osaka, the number of new cases topped 7,000 per day in January, four times higher than forecast. Data entry into HER-SYS for about 21,900 cases was delayed by up to eight days from Jan. 26 to Feb. 2, and from Feb. 4 to 7.
People whose infection had been confirmed were contacted by text messages if they were asymptomatic or had mild symptoms, but only after their data had been entered into the system. When medical facilities sent data via fax, it took up to one week for text messages to be sent.
When data was sent via fax, patients with underlying medical conditions who were at risk of developing severe symptoms were contacted beforehand.
Although a city official said no cases had been reported of patients whose condition deteriorated due to such delays, the risk was ever-present.
"We are taking the situation very seriously. We would like to ensure members know how to operate the system and encourage them to input information," said an official of the Osaka Medical Association, which comprises medical practitioners in the prefecture.
An office manager of Ichinona Clinic in Taisho Ward, Osaka, said, "The city and the medical association may need to dispatch personnel to help clinics that are short-staffed with data entry."
Data inputting was also delayed by several days in Kobe from late January to mid-February.
Contrastingly, 70% of medical facilities in Tokyo have been actively using the HER-SYS system.
Since January, medical facilities have been responsible for monitoring the health of patients rather than public health centers. Facilities that input data into the system receive about ¥5,000 to ¥10,000 per patient as an incentive.
In Setagaya Ward, which has the largest population among the 23 wards in Tokyo, 50% of facilities were logging data directly in August. Since the introduction of cash incentives, that figure has risen to 70%.
Add TheJapanNews to your Google News feed.