Hard-hit hotels, restaurants try to utilize negative coronavirus certificates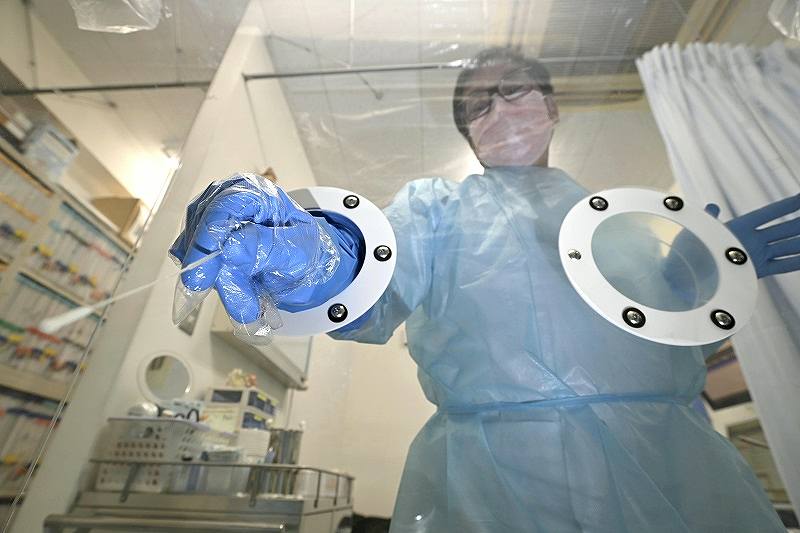 17:32 JST, March 22, 2022
Quasi-emergency measures against the novel coronavirus have been lifted throughout the nation, but the rollout of COVID-19 booster shots is slow. More and more businesses are therefore hoping to stimulate consumption through the use of certificates indicating a negative test result. The cost of being tested, however, is hindering their efforts.
The measures were lifted as scheduled in 18 prefectures, including Tokyo, on Monday. The whole country is now free of such measures for the first time since Jan. 9, when they were applied in Hiroshima, Yamaguchi and Okinawa prefectures due to the spread of the omicron variant.
Resuming discount program
"We've started receiving reservations from customers with negative certificates," said a clerk at the Honen Mansaku hotel in Daigo, Ibaraki Prefecture..
The Ibaraki prefectural government resumed its travel discount program Tuesday for the first time in a month and a half, following the lifting of quasi-emergency measures in the prefecture. Guests confirmed by hotel operators to have received a booster shot, or to have a negative test certificate, can receive a discount of up to ¥5,000 per night, as well as a regional coupon of up to ¥2,000 that can be used locally.
About 250 accommodation facilities are participating in the program.
The hotel's revenues were half its pre-pandemic levels during the quasi-emergency period. At times the facility was even closed because there were no bookings at all. As of Sunday, however, the hotel had reservations from 22 groups who planned to use the discount program after the quasi-emergency measures were lifted. They included a family and a group of young people with negative certificates.
Only 32.9% of the population of Ibaraki Prefecture had received booster shots as of March 13. "Some people cannot be inoculated for various reasons. We're glad that we've received reservations from guests using the certificates, and we expect to have more such guests in the future," the clerk said.
Slow rollout
The central government revised its basic coronavirus response policy on March 17, in which it emphasized the importance of a booster shot or a negative test certificate in order for people to resume such activities as dining out, traveling and going to events.
However, progress has been slow in administering booster shots. Only about 30% of the country's population has received one so far.
The government is therefore increasing the production and import of antigen test kits, of which it currently has about 100 million. That number is expected to increase by 250 million in the next six months, and the government expects to distribute antigen test kits to drugstores and other locations across the country, to secure a stable supply.
Cost burden
However, if people voluntarily test themselves using commercially available kits, they must pay all the costs, unlike people who take coronavirus tests at medical institutions and other places due to the possibility of being infected. The cost of ¥2,000 to ¥3,000 per test could hinder the smooth utilization of commercial kits.
After the quasi-emergency measures were lifted, the Tokyo metropolitan government still asks restaurants and other businesses to confirm negative test certificates if five or more people sit at the same table, regardless of whether or not they have been vaccinated.
A yakitori restaurant near Kichijoji Station in Tokyo told a group of at least eight people who had booked a table at the restaurant after the lifting of the quasi-emergency measures that they would need to show negative test certificates. The group ultimately canceled the reservation, saying it would be difficult for them to do so.
"There don't seem to be many customers who are willing to pay the cost of testing in order to have a party," an official at the restaurant lamented.
Add TheJapanNews to your Google News feed.