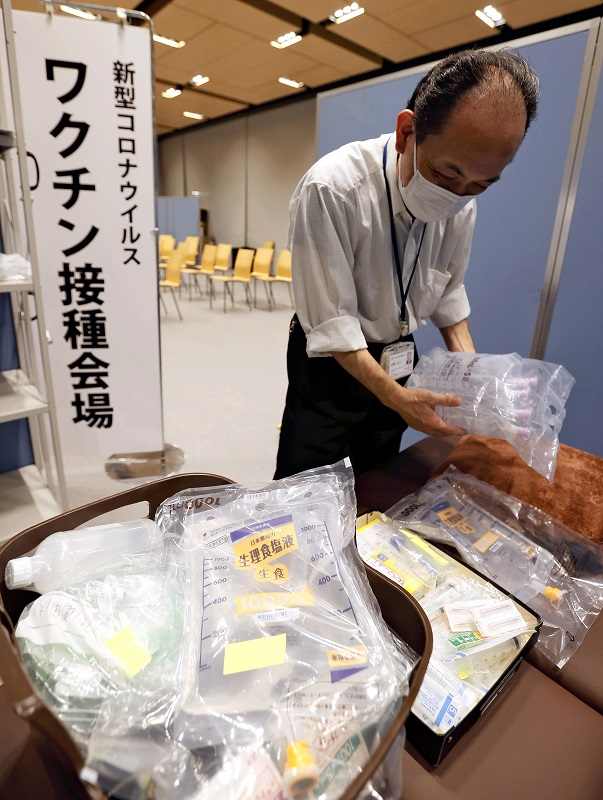 12:38 JST, October 2, 2021
With about 59% of people in Japan having received two shots of a novel coronavirus vaccine, mass vaccination venues are starting to close down.
Yet some local governments are still opening new venues to make up for slow progress. States of emergency were lifted in all 19 prefectures where they had been in effect on Thursday, but preparations have already begun for giving elderly people a third shot around the new year.
"It's been four months of rough seas. The situation has been constantly tense, but it's finally settling down," said Satomi Utagawa, director of the health and welfare department of Chiyoda Ward, Tokyo, on Thursday evening as she supervised the dismantling of a mass vaccination site in the ward's civic hall.
"Is it closing down already?" a 62-year-old woman asked in surprise that day, after receiving her second shot.
Mass vaccinations for the elderly began in late May in the same ward. By mid-July seven venues were fully operational and the number of slots had grown to 3,800 per week. Ward staff were dispatched to the venues, with about 500 people from other departments sent in to assist.
Things did not start easing up until September.
Some venues started filling only 50% to 60% of their slots. Things calmed down to "a state where people could get a shot whenever they wanted," a ward official said.
Now about 72% of the Chiyoda Ward population has received two shots. Two of the five venues, including the one at the civic hall, were closed in September.
"Starting in October, vaccinations will mainly continue at the remaining venues and for individuals at clinics," Utagawa said.
In Sumida Ward, where more than 70% of the population has received two shots, all five of its mass vaccination sites closed on Thursday. The government of Setagaya Ward cut its 18 locations in half on Friday.
In Odate, Akita Prefecture, mass vaccinations ended on Aug. 22 as about 87% of residents have had both shots. In Sumoto, Hyogo Prefecture, the city government plans to end mass vaccinations at the end of October, shifting its focus to individual vaccinations at medical institutions.
Reservations at the large vaccination venues run by the Defense Ministry in Tokyo and Osaka have also plateaued.
Able to give 15,000 shots per day, these venues have accepted residents in an expanding range of ages living in widening areas, but since Sept. 26, reservations have been made for only 10% to 20% of the available slots.
"Most places have good vaccination environments, and many people probably want to use venues or medical institutions that are familiar to them," a senior ministry official said.
Some playing catch-up
On the other hand, some municipalities are now adding mass vaccination sites to make up for delays in vaccination.
In Morioka, only about 47% of residents have had two shots. Mass vaccinations for people under 60 finally started on Sept. 18. The city government planned to set up eight venues, but a city official said they may add even more.
To accelerate the vaccination of young people, the Musashino city government in Tokyo and the Osaka city government have opened or relocated venues near busy train stations.
How to deal with booster shots is another issue. The Health, Labor and Welfare Ministry is thinking of giving third shots about eight months or more after the second ones, starting with elderly people after January.
In Chofu, Tokyo, mass vaccinations at a prefabricated venue ended on Thursday, but the site will be kept to be used for boosters. Odate has reserved facilities that were used for mass vaccinations for use again in April and May next year.
"I have the impression that vaccinations have progressed in urban areas with good staffing systems and where it is easy to obtain the cooperation of medical institutions," said Tokai University Prof. Yasuhiro Kanatani.
According to the public health expert, it takes an enormous amount of labor and money to operate mass vaccination sites, including the effort of securing doctors and nurses. "In areas where vaccinations have made greater progress, it will be more efficient to transition to workplace vaccinations or individual shots at medical institutions. For third shots, strategies should be pursued according to local conditions," he said.
Add TheJapanNews to your Google News feed.