Japan grapples with how to handle booster shots for elderly, at-risk population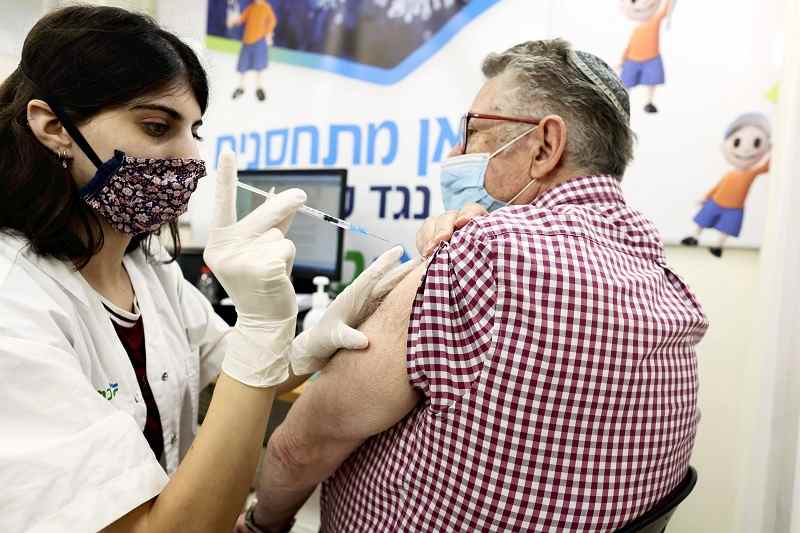 16:40 JST, September 29, 2021
The Health, Labor and Welfare Ministry has decided to offer a third COVID-19 vaccine shot, with jabs for elderly people aged 65 and older to start early next year.
Due to a lack of scientific evidence indicating which groups of people should receive an additional shot first, and when they should receive it, the ministry will start offering booster shots while searching for the right answers.
It will also observe developments in other countries where the administration of third shots has already started.
Breakthrough infections
At Showa University Hospital in Shinagawa Ward, Tokyo, which has admitted many patients infected with the novel coronavirus, a notable number of elderly people who had received two shots of vaccine have been hospitalized since around late August.
As of Sept. 22, "breakthrough infections" — cases in which a fully vaccinated person contracts COVID-19 — accounted for 10 out of the 23 infected inpatients. Eight of the people with breakthrough infections were aged 65 or older.
"In the first half of the fifth wave of infections, hospitalized patients were mostly unvaccinated people in their 40s and 50s, but the situation changed in the latter half. I have a feeling that the vaccines' efficacy in preventing infections has declined," said Hironori Sagara, the director of the hospital.
As of Sept. 24, more than 90% of elderly people in Japan had received at least one shot of vaccine. But the percentage of vaccinated elderly people among newly infected cases has been rising.
The primary reason is said to lie in the declining efficacy of vaccines in preventing infection. According to studies conducted overseas, the level of coronavirus antibodies gained through vaccination fell to one-quarter or less in half a year after a shot.
According to the Centers for Disease Control and Prevention in the United States, the efficacy of vaccines for reducing the risk of infection, which originally stood at over 90%, declined to 40% to 80% in July this year.
This was due in part to the prevalence of the delta variant, a virus that was first detected in India and is considered highly contagious.
In a bid to raise vaccines' efficacy, Japan's health ministry is preparing to administer a third dose to medical workers and elderly people who received their second shot at least a half-year earlier. In principle, people will receive the same vaccine as their first two doses eight months after the second shot.
There are no scientific grounds for placing an eight-month interval between the second and third shots, but this is in keeping with the booster shots given in North America and Western Europe.
A health ministry official said: "It will be too late if the third shot is administered only after infections spread again. The only way we can respond properly to this problem is by observing the situation in other countries."
Dispute in U.S., Europe
There have already been reports on the effect of a third shot. In Israel, where infections have spread even after 80% of its adult population was given a second shot, the government began offering a third shot to people aged 60 and older on Aug. 1.
The country widened eligibility for a third booster shot to those aged 12 and over on Aug. 29.
In a study covering 1.1 million people in Israel aged 60 and over, the efficacy of a vaccine to prevent infections jumped 11-fold among those who received a third dose of a COVID-19 shot, compared to people who have had only two jabs, while the efficacy to prevent severe symptoms surged 20-fold.
However, even experts disagree as to whether a booster shot is needed for everyone. Britain, Germany and France have started offering a third booster shot only to people with a high risk of developing severe symptoms, such as the elderly and people with preexisting medical problems.
In the United States, the government put forth in August a policy of providing a booster shot for everyone. In September, a group of experts at such organizations as the World Health Organization released a paper saying that current evidence does not appear to show that COVID-19 booster shots are needed at this time for the general public.
Experts have continued their review of the groups in need of a booster shot, and two U.S. government agencies — the U.S. Food & Drug Administration and the CDC — this month authorized a booster shot for people aged 65 and older and people at high risk of getting seriously ill.
Fourth shot?
However, it remains uncertain whether a third booster shot alone is sufficient to stop infections from spreading further.
The Japanese government will move ahead with securing enough doses of vaccine, bearing in mind the possibility of a situation in which continuous vaccinations are needed.
It will obtain 50 million doses of Moderna COVID-19 vaccine next year, and negotiations are underway toward concluding a contract for 120 million doses of Pfizer vaccine.
Keeping in mind an existing order for 150 million doses of the U.S. Novavax vaccine, which has yet to be approved in Japan, and potential of a domestically made vaccine, which is still under development, the government is also considering implementing "alternative COVID-19 vaccinations," a program to administer vaccine different from that given in someone's first two shots.
"When it comes to additional shots, elderly people and those with preexisting medical problems who have a high risk of developing serious symptoms should be given priority," said Prof. Junichiro Nishi of Kagoshima University, a scholar of infectious diseases.
"The effect of vaccines will decline gradually over time, so [the COVID-19 pandemic] is not something we can get rid of with the shots administered this year alone. Over the next few years, a decision is likely to be made from time to time as to who should be given additional shots and when, taking into account the situation with breakthrough infections and the available supply of vaccine."
Add TheJapanNews to your Google News feed.